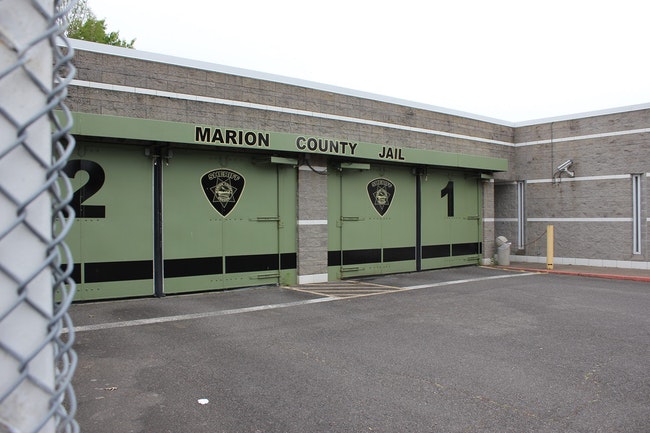 Updated at 12:20am on 9/6 to include updated details concerning Boston's release by the jail that conflicted with booking information online that indicated she was being held without bail.

Salem, Ore. – The Oregon horse trainer who went viral over the Labor Day weekend has been arrested by the Marion County Sheriff's Office on one count of aggravated animal abuse, a felony. The information was confirmed late Tuesday by NW Horse Report with Marion County Jail officials and an online booking roster.
Our earlier story told first by NW Horse Report can be viewed by clicking here. The story has gained national attention throughout equestrian circles on social media.
The news comes two days after a shocking video leaked online that showed Geneva Marie Boston, 28, whipping a horse repeatedly across the back and in the face. Boston appeared to also repeatedly jerk on a lead line attached to an iron halter used on the horse.
According to Oregon Revised Statute 167.322 (Aggravated animal abuse in the first degree), "A person commits the crime of aggravated animal abuse in the first degree if the person maliciously kills an animal or intentionally or knowingly tortures an animal."
The charge is a Class C felony according to Oregon law.
The statute also articulates that "Maliciously" means intentionally acting with a depravity of mind and reckless and wanton disregard of life and "Torture" means an action taken for the primary purpose of inflicting pain.
While jail records indicated no bail prior to Boston's first court appearance which the booking information said is scheduled for September 6th, an unnamed jail official told NW Horse Report that Boston was going to be released around 1 am on Wednesday and would instead be arraigned during a court date set for October 4th.
The release appeared to be in accordance with State Release Guidelines which were also amended in 2021 as part of Oregon Senate Bill 48. Since Boston would not be seeing a judge, it was initially unclear if there could be any release conditions that limited Boston's access to horses or other animals.
However, following initial publication an MCSO spokesperson confirmed that there were no such release conditions, a fact that was expected to anger many.
According to a confidential source, Boston was arrested by a Marion County Sheriff's detective at her Aumsville barn after having been spotted by others on Interstate 5, allegedly transporting horses. She was originally rumored to have been in Washington State earlier in the day.
Shortly after news of the arrest leaked online, numerous proponents praised the prompt efforts by MCSO in making the arrest. MCSO's spokesperson eventually reached out and spoke to NW Horse Report.
"On September 4th, 2023, the Marion County Sheriff's Office responded to a report of an animal abuse [at] 9322 Smith Rd SE, Aumsville, OR. The complaint reportedly involved a video capturing a female, by the name of Geneva BOSTON, Hitting a horse repeatedly with a whip. Deputies investigated this incident and ultimately arrested BOSTON for the crime of Aggravated Animal Abuse, and she was lodged at the Marion County Jail." said Sgt. Don Parise.
"The Sheriff's Office would like to hear from anyone with any additional information regarding BOSTON'S involvement in this investigation as well as any similar situations regarding the abuse of animals. Please contact Detective Jeremy Schwab at 503-930-6294 and or by email at jschwab@co.marion.or.us"
The source also said that they learned Boston had agreed to speak in person with a detective on Wednesday while accompanied by her attorney, but they suspected that had all changed after the unexpected arrest Tuesday evening.
The viral video can be viewed below. Please know that some viewers may find the content disturbing.
---
This is a developing story that we will keep you updated on.