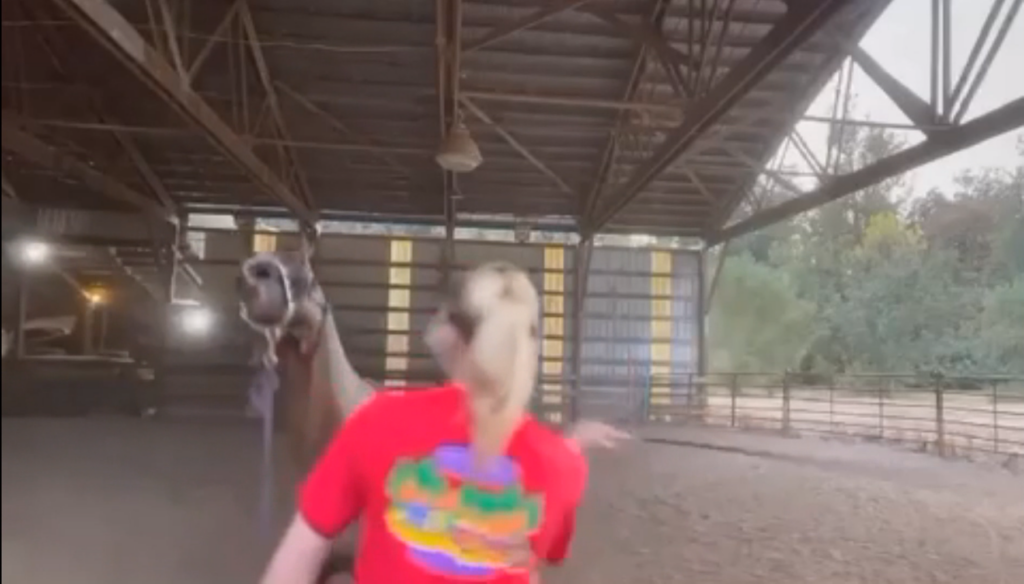 Updated at 10:25pm on 9/5 to include a link to a newer article regarding Boston's arrest.
Updated at 6:35pm on 9/5 to include a response from the Oregon Humane Society regarding the video and allegations.
Salem, Ore. – An Oregon horse trainer with a problematic history is sparking significant outrage after a self-recorded video made its way online, showing what many are saying is a clear act of animal abuse involving a horse.
Outrage and concerns have been swift throughout multiple social media platforms; including from everyday horse owners, established horse trainers, as well as officials from numerous horse rescue non-profits.
Geneva Boston, 28, of Salem, was confirmed as the woman at the center of the shocking video depicting herself repeatedly whipping a horse across the back as well as directly to the face towards the end of the approximately minute-and-a-half video.
It all comes on the heels of national outrage involving Witts End Performance Horses in Cumberland County, North Carolina, following the release of a viral video showing the alleged abuse of multiple young horses. Those behind the company have faced significant rebukes from other professional horse trainers.
Boston was also the subject of past reporting in 2021 by NW Horse Report involving the attempted theft of a woman's horse that was only part of a trial agreement, going so far as falsely telling deputies with the Marion County Sheriff's Office that the horse had died.
Boston and her associate, Donald Nowlin, transported the horse out of State in late August of 2021 to a Montana livestock auction. Nowlin, a self-described "kill buyer", himself has been the subject of significant scrutiny, including facing lawsuits for alleged horse abuse and illegal practice of veterinary medicine.
Many of the social media shares online appeared to show a secondary recording of the original leaked video. NW Horse Report obtained an original copy from a source late Sunday evening, which is available below.
Please know that some viewers may find the content disturbing.
The horse involved in the video was alleged to have come from the Eugene Livestock Auction (ELA), which previously operated a monthly horse auction that ended months ago. Boston is now reportedly involved heavily with a new company called PNW Horse Sales and was a known friend of the company's owner.
The new auction company operates from the Oregon State Fairgrounds that some say is the "defacto" replacement of ELA, and has also been the subject of reporting from NW Horse Report.
Despite PNW Horse Report's firm public denials of being involved in the company's operation, numerous sources have provided details that Nowlin is also involved behind the scenes of the company operations, raising questions with proponents concerning issues with horses being run through the monthly auctions.
One of the users who posted the original videos online also claimed that another horse being trained by Boston had also died as a result of her techniques, "…the horse this one sold with died in her care from panicking and flipping over breaking its neck."
Countless other users appeared to be coming forward on social media posts claiming to have their own negative first-hand experiences with Boston. Many are now calling for action by law enforcement and animal control in light of the video.
"As one of her past 4-H leaders, I am absolutely sick and beyond pissed! She knows better and has turned to a darkness that lurks for destruction. This makes my soul turn inside and out," said a user Cassy Larson on Facebook.
NW Horse Report could not reach Boston directly for comment but has reached out to an attorney who had spoken previously to NW Horse Report on Boston's behalf as part of our previous reporting. We will update this story with any prompt responses.
Boston– along with numerous friends and colleagues– have long been critical of NW Horse Report and its reporting, including frequently denying that she (Boston) had ever told law enforcement that the horse she had on trial in late 2021, had died.
A complaint on the matter was reportedly filed with the Marion County Sheriff's Office over the weekend, although as of Tuesday evening officials with MCSO have not returned any calls seeking comment or any public information for anyone who may be first-hand witnesses to any alleged animal abuse.
Many posters also claimed that reports were made to the Oregon Humane Society (OHS) which maintains a sworn investigative police force that handles or assists other local law enforcement on animal-related crimes.
A spokesperson for the organization responded to NW Horse Report on Tuesday afternoon.
"OHS would like to thank those who speak up when they are concerned about the treatment of an animal. First-hand witnesses are critical for any investigation, and we encourage those with new information about this case to call the Marion County Sheriff's Office," said Media Relations & Communications Manager, Laura Klink.
"OHS Humane Law Enforcement has worked with Marion County Sheriff's Office in the past and are ready to help if called upon."
Following initial publication Boston was arrested on felony aggravated animal abuse by MCSO and booked into the Marion County Jail without bail. View the arrest story by clicking here.
---
This is a developing story that you can count on NW Horse Report to keep you updated on. Please come back for additional story updates as we get them.