Madras, Ore. – An Oregon woman and self-promoted horse trader and trainer is facing charges for abuse and neglect tied to three horses that were in her care. Tania Herring, 42, who now appears to reside in the Salem or Eugene area, was formally charged in February of 2021 by Jefferson County District Attorney Steven Leriche.
Past Issues & Charges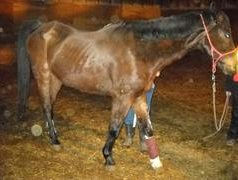 In 2010, Herring was the subject of an investigation by the Linn County Sheriff's Office which was covered by multiple news outlets, including The Oregonian. In that case, 31 horses were seized from a property operated by Herring. Now retired Linn County Sheriff Tim Mueller at the time reportedly said, "It smelled like sickness It was Bad."
Muller said at the time that investigators found 116 horses on a 12-acre property in Mill City, many of them malnourished, diseased and slipping toward death. Mueller also had also said that some of the rescued horses were in such bad shape that they would have to be euthanized.
KGW Channel 8 News reported that it was the 'worst animal neglect case ever seen in Linn County' at the time.
The charges against Herring were later dropped, allegedly due to missteps by investigators during the case according to those close and familiar with the matter.
New charges and upcoming trial
Herring is now facing five misdemeanor counts related to her care of several horses at the property in Madras, including one count of practicing veterinary medicine without a license, three counts of animal neglect in the second degree, and one count of animal abuse in the second degree.
The horses included a Sorrel Quarter horse Mare, a Palomino filly, and a Buckskin Quarter horse Gelding. Due to the lack of information provided by the Sheriff's Office and District Attorney, it is unclear if the horses were seized at the time from Herring or if they remained in her care.
The charging document obtained by NW Horse Report alleges that Herring, "…did recklessly cause physical injury to an animal," explaining the reason for count of abuse on top of the neglect charge with Buckskin Quarter horse Gelding. Court documents also showed that Herring was not formally arrested and instead was issued citations to appear in this case.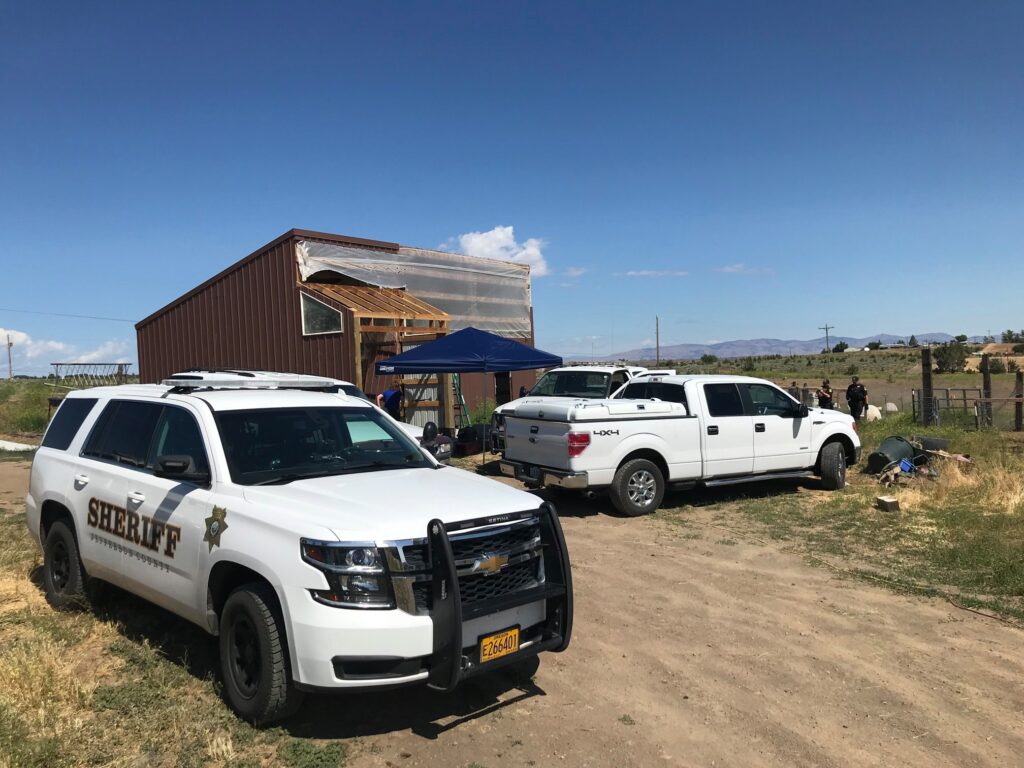 The charges stem from an incident on and between June 24th and 25th, 2019, according to the States formal charges and allegations. The incident appears connected to the same location involving Aussie dog breeder Cora Gooding-Murphy, who on June 29th, 2019, had 57 dogs seized in connection with her Wagging on Wiggle Butt Aussies business, according to The Madras Pioneer newspaper.
Gooding was arrested that day according to a press release from the Jefferson County Sheriff's Office. When reached for comment by NW Horse Report, Sheriff Marc Heckathorn said that his office had no comment and referred all questions to the Jefferson County District Attorney. District Attorney Steven Leriche has not returned multiple requests left with his office this week seeking comment.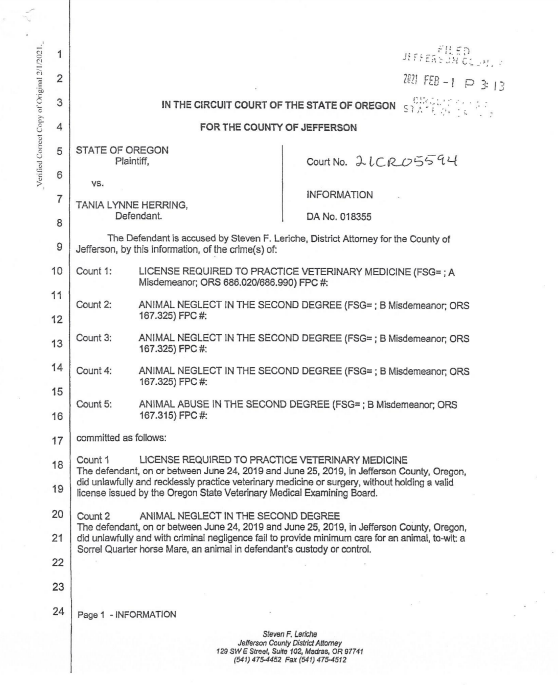 With little more than the charging information, specific details regarding the State's allegations against Herring are still unknown. It is unclear why the Sheriff's Office did not issue a press release as it did with the Aussie breeder, and is common with cases of equine neglect with commercial operators.
Court records show that the State's special animal cruelty prosecutor Jacob Kamins is one of the several Deputy District Attorney's assigned to the new case against Herring. Kamins often consults or provides direct assistance to the various District Attorney's across the State of Oregon. Kamins has handled two other major horse neglect and abuse cases since 2019 in Oregon involving Gwenyth Davies near Eugene, and a separate ongoing felony case against Susan Swango of Carlton.
The attorney of record for Herring– according to court documents– refused to confirm if she even represented Herring, citing 'ethics' and provided no comment. NW Horse Report made several attempts to reach Tania Herring without success, seeking comment.
Herring now appears to be operating a horse boarding and/or training facility in the Eugene area– having been actively listing horses for sale online, including Facebook. It does not appear she has any business registered with the State of Oregon. Additional postings appear to show Herring offering employment for barn work, raising additional questions considering the lack of any registered business and reporting of payroll taxes.
Herring was also reportedly working in the horse trade around Yakima, Washington, sometime within the last decade.
An online posting by Herring made in October of 2021 appeared to show her working with the Eugene Livestock Auction (ELA). When reached for comment and asking if they did business with Herring and could provide contact information, an unnamed official with ELA stated that Herring was actually employed by them as a part-time "clerk" for their auctions. The official further stated that while she was unaware of the new charges against Herring, she was vaguely familiar with the charges from 2010 incident.
Herring's trial is scheduled to begin April 11th at the Jefferson County Circuit Courthouse in Madras. This is a developing story that NW Horse Report will continue to cover.