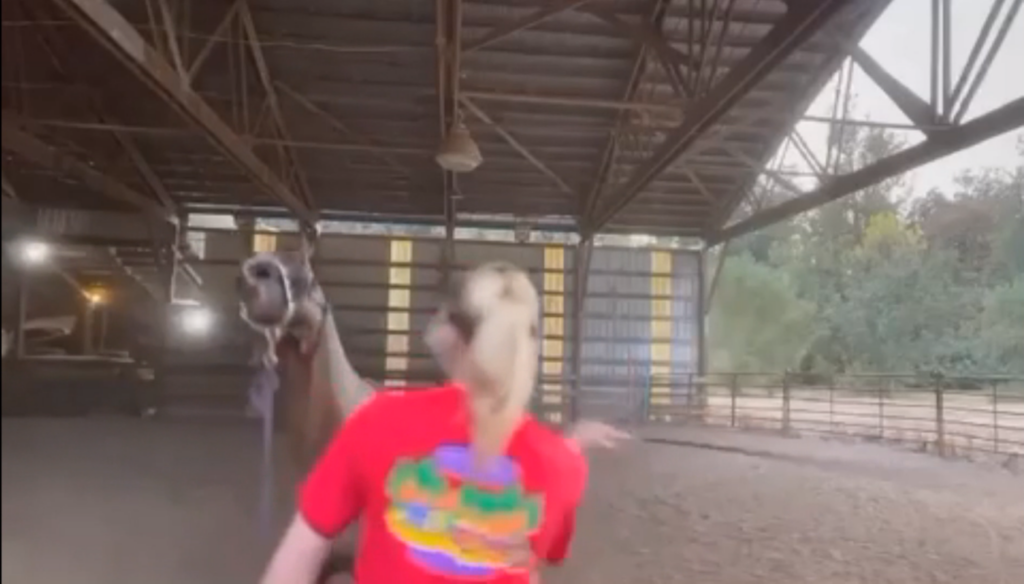 Salem, Ore. – The Marion County District Attorney's Office has declined to file charges against an Aumsville woman accused of horse abuse after a key witness allegedly refused to cooperate.
Geneva Marie Boston, 28, was scheduled to appear Wednesday morning in Marion County Circuit Court for aggravated animal abuse related to a video allegedly depicting her repeatedly whipping a horse.
On Tuesday evening, Deputy District Attorney Brendan Murphy confirmed to Our Town that a key witness was out of state and "unwilling to cooperate with the prosecution."
"After reviewing the file, we made the determination that the case is not provable beyond a reasonable doubt," said Murphy, adding Boston's Wednesday appearance has been canceled. DDA Murphy is a spokesperson for the office.
The DA's decision is expected to result in some public uproar from those closely following the case across the country after the abuse video gained viral attention.
She had been released on her own recognizance from the Marion County Jail since Sept. 6 and has no other criminal charges pending in Oregon.
Boston was investigated Sept. 4 by the Marion County Sheriff's Office after a video was posted online allegedly depicting her whipping a horse for around 90 seconds. The video, first leaked to NW Horse Report, shows a young woman in a horse arena whipping the animal repeatedly on the back and face without giving the horse any commands.
Oregon law allows the use of whips in proper equestrianship, but not simply to cause an animal pain.
Equestrian Media Group learned from multiple sources late Tuesday that the witness, which had not been confirmed by the district attorney's office, was Donald Nowlin of Selah, Washington.
This was not Boston's first close call with authorities. In 2021 she allegedly scammed a McMinnville teenager who was re-homing her horse before moving to college. Boston allegedly took possession of the horse under a trial purchase agreement, then claimed to the owner the horse suddenly died and she would not honor the agreement.
It was later revealed Boston sold the horse at auction in Montana, according to NW Horse Report. Boston was accused of laundering the title to the horse and the sheriff's office became involved. No charges were filed after the horse was returned to the owner in a civil settlement.
Equestrian Media Group also linked Boston to recently defunct PNW Horse Sales, a former Salem-based auction house which announced it was closing Sept. 14. NW Horse Report attributed this closure to increased scrutiny due to Boston's arrest and their reporting on a contracted auctioneer previously arrested for a horse theft scheme in Louisiana.
This is a developing story you can count on NW Horse Report to keep you updated on as we work to learn more.
---
This article first appeared in Our Town Santiam and was contributed by the original author. This version may contain minor editorial changes and additions.