A young equestrian and her family detail a months-long battle and their disgust over the actions of a woman on the other side of her effort to rehome her horse– all stemming from her move across the country for undergraduate studies. It included both the young college-bound woman and the police being told the horse had died.
There was only one big problem– the horse was alive and being shipped to Montana, allegedly to be sold at auction and likely shipped again for slaughter in Canada.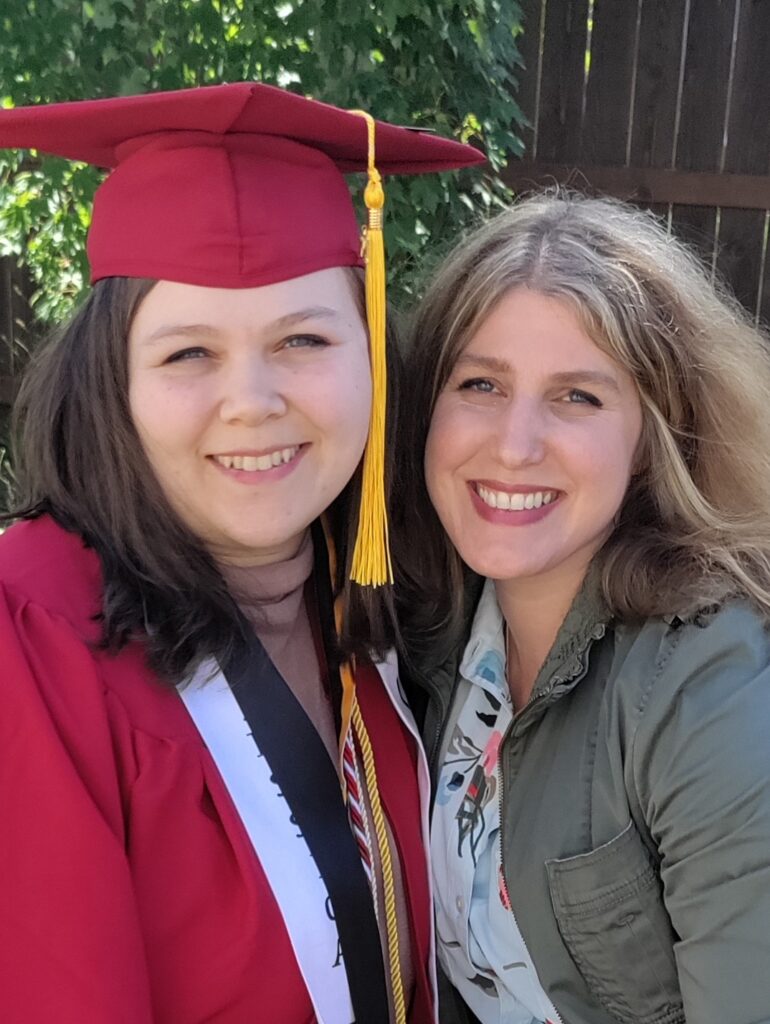 In late August, 19-year-old Jessica Carter of McMinnville, Oregon, was contacted by Geneva Boston who indicated she was interested in Carter's horse. The two made arrangements and ultimately ended up meeting on August 22nd so Boston could look at her horse, Bailey. During this meeting, Carter explained how Boston expressed how much she liked Bailey and how she could give her a great home, at a minimum using her for trail riding. Boston further made comments about getting Bailey to Oakhurst Veterinary Hospital for dental work in December.
Carter agreed she would ultimately move forward on a deal with Bailey without any monetary consideration. "It was just important to ensure Bailey had a good home with the right person" remarked Carter.
The two then decided on a 30-day trial period to ensure the horse would work out for Boston, which ultimately resulted in a formal "Pre-Purchase & Trial Agreement", a copy of which was provided to NW Horse Report. Boston took Bailey home that night and even sent texts about how things were going, according to Carter.
Coverup begins with claims that Bailey died suddenly
On August 27th, having just arrived in Virginia, Carter texted Boston, "Hi, I hope everything is going good. Just wanted to check in, and would love another photo if you have time [smiley face emoji]". This is when the emotional roller coaster for Carter and her family would begin.
Boston responded an hour later by text explaining that Bailey "had passed" and that she got a call yesterday (August 26th) from a neighbor who reported a horse laying down who had not gotten up for a while in Boston's field.

"She was fine yesterday morning, and during the evening when they got fed dinner. Sometime between 6 and 9pm she had passed. I called my vet as she's a healthy horse and met vet guessed brain aneurysm or ruptured aorta." said Boston, further going on to tell Carter, "I'm sorry to give you the bad news".
Carter went on to request contact information for Boston's veterinarian, as well as to ask Boston to contact her father. Carter stated she would have her sister come out right away. Before long Boston started appearing defensive, "I told you all I know. Bailey was fine and then she wasn't. I've told you everything I know. The body was been hauled off." said Boston.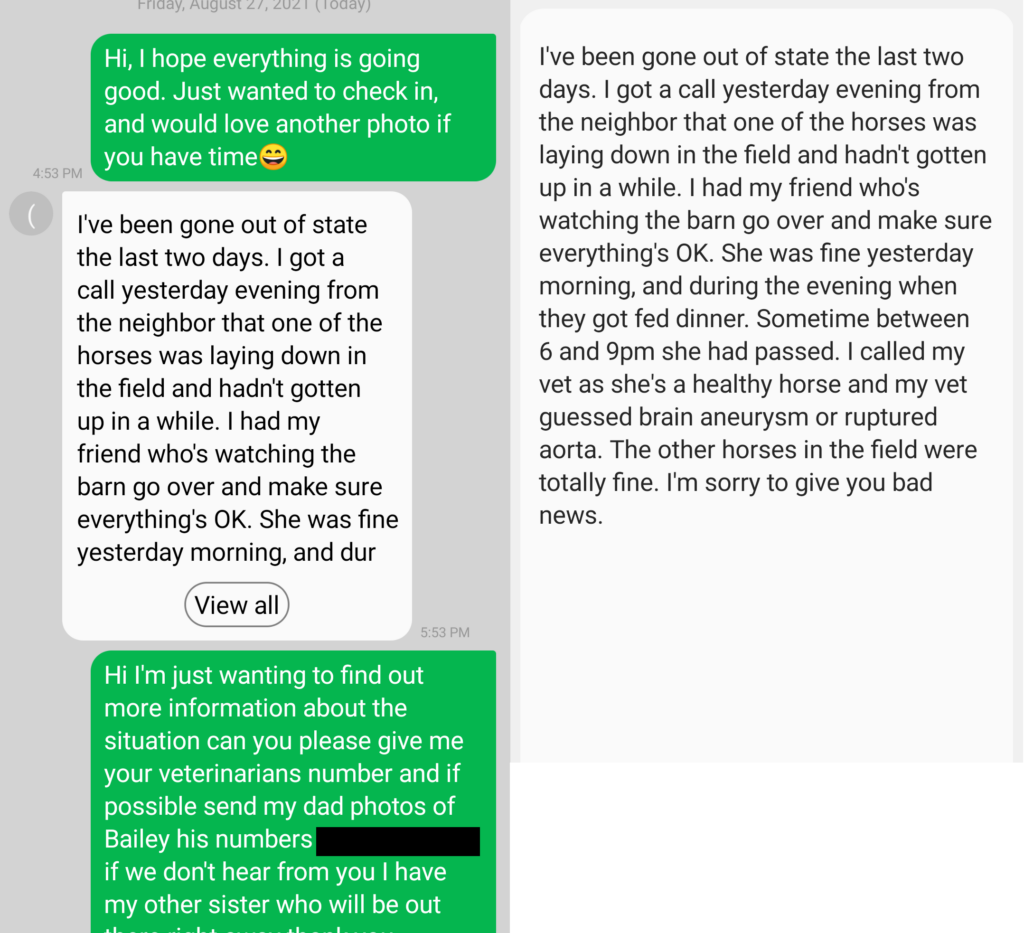 "I never had the chance to bring her to the vet." Boston said in her text. "I'm sorry this happened. It was a freak thing that happened," said Boston.
The two promptly began to argue over the terms of the contract as Carter demanded some sort of proof that Bailey was dead. Boston seemingly ignored the demand and went on to point out a section of their agreement that said, "buyer agrees to pay the full purchase price in the event the horse becomes injured or dead during the trial". Boston went on to state, "The purchase price was $0. This event was not caused by something you or I did. Per the agreement we both signed, I do not [owe] you anything."
The price aside, the agreement did clearly say there was still a 30-day trial and any consideration of purchase would be after the 30 days.
Carter told NW Horse Report that she felt Boston was hiding something when she failed to provide proof of death, and thought the entire situation "just didn't add up". She explained this is why she began to argue with Boston via text message and stated she was going to contact the police.
Local law enforcement gets involved
The same day of August 27th, shortly after Boston made her claims that Bailey had suddenly died in a "freak" event, Carter's father contacted authorities with the Marion County Sheriff's Office in Oregon to report the incident, the county where Boston resided. Later that evening, two deputies were assigned to handle the case.
Deputy Alex Cheremnov discovered that an address provided by Boston in her contract with Carter near Aumsville, Oregon, was a false address belonging to a neighbor. Deputy Cheremnov's notes in her report show that the homeowner was not aware of any horse death on his property. The homeowner appeared to know Boston and provided the correct address of where she boarded her horses, and later stated to the deputy he was "not happy with [Boston]."
Upon arrival at the correct address, the deputy made contact with the property owner named John who reported that Boston had left a day or two before for a horse auction in Billings, Montana. He stated he was not aware of any death of a horse on his property, and then allowed Deputy Cheremnov to take a look at the horses on the property.
The deputy then made contact with Boston's mother who was also at the location. The report details that she was also unaware of any deceased horse under her daughter's care, as she fed the horses when her daughter (Boston) was out of town.
When contacted by phone, Boston told Deputy Cheremnov that she did not wish to provide a picture of the dead horse without speaking with her attorney. Despite continued pressure from the Deputy for this information, and where exactly the horse had died, Boston refused to provide any answers.
Deputy Cheremnov also spoke with Carter's uncle, Brian Carlson, and explained her "thoughts about the horse not being deceased". Armed with the new information provided by the property owner about Billings obtained by deputies, Carlson went on to explain to Deputy Cheremnov that he would keep watch of Montana auctions for the horse and contact Billings Livestock.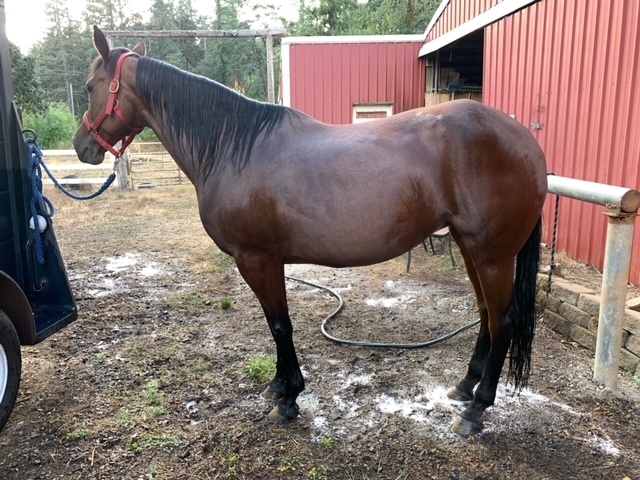 NW Horse Report spoke recently with Sgt. Jeremy Landers, the public information deputy for the Marion County Sheriff's Office about the case. He explained that situations like the one with Carter and her family are often difficult for deputies to handle, especially when the dispute involves a civil contract. He went on to explain how their deputies oftentimes end up as a resource to refer complainants to other sources that can best assist, including civil attorneys and state agencies that deal with consumer fraud issues.
Providing false information in the context of the situation between Boston and deputies he explained did not rise to the level of a crime, as it didn't involve Boston providing false information on her identity or during a traffic stop. Despite the explanation on the matter, Sgt. Landers did acknowledge to NW Horse Report that it was clear Boston had lied to deputies and indicated their deputies assisted in directing the family to the appropriate civil resources to resolve the matter.
Shipping to Montana & allegations to launder title of Bailey
By the next day, August 28th, Carter's uncle Brian Carlson had been able to learn with the help of sources in Montana that Bailey had indeed been shipped to Billings, MT. Bailey was found at the auction yard of the Billings Livestock Commission, a private for-profit company operated by a corporation of the same name, and then reportedly sold.
According to a separate report from MCSO Deputy Crandall from August 28th, Carlson had contacted Billings Livestock management that morning, only to be told by their management that the listed seller was indeed Geneva Boston, but that she had the correct paperwork for the horse and everything was legal on their end.
While Deputy Crandall reported that he concurred with Deputy Cheremnov's conclusion that the issue would have to be resolved through civil process, he stated he "believe[d] the contract set in place was being violated." Deputy Randall contacted the Billings Livestock Commission to report to them there was a contract in place with the horse.
Deputy Crandall then learned from company officials at Billings Livestock that the horse had been "bought back" by Donald Nowlin, owner of Outwest Livestock located in Sunnyside, WA. Deputy Crandall's notes in the report further detail that a company official explained that Nowlin was the boyfriend of Boston, a statement also apparently made by company officials to Carter's attorney, Adam Karp
Montana Department of Livestock documents later obtained by Washington-based attorney Adam Karp who represented Carter and Carlson, showed that Donald Nowlin and Outwest Livestock had also delivered the horse to the auction, and confirmed that the listed seller was indeed Geneva Boston.
This discovery raised further questions that still remain partially unanswered– why did Nowlin purchase back a horse that he delivered for Boston? Carlson stated the answer to him was simple, "They were trying to cover it all up after consigning the horse to the auction, and they now had the police onto them."
Multiple documents were provided by Carter and Carlson showing letters from their attorney. In a September 2nd letter sent to Nowlin's attorney by Karp; "Boston's effort to launder title through the Billings auction is unavailing and illegal as she had no title in the first place. It is plainly an effort to defraud and deprive without any lawful basis." said Karp.
"The threat to send my client's horse to slaughter, as Nowlin so brutishly maintained, is causing extreme emotional distress to Carter, who grew up with Bailey and only parted with possession as she recently began undergraduate studies on the East Coast." Karp said, further stating, "His actions to date smack of civil conspiracy to steal livestock in violation of RCW 4.24.320 and expose him to treble damages and fees."
Nowlin spoke with NW Horse Report and generally denied the allegations and made various claims about conspiracy by animal rights activists, among other simply inappropriate statements regarding Carter and Carlson. He repeatedly refused to make comment when pressed on specifics about his actions of branding and handling of the horse Bailey for Boston.
A request for comment from Nowlin's attorney was not returned prior to press time.
Confusion in relationships between business and state officials
When later speaking with NW Horse Report, Jann Parker who is the Horse Sales Manager with the Billings Livestock Commission (BLC) was cagey when asked about being a government agency or a for-profit company.
"We're a federally licensed and state-sanctioned auction location. Not everyone can do what we can do." said Parker. When pressed further, Parker continued to be non-specific in answering questions but eventually confirmed they were indeed a private business but worked closely with the Department of Livestock, explaining that there was a, "brand office on-site".
Montana Secretary of State records confirm that the Billings Livestock Commission, Inc. is an active "for-profit" corporation.
When also asked about providing any documents that would shed light on the case involving Bailey, Parker said they don't provide that information, although at first she incorrectly implied she was legally prohibited under State law from doing so. She later expressed that they just weren't going to provide any material as they are a private company, which is correct barring a subpoena related to a criminal investigation or civil case. They further refused all requests for information and comments about their business with Boston, Nowlin, and Outwest Livestock.
The only material obtained to date by Carter's family through their attorney that could be confirmed by NW Horse Report was a single document from the State of Montana, as well as confirmation with the Department of Livestock about the Certificate of Veterinary issued in Oregon.
An official with the Montana Department of Livestock, who spoke with NW Horse Report only on the condition of anonymity as he was not authorized to speak for the agency, stated that the Billings Livestock Commission has such a close relationship with the Department that company officials do have a tendency of not being clear about the separation between state and company officials.
NW Horse Report observed one example when reviewing emails sent between Carter's attorney and company officials with the BLC. In one email, they provided contact information for Shawn Hando, a Brand Investigator with the State, who they instead said was their "regional director", and said nothing about him being a state official or an investigator with the Montana Department of Livestock.
When we asked the same source about this title he stated that their agency uses neither region nor director to describe the individual's position or title. He explained that in this case the Brand Investigator was in charge of a "district" not a region, and was an "investigator" not a "director".
Hando declined to speak with NW Horse Report when reached for comment and directed us to contact the Helena office to speak with his boss. When returning our call, Brands Enforcement Administrator Ethan Wilfore declined to answer any questions and stated he would not be providing any comment about Nowlin and Boston and the situation involving the horse Bailey.
Calls placed last week and this week to the head of the Department of Livestock, Mike Honeycutt, explaining the lack of response from other officials and a request for comment from him directly were not returned.
In response, NW Horse Report has submitted public records requests with the department.
While it appears a circling of the wagons is underway with most of the parties involved in Montana, Yellowstone County Sheriff Mike Linder was more than helpful in trying to assist NW Horse Report concerning Bailey. The Sheriff was quick to provide information, although it was limited as he stated his deputy ultimately referred Carlson to agents with the Department of Livestock.
Document makes intent to ship and auction Bailey clear
Documents obtained by Carlson from the Oregon Department of Agriculture, which were shared with NW Horse Report, seem to show a clear intent by Boston for the horse to be shipped to Billings for auction. An official Oregon Certificate of Veterinary Inspection, dated the day after the horse was taken home by Boston, stated the horse was to be shipped by her to "Billings Livestock" in Montana.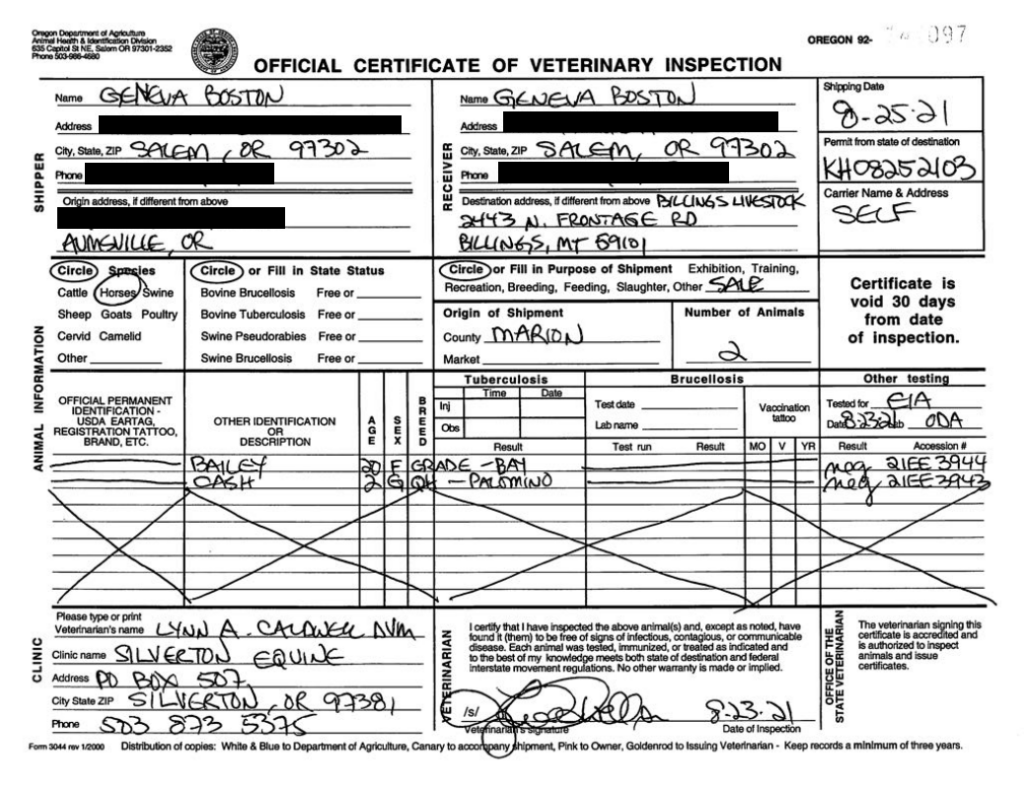 Also listed on that record was another horse named Cash which appears to have also been taken by Nowlin to auction. No further details have been available about that horse.
The document further indicated a date of shipping for August 25th. The auction in Billings was held on August 28th.
"The dates on these documents left zero doubt about how she scammed [Carter] and what her true intent was from the very moment she came to look at Bailey– to make a quick buck by sending her off to an auction– likely to a kill buyer for slaughter." said Carlson, going on saying, "[Carter] didn't just give away the horse because she didn't care, she made an arrangement for zero money because giving Bailey a good home was what mattered most. Bailey had much more life to live."
Kathyrn Hall, an attorney for Boston, made several points related to Boston's handling of the situation, albeit they appear to be more of technical legal arguments.
"It is my understanding Bailey is not being 'prepared to be sent for slaughter,' and that that Mr. Nowlin's company purchased the mare for $750.00 with the intention of reselling her for more at a subsequent auction. I have no doubt you are aware that a substantial number of quality riding horses are sold at public auction, not every horse sold at public auction is destined for slaughter as you've suggested…" said Hall.
Hall further stated, "As distasteful as you obviously consider public livestock auctions to be, they are commonplace in this country, particularly in the West." She also said that the assertion that officials at the Billings Livestock Commission about the relationship between Nowlin and Boston was "patently absurd."
Hall further denied that her client was ever at the Billings Livestock auction, "[Boston] did not set foot in Montana and was not present for the auction; she was in an emergency room in another state on August 26, 2021." Carlson further said that they believed Boston's hospital visit claim to be made up, which is why Boston was vague about the claim and what state she was in.
A request for comment and response to questions was rejected by Hall on Boston's behalf, other than to confirm that the matter with Carter had been settled out of court.
Bailey "held hostage" for civil settlement, questionable branding and weight loss discovered
For weeks following the shipping of Bailey back to Nowlin's feedlot in Sunnyside, WA, negotiations and delays continued between the attorneys for Carter, Boston, and Nowlin. These delays brought Carter's attorney to within hours of initiating action in federal US District Court against Nowlin, Boston, and possibly the Billings Livestock Commission.

In a final hour move around September 17th, attorneys for Boston and Carter finally resolved the matter. Carlson said this step avoided a more costly affair for everyone. "They definitely were holding onto the horse as leverage during this time," remarked Carlson.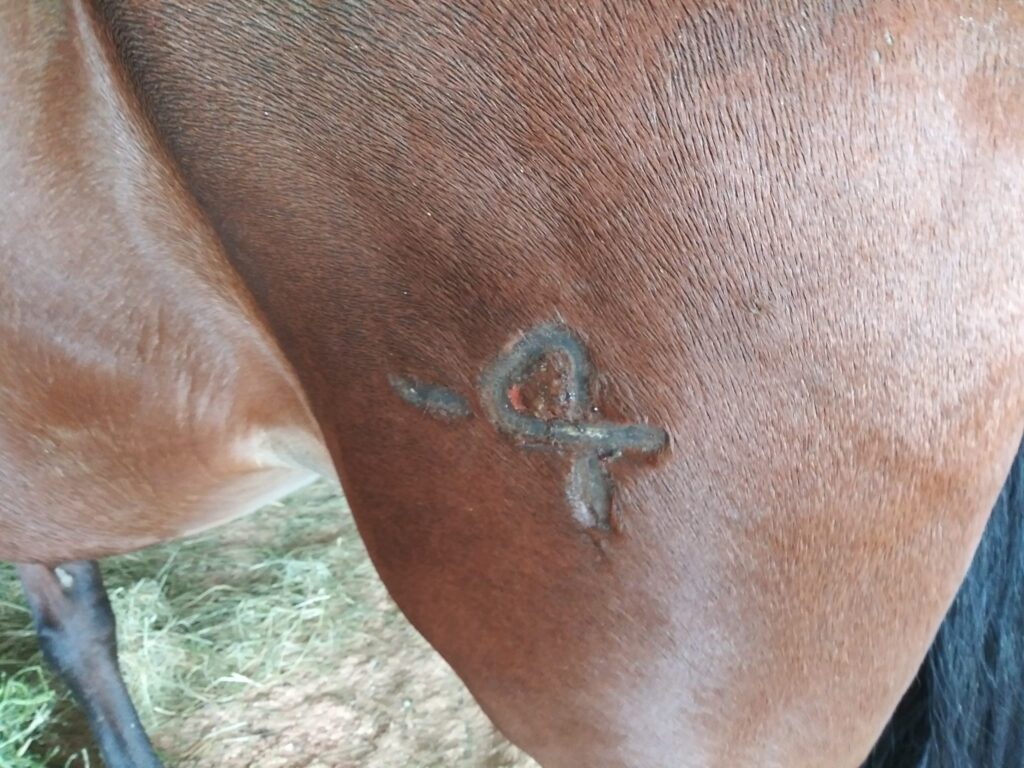 Carter and her family explained that they ultimately decided the best course of action was to take a path that resulted in a quick resolution for Bailey, so she could be returned and receive appropriate care. An emotional Carter detailed the pain and anxiety she had as the days went by during the ordeal, as well as the amount of amazing support she had.
"It was amazing to see people step up and help, and I'm very grateful. We got Bailey back and she's getting the care she needs," said Carter.
Despite a settlement, the entire ordeal was not yet over the Carter and her family. Upon return in late September, a brand on Bailey, allegedly that of Nowlin's, was discovered on the horse. Multiple individuals along with Carter and Carlson claimed that the brand was "deep" and beyond appropriate, and the officials in Montana said the horse was not branded until it returned to Nowlin's Sunnyside feedlot.


They also further alleged that the horse's weight dropped several hundred pounds in just a matter of weeks showing that Nowlin and Boston were not providing adequate care for Bailey. Carlson also alleged that Boston's veterinarian downplayed the significance of the weight loss and attributed it to "minor weightless due to double shipping and stress".
Nowlin makes allegations against Carter, family, and non-profit horse rescue
In social media posts, Nowlin disclosed multiple communications between him and his attorney while claiming that Carter and her family only wanted the horseback due to money– seemingly pointing to a settlement offer from Carter's attorney in early September that included monetary compensation of $3,000. Carlson and Carter both explained that the offer would have only covered her legal fees and further stated they ultimately reached a settlement that did not include monetary compensation, leaving Carter and her family stuck with approximately $2,600 in legal and multiple vet bills within the week after the horses return.
Communications between the respective parties' attorneys also detailed an early rejected offer that included a non-disclosure clause that would have prevented Carter and Carlson from discussing the entire ordeal.
This offer was rebutted as they explained, "It was important that [Carter's] and Bailey's story could be told so others may be spared such a horrific experience." said Carlson, Carter's uncle.
Nowlin and other known associates of Boston further alleged the family gave the horse away again shortly after it was returned. Jessica Parker on Facebook said, "…her family gave her away in the first place. And then when they got the horse back gave it away again!"
Joy Laudahl, who heads Harmony New Beginnings Animal Rescue in Sheridan, Oregon, said that Bailey was simply put into their care as a quarantine measure and to ensure Bailey could get the care she needed. Laudahl further explained in Facebook posts that the family was covering the expenses and no donor funds were being used in this situation.
Nowlin also made claims on Facebook against Laudahl that she refuted, "Let's see how long Joy keeps it… rumor on the street says she will put it down because it has no resale value either…" posted Nowlin.
Harmony New Beginnings recently received the 2021 Rescue Entity of the Year Award from the Oregon Animal Control Council.
Nowlin and Outwest Livestock's other legal troubles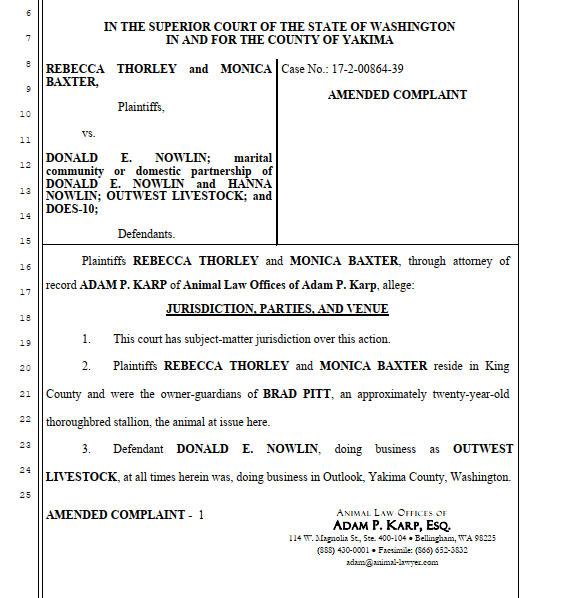 A 2017 lawsuit filed in Washington State details serious allegations against Nowlin and his Outwest Livestock business. That case is also being handled by attorney Adam Karp for the plaintiffs.
Among the allegations in that complaint included theft of livestock; misrepresentations about disease on his feedlot, such as strangles; the killing of a horse known as Brad Pitt, and Nowlin engaging in the unlawful practice of veterinary medicine.
A veterinarian's report in that case went as far as stating; "The horse Brad Pitt's injuries are consistent with intentional and painful abuse by a human."
The case was arbitrated in 2019 but the details were sealed. Nowlin claimed to NW Horse Report that the ruling which he confirmed was found in favor of the plaintiffs. Nowlin said it was "just a bunch of fraud and extortion from the animal rights [group]", saying further he wasn't going to let them have "tens of thousands of dollars".
Nowlin also said that attorney Adam Karp was just an "ambulance chaser". Nowlin further denied the allegations in the complaint that he killed any horses, including Brad Pitt, repeating that the legal complaints against him were a "set up by animal rights".
Due to the impacts from COVID-19, the trial has currently been delayed and is scheduled for trial in November of 2022. A request for comment from Nowlin's attorney was not returned prior to press time.