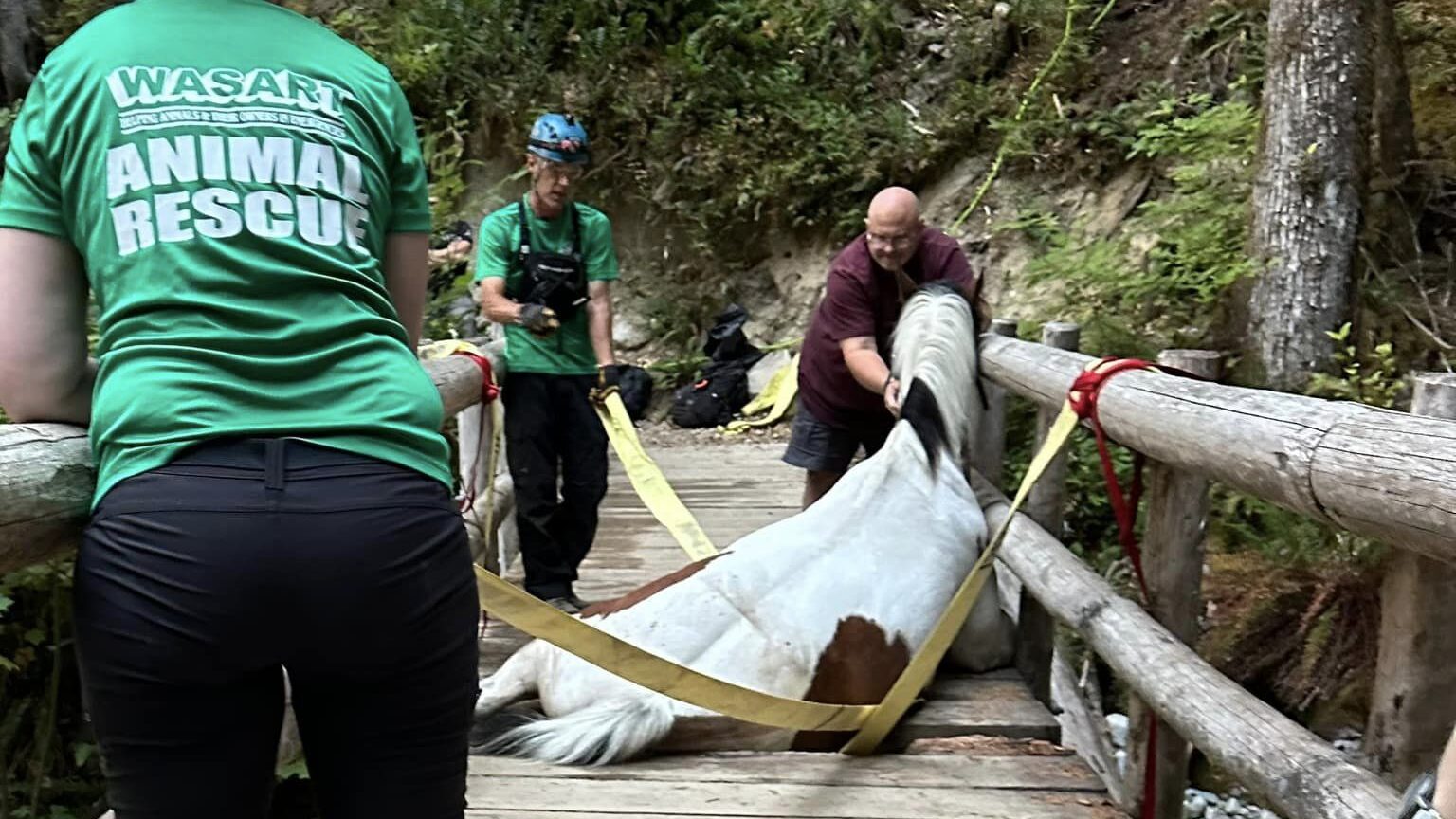 North Bend, Wash. – On Sunday, first responders from the King County Explorer Search & Rescue (KCESAR) with assistance from the Washington State Animal Response Team (WASART) responded to a call involving a horse that had fallen through part of a wooden bridge on the Middle Fork trail off the Snoqualmie River in eastern King County, Washington.
KCESAR's Alpine Deployment Team was first on scene followed by others with KCESAR and WASART.
According to a statement from WASART, the initial responders hiked the half-mile up the trail to Dakota and her owners to assess the situation.
"Our command checkpoint was the Middle Fork trailhead parking lot. After coming up with a preliminary plan, heavy gear was packed and hauled up the trail including rope bags, rigging equipment, glide, head protector, and Becker bar and slings," said the statement.
The mare horse, named Dakota, showed that her right hind limb was completely through a hole near the side of the bridge up to the level of her right pelvic bone. Her left hind limb was on the bridge deck, splayed laterally. She was laying across the bridge with her front hooves hooked over the other edge of the bridge. Her head and neck were resting on one of the bridge rails.
After the owner's veterinarian arrived, the rescue crews used a highline anchored approximately 40 feet up in the trees to assist in lifting the horse out of the hole in the bridge.
WASART also stated on its Facebook post, "We are incredibly thankful for the assistance of the King County Explorer Search and Rescue rigging team and field members for their professionalism, skill, and willingness to work into the early morning hours to help. They were an invaluable part of this advanced large animal technical rescue."
In total, 33 responders between WASART and KCESAR were involved in the successful rescue operation. The horse, Dakota, is expected to make a full recovery.
WASART is an all-volunteer rescue organization. For more information about WASART, you can visit https://wasart.org