Madras, Ore. – A self-described horse trader was found guilty of two criminal counts of animal neglect in connection with a Sorrel Quarter horse Mare and its Palomino filly. She was acquitted on charges of neglect, abuse, and illegally practicing veterinary medicine– all of which were all tied to her actions involving a Buckskin Quarter horse Gelding that the State alleged she had inhumanely castrated.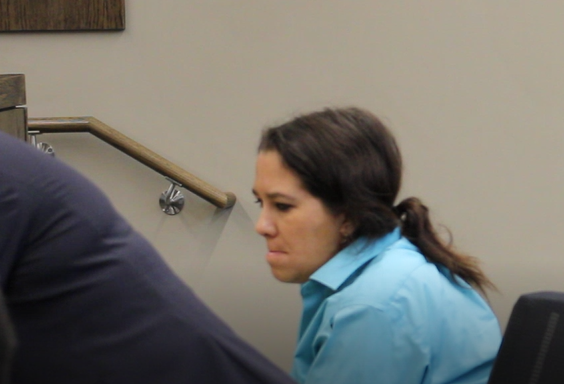 Tania Lynne Herring, 42, was charged with 1 count of practicing veterinary medicine without a license, 3 counts of neglect, and 1 count of abuse– all due to her handling and treatment of several horses in the summer of 2019. The State's case came following an investigation by the Jefferson County Sheriff's Office– originally stemming from the case of Aussie dog breeder Cora Gooding-Murphy who is also facing charges in connection with neglect of over 50 dogs seized from her.
Both Herring and Gooding-Murphy resided at the same property which was located on Loucks Road northeast of Madras, Oregon.
Herring was also charged in 2010 in Linn County for neglecting horses, 31 of which were seized when 116 total horses were found on a 12-acre property. Sheriff Tim Mueller of Linn County had described the horrid conditions at the time which KGW Channel 8 News reported was the 'worst animal neglect case ever seen in Linn County'. Those charges were later dropped due to missteps related to the seizure and custody of the horses.
Details regarding the State's allegations were unknown prior to the trial due to a lack of information provided by both the Jefferson County Sheriff & District Attorney's Office. The Sheriff's Office did make a press release in June of 2019 regarding the seizure of the dogs from Gooding-Murphy, but didn't make any notice regarding the case with Herring. Only a charging information document was available from court records.
NW Horse Report learned about the case after being tipped off by several readers in mid-March– breaking the story last week.
The verdict comes after a trial that took the better part of yesterday, with closing arguments and jury instructions being held until earlier this morning. Jury deliberations lasted about 3 hours. The lead prosecutor was Jacob Kamins, the State's special animal cruelty deputy district attorney. Kamins was also assisted by Deputy District Attorney Margaret D'Amico who works directly for the Jefferson County District Attorney's Office and served as co-counsel.
It came to light during trial that investigators and a local veterinarian euthanized one of the involved horses, having determined that the horse was suffering, was non-ambulatory, and unlikely to have a chance at recovering after an evaluation. During the trial, Herring's attorney argued repeatedly that the actions of investigators and the veterinarian were improper and without her client's permission. This included administering medicine to her horses, euthanizing the mare, and seizing the mare's filly.
Despite the horse being in a poor and non-ambulatory condition on the morning of June 25th, Herring left for Eugene for the day and failed to take appropriate steps to ensure proper care for the mare. Herring had even been aware of an ongoing investigation at the property that centered on Gooding-Murphy.
State prosecutors countered by arguing that all such actions were permitted by an Oregon law that gives such authority to peace officers in situations involving neglected animals. The immediate seizure of the filly was to ensure it could receive proper care from a local horse rescue that specializes in young orphaned horses, requiring the filly to be relocated to the rescue's facility.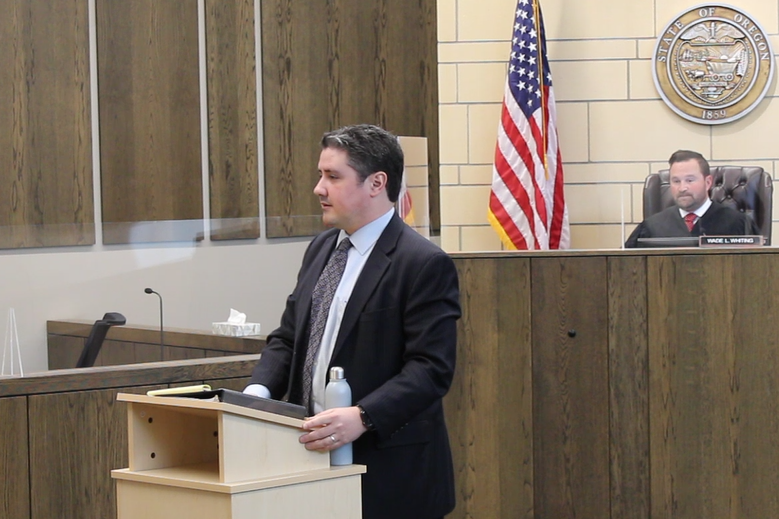 A video taken by investigators and admitted as evidence during the trial showed the filly pawing at the near lifeless and unresponsive mare mother. The mare was ultimately euthanized.
Herring stated at the trial that she doesn't agree with how most veterinarians euthanize horses and believed it was best to be done by a "bullet"– criticizing the method used to euthanize her mare– despite a well-established position from the American Veterinary Medical Association (AVMA)
While the defense called no third-party witnesses, Herring surprisingly took the stand in her defense, which later resulted in her being grilled during cross-examination by Kamins. During questioning Herring claimed that the veterinarian had improperly given her recently gelded horse "Banamine", the common brand name of flunixin meglumine, a non-steroidal anti-inflammatory drug (or NSAID).
Herring said during her testimony under cross-examination that everyone knows you don't give 'Banamine' to a horse after being castrated. The veterinarian, who was also the State's expert witness, provided rebuttal testimony that debunked Herring's claim regarding the drug and stated the opposite– that Banamine should have been given.
Herring also said during testimony that she had a total of 35 horses at the Madras property at the time of the incident, all of which were part of her purported horse training and trading business. Most of her testimony during questioning focused on her self-described experience and claims of being a trainer starting at the age of 14, growing up with horses, and having attended many "clinics" over the years. Herring also said in her questioning that she was cooperative with investigators who had initially been looking into Gooding-Murphy's dog neglect case.
Court records in a separate civil case show Herring making a declaration that her business is "TNT Performance Horses"– but no such business appears to be registered with the Oregon Secretary of State– a legal requirement when physically conducting commercial transactions in the state. While not an element of her trial, this discovery raises further questions about Herring's business practices concerning the employment of stable hands, payroll taxes, and other Oregon business requirements.
The court moved quickly into sentencing following the verdict. Circuit Court Judge Wade Whiting who presided over the case appeared to issue a sentence that was much less than what the prosecutor asked for but was more than requested by Tania Herring's court-appointed attorney, Jennifer Kimble. The State requested Herring receive a total of 48-hours in county jail, 24-hours for each count of neglect, but the Judge ordered community service instead of jail time.
On the two counts, Herring was sentenced to a total of 40-hours of community service to be performed with a non-animal related 501(c)(3) within 60-days following her probation, ordered to promptly complete an 8-hour Animal Rehabilitative Curriculum, and 24-months of bench probation. The biggest part of the sentence was a court order that prohibited Herring from possessing any equine or domestic animal for a period of 5-years, as stipulated by Oregon law with a misdemeanor neglect charge. Herring must also comply will all other laws during her probation.
Felony charges of animal neglect and abuse can result in up to 15-years. No provision in Oregon statute currently provides for any bans that are lifetime or longer than 15-years with animal neglect or abuse convictions.
Herring and her attorney both declined to comment both before and after the trial. Herring's attorney had incorrectly told the court during sentencing that NW Horse Report released several articles that were demeaning of her client and repeatedly brought up her charges in 2010, even though only a single story up to that time regarding Herring has ever been published by this publication.
However, many newspapers and televised news stations across the northwest had indeed previously reported on Herring's charges in the 2010 case in Linn County.
In a brief post trial interview with NW Horse Report, Kamins indicated his respect for Herrings attorney, Jennifer Kimble, who he felt provided an excellent defense for his client with a unique and difficult case for all. "I think Ms. Kimble said something in her closing that I absolutely agree with, that these are hard cases to sit through for jurors, for lawyers, witnesses– It's just a hard thing to sit and watch these videos and see those pictures of animals suffering."
Kamins also noted the timeframe the jury took in deliberations on such a case, saying, "…which says to me that [the jury] really gave thought to the charges and consideration to all the arguments of both sides and reached a fair verdict."
When Kamins was asked about his repeated focus and agreement that Herring didn't necessary act intentionally to harm her horses, he said, "It's not that these people have a conscious objective to cause suffering to their animals– that's a different crime." referring to aggravated animal abuse. Kamins repeatedly made a point with the jury to understand that the charges Herring was facing did not require intent, but criminal negligence, which was a much different legal standard.
It was not immediately clear what steps Herring would be taking to release ownership and possession of her horses, which reportedly are kept in multiple locations in Lane County, Oregon, and possibly in other areas. Law enforcement and humane society special agents will be able to inspect and ensure compliance with these provisions. It was also unclear if the conviction prevents her from holding employment with the Eugene Livestock Auction where she reportedly works part-time as a "clerk" during auctions.
New findings & ties to questionable non-profit
Before the trial, Herring had entered into a conditional release agreement in March of 2010. One of the conditions included not possessing animals and arranging for the transfer of animals in her custody and control. Kamins pointed out to the court during sentencing that Herring had violated the terms of her conditional release agreement over the last year by continuing to possess horses. NW Horse Report was able to confirm the accuracy of the State's allegations, namely through social media postings made by Herring.
Herring currently has horses located with the owners of a related for-profit and non-profit organization– with similar names– located outside of Eugene. The non-profit, MG Equine Rescue & Therapy, appeared to be somewhat comingled with MG Equine Farm, a for-profit company. David Gravelle, one of the officers and owners of the respective entities, told NW Horse Report that Herring was last involved with them in January of 2021, despite NW Horse Report receiving information that clearly shows otherwise.
In January of 2022, Herring was found to have been posting online in attempts to hire workers at the Gravelle's facility which is located just outside Eugene near the airport, although it was unclear which business or organization it was for. David Gravelle had also claimed that they shuttered the non-profit, although it doesn't appear they have followed proper legal steps in dissolving the public benefit corporation– a type of Oregon non-profit.
MG Equine Rescue & Therapy has never filed required annual reports with the Charities Division of the Oregon Department of Justice, according to available records. The Oregon DOJ also clearly outlines requirements for non-profits with their board of directors and the legal obligations of board members.
The Gravelle's ultimately declined to answer further inquiries into their affiliation with Herring, as well as several follow-up inquiries into their non-profit which appears to be operated at the same facility as their for-profit business. Tiffany Gravelle told NW Horse Report on Sunday that she would be able to respond by Monday, but no response to this publication's inquiries was made by press time Tuesday.
These new findings and affiliation with Herring is a developing story.
---
View the conversation on Facebook