Chester, Idaho – An unregistered Idaho company that was previously conducting illegal raffles for horses that failed to sell is now offering free drawing entry– albeit somewhat discretely– in order to comply with Idaho gaming laws.
By offering free entry, the "raffles" can instead be considered a merchant drawing that is not subject to Idaho gaming laws and the State's constitution, according to Tina Miller with the Idaho Lottery Enforcement Division.
Article III, Section 20 of the Idaho Constitution prohibits gambling with three exceptions: the state lottery, pari-mutuel betting, and charitable bingo and raffles.
Following tips last month, Equestrian Media Group reported that Weber Family Quarter Horses was conducting raffles in violation of Idaho's charitable gaming laws. According to the Idaho Lottery, "only charitable/non-profit organizations can conduct bingo and raffles. All other gaming activities such as poker runs, Calcutta's and casino nights are strictly prohibited."

The Idaho Lottery says that merchant drawings are permitted so long as a single entry per individual is permitted without costs.
"An example of this would be if a group is holding a fund raising dinner and with your dinner you also receive a ticket or entry into a drawing. This is permissible as long as anyone can obtain a ticket or entry into this drawing without having to purchase a dinner or any other item. The language "No Purchase Necessary to Enter" must be clearly placed on all communication related to the drawing, including the ticket."
An official with the Idaho Lottery also went on to explain that the party holding the merchant drawing must also ensure they do not materially change the terms of the drawing, including the number of entries or the timeline for drawing entry unless providing all entries the option for refunds when they were charged, or purchased additional entries.
On September 27th the company announced the changes it would be making on a Facebook post. It was not clear if those who had entered into a previous raffle that had not yet held the drawing for a horse named Smokey had been offered a refund in order for their one free entry.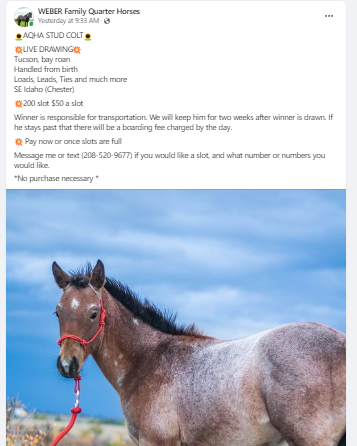 The latest drawing for an AQHA Stud Colt called "Tucson" is now actively available and includes the required disclaimer saying "No purchase necessary". The company is offering 200 individual entry slots. According to the company's Facebook post yesterday, entries can be made by text messages to the company at 208-520-9677. Any additional entries beyond the first free slot per individual are $50.
It is unclear if the company would continue providing the drawings if a significant number of entrants requested the free entitled entry.