Following an opinion from the Oregon DOJ due to pressure from Governor Kate Brown, the Oregon Racing Commission (ORC) has voted unanimously to deny the Flying Lark's application for 225 historic horse racing machines (HHR's).
The DOJ's decision called the project "unconstitutional" based on the state's gambling laws. A letter from Gov. Brown to the ORC backing the DOJ's opinion went on to threaten the commissioners appointments if they did not follow the opinion of the state's legal counsel.
"I would regard such conduct as contrary to my expectations for your appointment. This could provide grounds to initiate removal from the appointment…" said Brown in the Feb 16th letter.
Boersma and other advocates disagree, pointing to the fact the legislature approved a law in 2013 that permitted the Portland Meadows racetrack to operate the same machines starting in 2014 until it shuttered in 2019. The ORC's decision however was apparently done so reluctantly.
"While I have great respect for the DOJ, their opinion is clearly at odds with the opinion of legislative counsel when the enabling statute was enacted," said Jack McGrail, the ORC's Executive Director, referencing ORS. 462.155 which authorizes the pari-mutuel betting machines.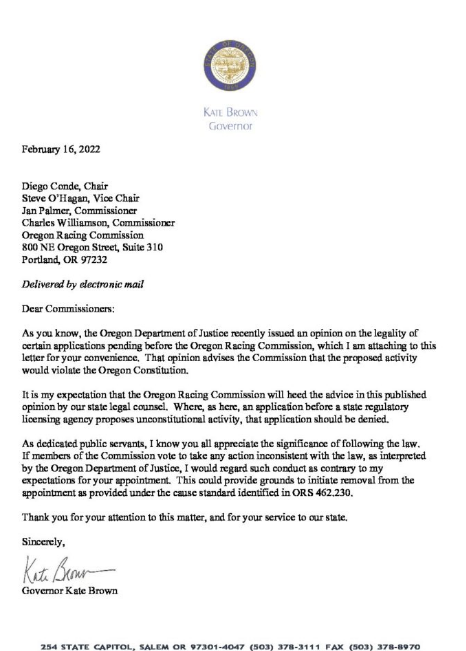 The commission's resolution noted that it would have passed The Flying Lark's application, at least until the opinion from Oregon DOJ essentially provided ORC its marching orders. Just over three-fourths of Oregon's tribes have come out against The Flying Lark's application submitted by TMB Racing, a company owned by co-founder and President of Dutch Bros, Travis Boersma.
Tribal leaders have claimed that since Portland Meadow's closure, HHRs technology has become so sophisticated that it has rendered them into defacto slot machines that require no skill.
"It's not a casino, casinos have roulette wheels they have craps tables they have Blackjack they have lottery drawings and The Flying Lark has none of these– all it is is a couple of hundred historical racing machines," said ORC commissioner, Charles Williamson.
While casinos outside of Tribal reservations are prohibited under the Oregon constitution , a law passed in 2013 law provided a carve-out for certain methods of historical race betting. Another bill that passed the Oregon legislature in 2021, SB 165, provided that multiple stakeholders get some of the funds generated by both live and historical horse racing. That bill was signed into law by Governor Brown back in July.
A call placed days ago to Governor Brown's office seeking comment and asking about the change in her position was not returned prior to press time.
"I don't think there's any mistaking that the legislature knowingly and intentionally tossed a life preserver to [the horse racing industry] when they passed HHR legislation, and this opinion will clearly thwart that intention and deliver a serious blow to the hopes of many thousands of employees and individuals — both directly and indirectly — who make a living in the racing industry in Oregon," McGrail said. "That will also impact Josephine County in a significant way."
Boersma stated that the Flying Lark would have to lay off 200 employees at the end of this month due to the decision. Regardless, he said that he'll personally fund horse racing at Grants Pass Downs for the next three seasons.
The entire issue for TMB Racing and it's Flying Lark appears likely to be headed to court for an actual ruling.
While he did not specifically mention legal action as stated by McGrail, Boersma said his team will "have a path to continue this process."
"I am very confident in going forward," Boersma said.
"This will keep an industry and thousands of additional jobs from being eliminated, and allow my team and I, the state, and Oregon's Tribes if they're willing, to come to an agreement that will create jobs and improve the lives of Southern Oregonians, and ensure horse racing remains a vital part of our community," Boersma said.
"I am not giving up, I am going to continue to be a force for God and a force for good in this endeavor," said Boersma in a final statement.