Updated on December 6th at 09:37am to reflect parts of a statement from the Better Business Bureau concerning the company.
Another company has been found to be marketing and providing services for the construction of horse barns in Oregon without being licensed with the Oregon CCB– leaving unwitting Oregonian's without critical protections provided by the State when things go amiss. The company, North Carolina based Manning Buildings, is also likely violating contractor licensing requirements in many other states.
Over the summer, NW Horse Report covered a story involving California based MD Barnmaster and North Carolina KB Constructors, LLC being busted by the State's Construction Contractors Board and being fined thousands of dollars. The two affiliated companies provided both the materials and installation of luxury horse barns in multiple states. That story also detailed a lengthy and emotional ordeal involving attorneys and possible litigation for Mindy Wolfe of Tumalo, Oregon.
Following that story, readers started to send in tips regarding other unlicensed contractors offering horse barns, mostly those based outside of Oregon. One company that came up repeatedly in just the last week was another North Carolina company, Manning Buildings, based in Snow Hill, North Carolina.
NW Horse Report was sent multiple copies of posts made on several Oregon horse related Facebook groups showing the company's owner, Derek Manning, quoting customers for project totals, delivery rates, and responded to other questions. Another women was also posting on behalf of the business and appeared to be affiliated with the company. Online reviews appear to show that Manning Buildings had performed jobs in Oregon before, including in the areas Salem and Lincoln City.
One of the Facebook posts– made just yesterday by Manning on the group called Official Oregon Horses— already had 90-comments by late Friday evening.
A 1-star rated Yelp page also detailed issues reported by a customer in North Carolina that echoed reviews found elsewhere that detailed issues with getting refunds when the manufacturer had delays. The company doesn't maintain an official website beyond it's official Facebook business page.
Upon a closer look and speaking with Manning, it didn't take long before NW Horse Report discovered that not only did the business not have a CCB license in Oregon, it wasn't registered with the Oregon Secretary of State, a requirement in order to be licensed with the CCB.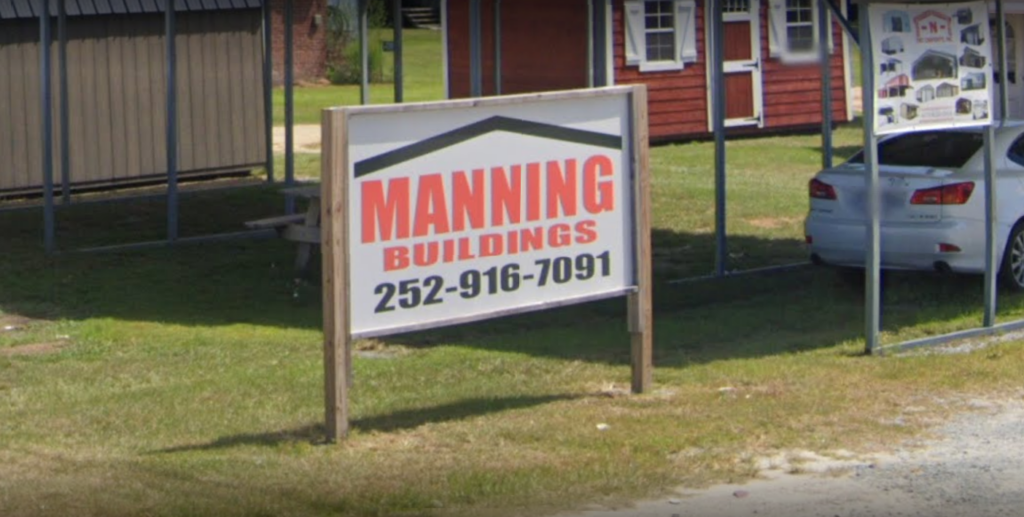 Manning made conflicting statements, first saying he was a licensed contractor in Oregon, then changing his story that his business was covered by the manufactories he works with, in particular a company he called "American Steel", based in Joshua, Texas. That company's full name was American Steel Carports, Inc.
He also claimed that only his installers had to be licensed, a claim that Oregon CCB officials later told NW Horse Report was false. Manning refused to disclose the installers he uses in Oregon when asked who they were and if they were licensed contractors.
After Manning was informed that no record for either company could be found with the Oregon CCB, Manning said he would call back after "clearing things up". He returned the call to say that after talking with American Steel Carports Inc.– the purported supplier for his metal barns– that neither company was going to answer any more questions and were not willing to provide their license numbers to NW Horse Report or any other news media.
NW Horse Report then decided to reach out to American Steel Carports in Texas to confirm Manning's claim that they didn't wish to speak with any media. They said that Manning Buildings was an "online dealer". The company did say that their sister company, American Carports, Inc., was licensed in Oregon and California. They and provided a number which was indeed verified as Active with the Oregon CCB.
Oregon CCB records did show that American Carport had a single disciplinary action ordered in March of 2020 for not having a responsible managing individual (RMI) on their license. It also showed 3 past suspensions; 2 for not having liability insurance, and another for not having a required surety bond.
The American Steel Carports official who spoke to NW Horse Report also said they were not aware of Manning having any recent discussion with their company about not speaking to the media, saying they were happy to be transparent. They also confirmed that as a dealer, Manning Buildings would handle the initial deposit payments with customers and handling the initial sales and bid, something the Oregon CCB clearly stated would require Manning Buildings to be registered and licensed in Oregon.
They said that Manning Buildings was "not a subcontractor" and is not an agent of their company.
While saying they did not believe they were not legally responsible for Manning Buildings having any required licensing in the respective states, the official did say it would be a matter of concern if they were violating the law.
Leslie Culpepper, Communications and Education Manager for the Oregon CCB, provided NW Horse Report reference to the Oregon statute that clearly defines the requirement that would require Manning Buildings to be licensed.
The statute defined a "Contractor" as, "A person that, for compensation or with the intent to sell, arranges or undertakes or offers to undertake or submits a bid to construct, alter, repair, add to, subtract from, improve, inspect, move, wreck or demolish, for another, a building, highway, road, railroad, excavation or other structure, project, development or improvement attached to real estate, or to do any part thereof".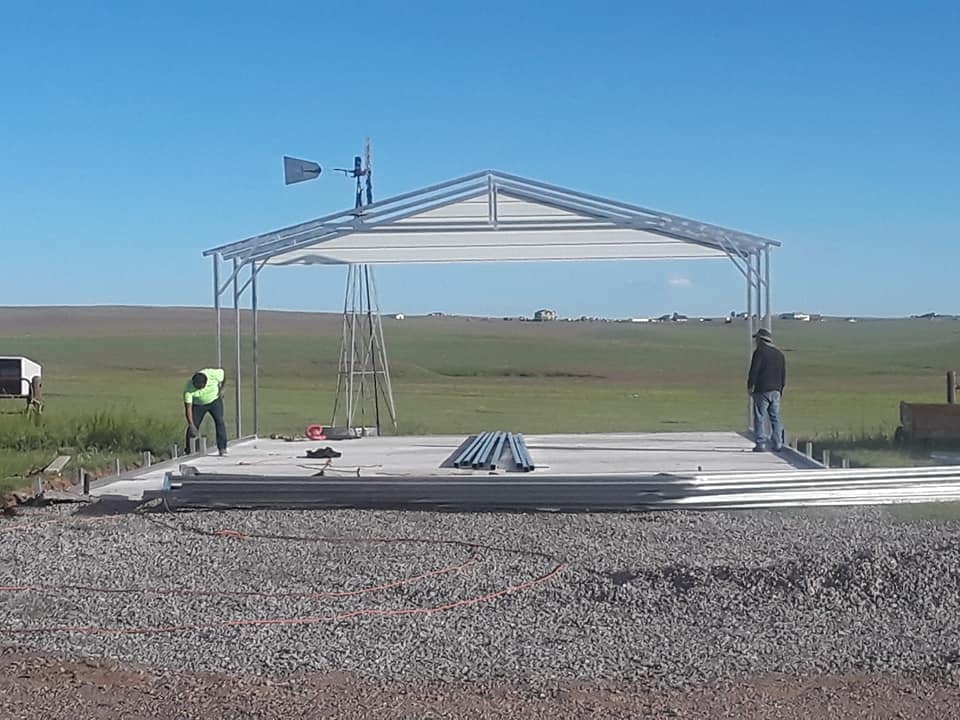 Culpepper further said that while the contractor should always be able to provide their CCB license number, they found no record for Manning Buildings or Derek Manning. She confirmed that it was a common misconception that only the contractors on-site needed to be licensed.
However, the licensing issues didn't just end with Oregon. NW Horse Report uncovered that Manning Buildings was not licensed with the Licensing & Contractors Board in it's home state of North Carolina. The North Carolina Secretary of State also had no record of "Manning Buildings". There was an apparently a similar named but unrelated business called "Manning Building Products".
NW Horse Report could find no business registered in North Carolina associated with Manning. Manning Buildings advertised providing it's products and services in 48 states. No record of any contractors license or business registration tied to Manning could be found in a handful of Oregon states in which posts showed Manning had contracted jobs performed in. Some states were likely to have requirements that were both similar or varied from Oregon's contractor licensing.
Despite Manning Buildings being based out of state, they can still be subject to fines by the Oregon CCB. Our recent story about California based MD Barnmaster detailed a $5,000 fine the company was slapped with by the Oregon CCB– which as of today still has $1,615.85 unpaid to the State.
Culpepper explained the importance of Oregon consumers to check and verify all parties they are paying and signing contracts with for such projects.
"Contractors licensed in Oregon are required to carry a bond and insurance that can help protect consumers. In addition, homeowners who find themselves in a dispute with a CCB-licensed contractor have access to the CCB's mediation services." said Culpepper.
She further explained that anyone who would like to look up their contractor's license number can do so online or call the agency at 503-378-4621. She also said that while the Oregon CCB can investigate and fine unlicensed contractors, consumers do not have the protections afforded by the State if they work with a unlicensed company or individual.
Frank Wiesner, Executive Director for the North Carolina Licensing Board also echoed a similar statement as Culpepper regarding the lack of protections if consumers work with an unlicensed contractor in their state.
In speaking with NW Horse Report, Wiesner said they are aggressive in investigating unlicensed contractors that are reported to them, going as car as seeking court orders for injunctions, and in some cases criminal penalties for those that ignore those court injunctions. He said about half of the complaints received by their agency involve unlicensed contractors.
Wiesner also confirmed that Manning Buildings was not licensed in North Carolina and would in fact need to be registered and active with the Secretary of State in order to be licensed. He said that consumers with information or who have issues about unlicensed contractors should contact their agency for assistance.
Manning Buildings did have many favorable reviews, but they also had a common complaint where customers faced delays that Manning Buildings repeatedly blamed on the manufacturer and said his company was "just the dealer". The complaints often reported issues getting refunds or having their calls ignored for weeks.
A representative with the Better Business Bureau reported that Manning Buildings was registered with it's local county since it was not a limited liability company or corporation, implying they didn't have to be registered with the State of North Carolina. They further stated that a contractors license in North Carolina is not required for projects under $30,000. That would only apply within North Carolina as each state maintains their own regulations. Wiesner mentioned that their threshold was on the higher end when compared to most states.
NW Horse Report still found online postings that showed Manning Buildings facilitating projects over $30,000 in multiple instances. Manning Buildings has a single filed BBB complaint and currently has an A+ rating.
Manning Buildings does appear to offer other prefab products that would not require a contractors license in most states, but most of those products are through a dealership arrangement with another company called Liberty Storage Solutions. An official with that company made clear they were not affiliated with any of the metal structure business offered by Manning Buildings. They were also not aware that Manning Buildings was not registered with the Secretary of State in North Carolina and expressed concern.
A follow-up request for comment from Manning Buildings sent by email earlier on Friday was not returned.
You can always count on NW Horse Report to investigate tips on matters of consumer protection for equestrians