Salem, Ore. – An Oregon horse rescue group and its founder were recently found to have filed false charity reports to the Oregon Department of Justice's Charities Division in early August, including improperly omitting the involvement of its former Vice-President who was convicted of horse neglect. The discovery was made by NW Horse Report following the recent public release of documents by the Oregon Department of Justice.
MG Equine Rescue & Therapy, a 501(c)(3) organization operated by Tiffany Gravelle & her husband David from their personal property in Eugene, previously attempted to hide the involvement of Tania Herring– a known friend of the Gravelle's who had been living at the property following a 2019 incident that led to her conviction in April for horse neglect in a jury trial held in Jefferson County Circuit Court. Herring was still residing at the property with numerous horses at the time of her conviction.
Following criminal charges for horse neglect and abuse in 2021, Herring was also allegedly in violation of her release agreement while the trial was pending by continuing to be in the possession of her horses at the property. The allegations were further supported by several young women who told NW Horse Report about their illegal and often short-lived employment by Herring to care for the horses– allegations which also included the illegal employment of minors, minimum wage violations, details of unsafe working conditions, and major deficiencies in the care of horses.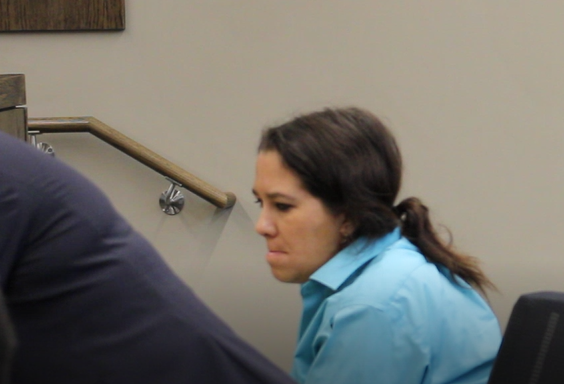 After her conviction earlier this year, Herring was prohibited from owning or being in the possession of any horses or domestic animals for a period of 5-years.
It was also discovered that Herring had been working at the Eugene Livestock Action in Eugene. While an official with the Eugene Livestock Action confirmed shortly before her conviction that she was employed and they were aware of the charges against her, the company has refused to respond to any inquiries about their ties to Herring and her employment when reached for comment following the conviction.
Herring was reportedly providing transportation services on the side of her job as a "auction clerk", jobs coming from referrals provided by the company for those purchasing horses from their auctions. She was also subject of a major neglect case in 2010 in Linn County, Oregon, involving over 100 horses found on a small property near Mill City. The charges in that case were later dropped after missteps by investigators handling the rescue seizure of the horses involved.
Documents obtained by NW Horse Report from the Oregon Department of Justice showed disclosures by Mrs. Gravelle that Herring was the organizations Vice-President. It also detailed numerous warning letters sent to the Gravelle's about the failure to register the non-profit with the Oregon Department of Justice Charities Division– letters which also threatened the government taking legal action. The organization had not only failed to register, but had already missed a May 2021 deadline for it's 2020 report known as a "CT-12". It would have also have had a 2021 report due in May of 2022.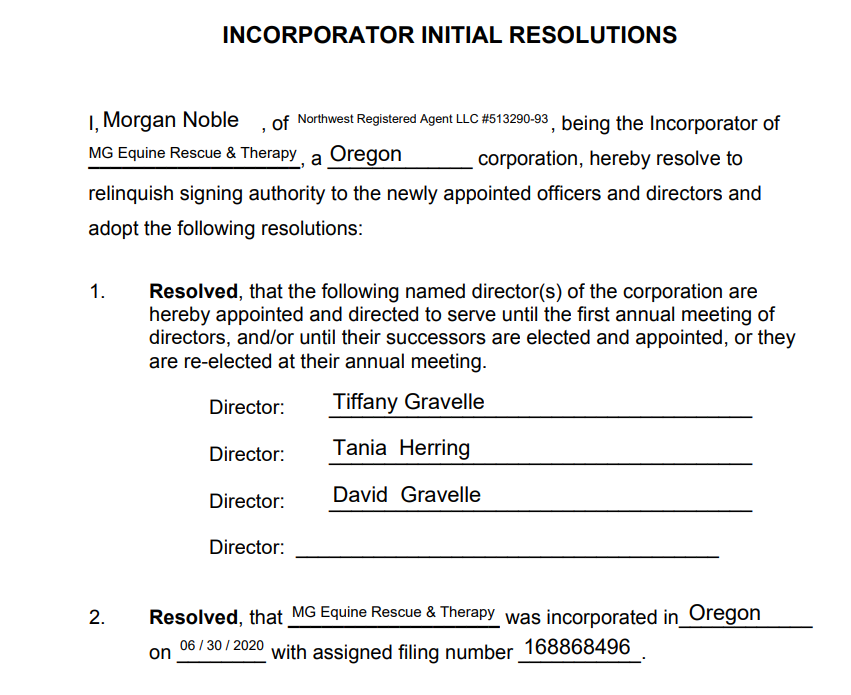 In April, Gravelle provided multiple conflicting and false statements to NW Horse Report regarding Herring's involvement with the rescue. One of the statements given by Gravelle claimed that while Herring was involved in the rescue as a "volunteer", she was removed immediately after they became aware of the charges against her in 2021. However, documents provided by the Oregon DOJ showed that in late March, Gravelle submitted registration materials for the organization listing Herring as the groups "Vice-President", and articles of incorporation that showed that Herring as one of the initial directors and founders of MG Equine Rescue & Therapy. This clearly disputed the downplaying of both Herring's official position and timeline of involvement.
After completing the required registration with the Oregon DOJ, the department provided extended deadlines for the organization's late fillings to July 15th of this year for the 2020 report, and November 15th for the 2021 report. In late July, an official with the Oregon DOJ confirmed that MG Equine Rescue & Therapy had not yet filed the required CT-12 for 2020 by the extended July deadline.
When asked what action the organization could face for it's failure, the Oregon DOJ also confirmed that it could pursue legal action, "… the Department could bring a legal action to request the assessment of civil penalties of up to $2,000 per missing report against the organization or its leadership." said Kristina Edmunson, a spokesman for the Oregon DOJ.
Despite the charity registration documents with the Oregon DOJ confirming Herring's leadership role, neither of the CT-12 fillings for 2020 and 2021 reported Tania Herring as having been an officer, director, trustee or key employee, at any time during the year, as required in the reports. Instead, the 2020 report listed both Tiffany Gravelle and her husband David, along with a Deanna Dodd with an address in Orange, Texas. The CT-12 fillings directly conflicted with statements and documents made to the Oregon DOJ earlier this year.
When reached for comment, Dodd told NW Horse Report that she took over for Herring in February or March of 2020 and that the Gravelle's had not gotten the non-profit up running yet. There was only one major issue with this claim– being the non-profit wasn't incorporated until June of 2020 and the initial articles of incorporation not only showed Herring as one of the three directors, it didn't list Dodd at all.
Dodd went on to say in an email to NW Horse Report that she fully supports the both Tiffany and David Gravelle, saying that Gravelle's personal time is "none of yalls [sic] business". Dodd also claimed to have never known Herring.
"I've know Tiffany for many years and this dream for her was real and genuine. MG hasn't done anything wrong and I back Tiffany and Dave wholeheartedly." said Dodd.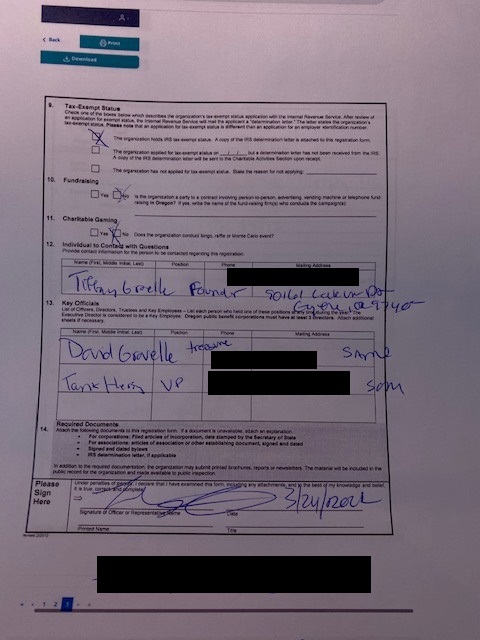 Dodd's own statements only seemed to further fuel the organizations failed attempts to explain the timeline of Herring's involvement, adding more questions as to possible charitable activities and fundraising prior to incorporation with the State of Oregon and gaining 501(c)(3) status with the Internal Revenue Service.
In a follow-up, Dodd later corrected her statement that she took over for Herring in 2021 and not 2020, which would put it around the time Herring was criminal charged in connection with the 2019 horse neglect and abuse case. However, the March 2022 registration documents submitted by Gravelle, along with the CT-12 for 2020 just recently submitted, still contradicted a 2021 timeline provided by Dodd.
Dodd did not respond to any further questions when asked if she was also disputing documents filed with the Oregon DOJ and Secretary of State that contradicted her own statements, including her correction of the 2020 to a 2021 timeline.
The 2021 CT-12 report was also found to only list 2 directors during the course of the year– Tiffany Gravelle and her husband David– with no mention of Herring, Dodd, or any other individuals. The recent report continued to conflict with Gravelle's past claims to NW Horse Report about multiple others being appointed to the board to replace Herring as a director, including that they appointed several other directors. No such action appears to have actually taken place. During her statements in April, Gravelle said that the organization had five directors following Herring's alleged "removal", though she declined to provide this information until she spoke to her attorney.
It also confirmed that the Gravelle's and MG Equine Rescue & Therapy are in violation of Oregon charity laws by not maintaining the required three directors for a non-profit organization. An attorney who was an expert on non-profit organizations spoke with NW Horse Report on the condition he not be named, explained that the requirement for any public benefit corporation, "is codified in Oregon Revised Statute 65.307, which in part says a board of directors must consist of three or more individuals for a public benefit corporation." he said.
The issues didn't end there. The reports of titles and positions also appeared to conflict with the organization's articles of incorporation and annual reports filed with the Oregon Secretary of State, which never reported that Dodd was the organizations Secretary at any point in any amended filling.
Recent amended fillings submitted on behalf of the organization by Northwest Registered Agent, LLC, also reported that the address of a registered agent service was also the organizations Primary Place of Business, not it's known facility location on Lakeview Drive in Eugene, OR. Northwest Registered Agent has repeatedly declined to comment on the fillings made on behalf of MG Equine Rescue & Therapy, including when questioned about conflicting statements made by Tiffany Gravelle in April related to the articles of incorporation.
Gravelle also attested in the fillings that the organization had $0 in revenue for both 2020 and 2021, with an "Ending Net Assets & Fund Balance" of exactly $500 in 2020, and both a starting and ending balance of $0 in 2021. Since the organization was incorporated in 2020, the claim asserting the organization has had no revenue at all is casting serious questions and doubt for some regarding the organizations handling of donor funds.
Online postings since removed from the organizations now shuttered Facebook page and website appeared to cast serious doubt on the claims made in the CT-12 fillings made by Gravelle. NW Horse Report also uncovered a past online fundraiser in partnership with Bonfire.com, although Bonfire stated that "All funds raised will be paid to campaign organizer, Tiffany Gravelle, for disbursement." While it only listed $162, this amount clearly confirms fundraising activity.
It is unclear if officials with the Oregon DOJ are aware of the discrepancies related to documents it received from by Gravelle, including the questionable financials listed in the CT-12 disclosures– let alone other discrepancies obtained from other public online sources. A spokesperson with the Oregon DOJ did not respond prior to press time.
The Gravelle's also operate a similarly named for-profit business operated from the same location called MG Equine Farm. Multiple sources have previously alleged their belief that the Gravelle's could easily direct funds into their for-profit business that were intended for the non-profit due to the similar name.
NW Horse Report had also previously reported on the mountain of legal trouble for the Gravelle's who are embattled in numerous civil lawsuits over only a few years time that alleged the Gravelle's owe multiple companies and individuals tens of thousand's of dollars– all while Gravelle appears to frequently endeavor on luxury cruises that she claimed were all paid by a travel agency. The complaints mostly involve contractor improvements to their facility and home, along with claims related to horse training services.
Shortly after our previous story, another legal claim for $5,219.81 was made against Gravelle in Lane County Circuit Court. Gravelle failed to respond after being served with the legal complaint, resulting in a default judgement against her for $6,251.50 that was granted by the court on July 19th. None of the legal complaints appeared to directly name MG Equine Rescue & Therapy, but the Gravelle's for-profit MG Equine Farm has been named as a joint defendant in at least one case.