Albany, Ore. – Oregon's Linn County Sheriff Michelle Duncan is recruiting volunteers to serve on her Mounted Posse, an opportunity open to experienced equestrians who are supportive of law enforcement and their local community.
An August 4th Facebook post from the Linn Counties Sheriff's Office explained that in the old west, the Sheriff would call upon local armed citizens to help in the apprehension of fugitives or to provide additional manpower to defend the county. This was known as the "Sheriff's Posse".
The post went on to say, "Although the duties have changed a little, we still carry on the tradition of having a Posse here in Linn County. The Linn County Posse is an amazing group of people who serve our county in a variety of ways on horseback. They assist with search and rescue operations, often being able to get to someone that is missing or in need of rescuing much more quickly than those hiking into the area. They also assist with promoting good fellowship within our community through community events such as parades and the Special Needs Ride."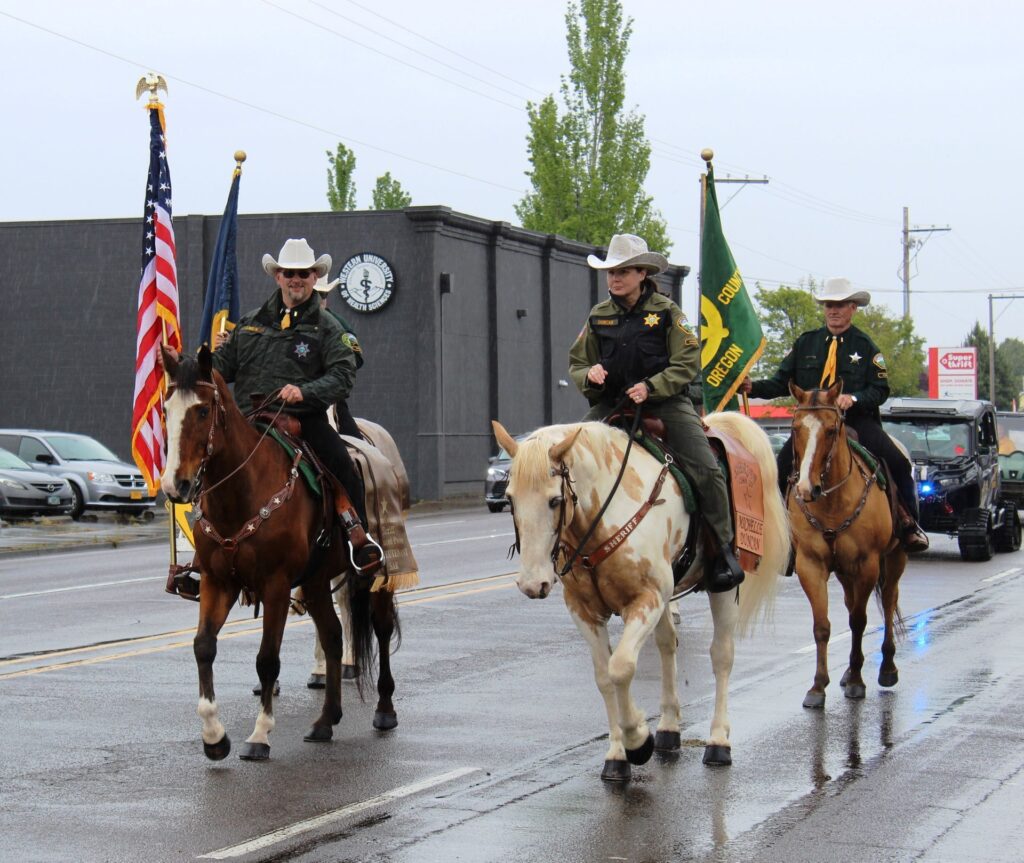 The Sherriff's Office further explains the core purpose and objectives of it's posse as:
Assist the Linn County Sheriff's Office and other local and state agencies in the preservation of law and order.
Promote the Mounted Posse both as the historical forerunner of law enforcement from the early days of Oregon, and as a modern adjunct to law enforcement today.
Assist with search and rescue operations.
Stimulate good horsemanship.
Promote good fellowship and sportsmanship.
"I am so grateful to the wonderful men and women on my posse and all the time and effort they volunteer to help me and our community. They are truly a special group of people." said Duncan.
Duncan recently spoke to NW Horse Report following the Posse hosting a riding event for kids with special needs held at the Linn County Expo Center. "The Linn County Posse is made up of mostly volunteers who love both horses and law enforcement. They assist the Linn County Sheriff's Office in search and rescue missions, packing in supplies or simply searching trails quicker than we can on foot." said Duncan.
Duncan was sworn in earlier this year as the county's 41st Sheriff to finish out the term of her predecessor Sheriff Jim Yon, becoming the first female sheriff in the 173-year history of the county's Sheriff's Office. Duncan, who previously appointed as undersheriff in 2018, is running for election after former Sheriff Yon announced in late 2021 that he would not seek re-election.
The race for Sheriff appears to also be a bit contentious, although Duncan appears to have the support from a vast majority of local officials and several of the past sheriff's of the county, including Yon and prominent retired Sheriff Tim Mueller who gained national attention after a letter he sent to then Vice-President Biden in 2013 concerning gun rights.
Duncan's opponent Jon Raymond, who is running along with Travis Boshart (for Undersheriff), is supported by several former deputies, Boshart Farms and Boshart Trucking, the later being owned by Oregon State Representative Shelly Boshart-Davis.
The contention was apparent with posts by those supporting Raymond having negative comments on the Sheriff's Office official Facebook page who alleging the lack of volunteers for the Posse was a direct result of Duncan's management.
To learn more about the requirements and application process to join the Posse, you can visit https://www.linnsheriff.org/volunteer-programs/mounted-posse/