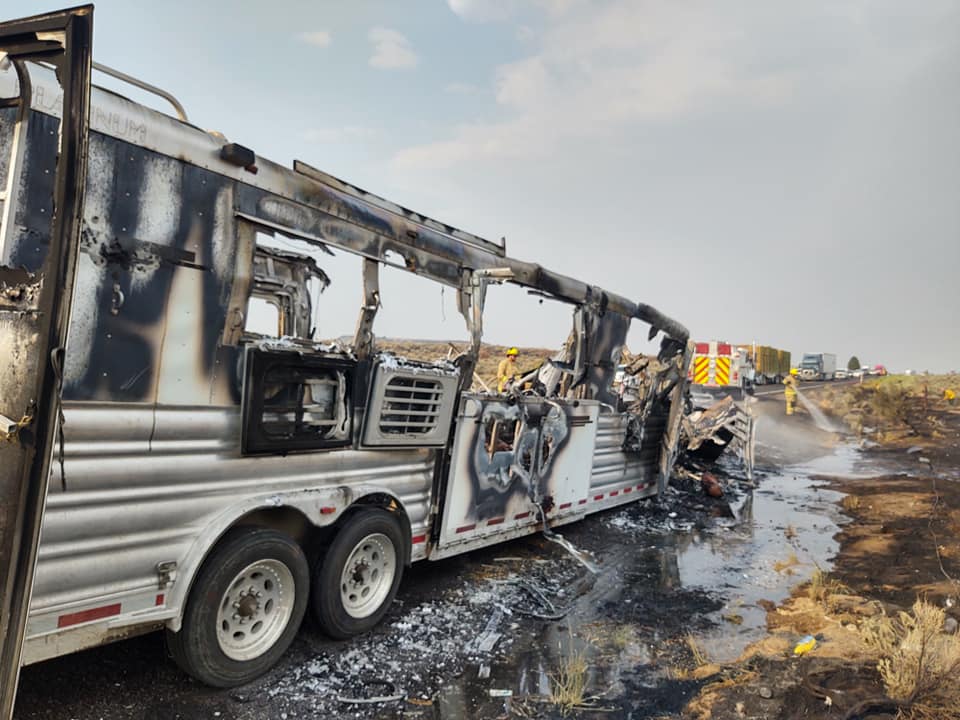 In a Wednesday Facebook post from the Hines Volunteer Fire Department, details emerged about a horse trailer that had caught on fire on Highway 20 West at milepost 90, eventually spreading to brush off the roadway and burning over an acre of land.

Firefighters from the Burns and Hines Fire Departments responded and worked to putout the fire on the truck and trailer, while crews from the Burns Interagency Fire Zone and Silver Creek Rangeland Fire Protection Association took care of the wildland fire. Crews were able to contain the fire to just over an acre. The post confirmed that all occupants and horses were able to get out safely.
It was not immediately clear how many horses or occupants were involved or how the fire was started.
Kristina Thissell, Public Affairs Specialist for the Burns Interagency Fire Zone told NW Horse Report that it is not uncommon for road vehicle fires to jump to brush and tress near the roadway. She went on to indicate that drivers should be extra vigilant during this time of year.
"One of the most common causes of vehicle fires that we see when trailers are involved are due to dragging chains, but there are other causes as well," said Thissell. "Those with trucks and trailers should absolutely carry some sort of fire suppression, either an extinguisher, water, as well as a shovel… these small incidents can grow out of control quickly".
Our call to the Hines VFD seeking specific information on the cause of the fire was not returned by press time.