Across the northwest people are dealing with the aftermath of the unprecedented ice-storm that continues to leave thousands without power. A state of emergency currently exists in most counties across both Oregon and Washington states. Many say their communities resemble a warzone. In Ridgefield, a town 15 miles north of Vancouver Washington, a local equestrian training stable is dealing with its own devastation caused by the storm.
On the morning of February 13th, Tim Wigren, who owns Command Performance Training, discovered that the roof of his riding arena had collapsed as a result of the weight from snow and ice. The arena is a directly connected expansion off the rest of the barn where the horse stalls are located.
Wigren is still trying to sort through the damage, although his focus has mostly been on caring for one of his horses who suffered a laceration during the collapse of his covered riding arena.
"You have no idea how relieved I was that the damage wasn't more," Wigren told NW Horse Report. "When you go through something like this you're just thankful that it wasn't worse."
While the rest of the horses were uninjured, one of Wigren's own horses, an older pureblood Arabian mare, suffered lacerations on three legs from the structure's collapse. Dr. Randy Lee from Countryside Equine Veterinary Service, who Wigren also said has been a good friend over the years, has been attending to the horse. "She's not out of the woods yet, but we're very hopeful and carefully watching her," said Wigren's wife Rachel, who was initially pretty shaken up by the entire ordeal.
"He went above and beyond and is also an outstanding friend," said Wigren when talking about Dr. Lee. "He also put my wife at ease." Wigren remarked.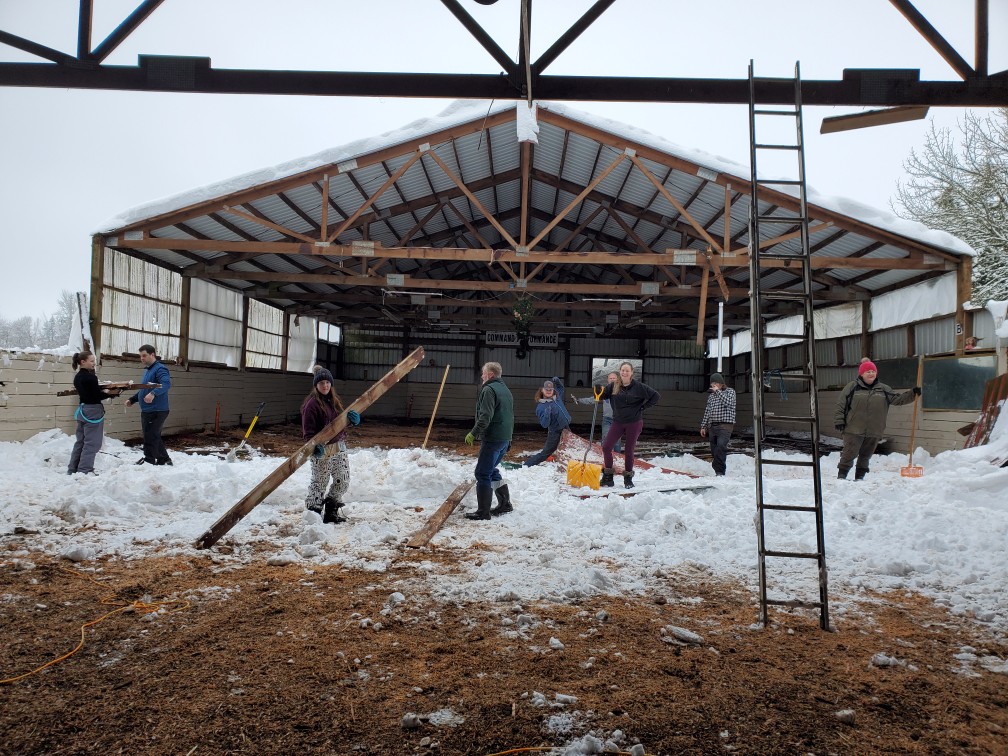 With the help of friends and family, the Wigrens wasted no time doing what they needed to do to take care of the horses and sort through the damage. "You gotta keep your head up and get the job done. Thank god for our clients and our family." said Wigren.
Two days later a second collapse took place and there remains a possibility of lasting damage to the other covered sections of the arena.
The Wigrens further explained how they've had some of the best clients over their 30+ years in business, one of which started with them at the beginning in 1989 and retired about 2014. "We've had clients with us for over twenty-plus years," Wigren said.
In the meantime, a friend of Wigren's has offered the use of his arena at a nearby location, so the Wigrens said they are working out a trailering plan for their client's horses to get to the other riding arena.
"He does so much in Clark County for equestrian team and judging," said Stacey Lurie Raften who knows the Wigrens. "My girls are 31 and 29, and he gave them their early lessons when they were probably 12 or 13…" she said. "He has always been just a huge positive force in our community, he works great with kids [and] he's enthusiastic and positive."
When asked about their plan to get business back to normal Wigren remarked "We still have a job to do, that's just us." A GoFundMe page has been setup for the Wigrens and Command Performance Training to help with some of the things that likely won't be covered by insurance.