On Friday a posting made on a popular Facebook group caused a quick stir among equestrians after a woman from Salem, Oregon, posted that she was holding a "raffle" for a horse.
The post was made on the "Official Oregon Horses" Facebook group that has nearly 11 thousand members and is one of the largest such groups for Oregon equestrians online.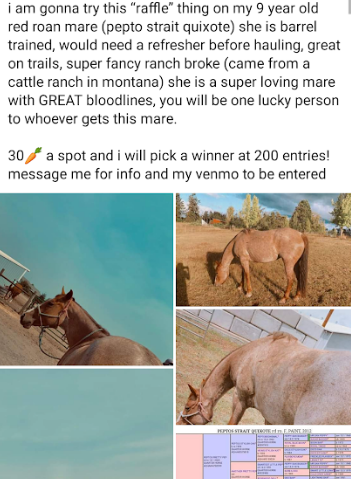 The woman, who went by the name Kennidy Eudy on Facebook and had orchestrated the illegal raffle, garnered a significant number of comments within the first hour. It could not be confirmed by NW Horse Report if the name was an alias.
Eudy reportedly confirmed that entries had been made by saying "people have already entered". She appeared to be persisting in soliciting and getting entries for the raffle by mid-Friday afternoon despite numerous people commenting telling her that holding a raffle was illegal in Oregon. This appears to be what brought further attention to the post that may have otherwise been considered an innocent mistake.
The administrator for the group told NW Horse Report that the post was eventually removed after multiple users flagged it. He also stated that Eudy contacted him about it being removed, but didn't immediately connect Eudy to the post that was removed, telling her he did not remove it.
The groups admin further stated that illegal conduct, including raffles, is absolutely forbidden. It's also a breach of Facebook's community policy.
Before claiming to be 17-year old minor when speaking with NW Horse Report, Eudy denied accepting any payments from anyone, despite multiple reports from others that she stated people had entered into the raffle and was providing a Venmo account.
Eudy declined to answer several questions and appeared defensive, ultimately making threats if NW Horse Report went to press with the story.
NW Horse Report discovered other posts by Eudy as recently as Monday following the post where the same Facebook account claims she is actually an adult and not 17 years old as she tried to claim in an apparent attempt to keep this publication from going to press.
The post was made mid-day Friday on the Official Oregon Horses and involved a 9 year-old mare. NW Horse Report would like to hear from anyone who has sent money to enter into this raffle.
The Oregon Department of Justice's website states, "Only organizations exempt from paying federal income taxes may conduct charitable gaming events in Oregon. This includes public agencies and public schools. Private organizations qualify if they are active nonprofits. An organization must have held tax-exempt status for at least one year and been engaged in its charitable, fraternal or religious purpose during that time."
Kristina Edmunson, Communications Director for the Oregon DOJ provided additional comment to NW Horse Report regarding the legality of such raffles, "…in general, private individuals are not allowed to conduct raffles." Edmunson further said, "Illegal gambling is also a crime and if a consumer believes that a raffle in their community is illegal, they may wish to contact their local police or sheriff. "
"Consumers should not participate in raffles that appear to be conducted by private individuals. If a consumer has a question or concern about a raffle, they can contact our office at Charitable@doj.state.or.us or at 971.673.1880.", said Edmunson.
Eudy had also defended her actions by claims that she had seen many other individuals offer such raffles. When asked about what seems to be an increase of such raffles offered via social media, Edmuson also said, "We are familiar with the problem of illegal raffles being promoted by individuals,"
If you or anyone you know may have entered Eudy's raffle and or made payment NW Horse Report would like to hear from you. You are also encouraged to use the contact information above to reach the Oregon DOJ.