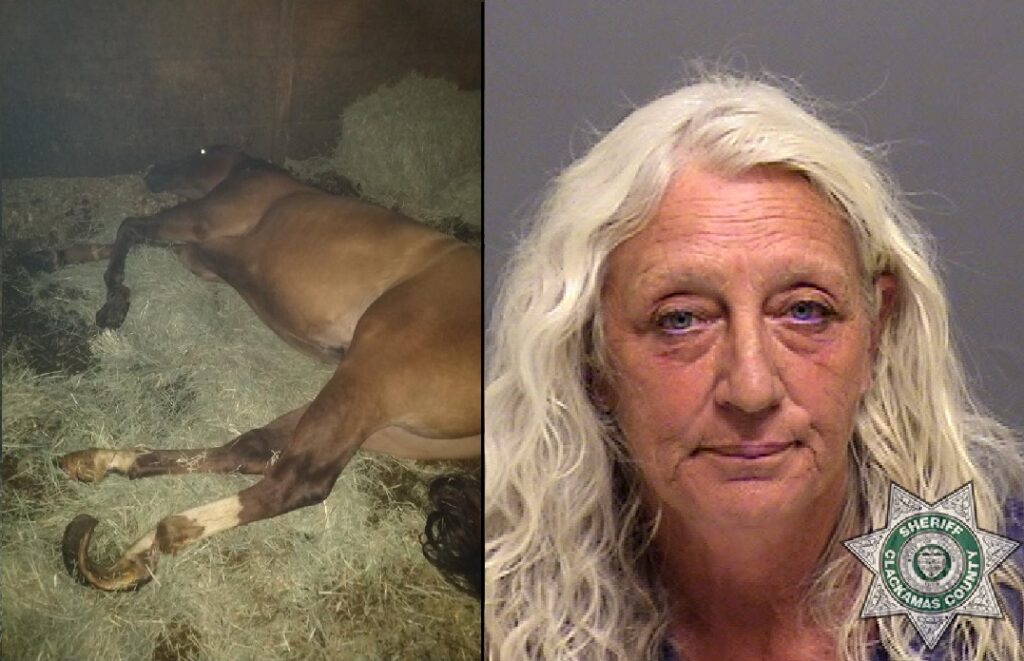 A women in Molalla, Oregon, who was recently convicted of animal neglect in the second degree, was sentenced on Monday by a judge in Clackamas County Circuit Court. Angelic "Angel" Wyant was found guilty by Judge Ulanda Watkins after a single day trial, over what many have called a horrific discovery of a horse with overgrown hooves made during wildfire evacuations in September of 2020. NW Horse Report provided the only in-courtroom coverage of the trial.
The discovery, made by veterinarian David Asmar of Eagle Fern Equine Hospital and volunteers from the horse rescue organization Sound Equine Options (SEO), resulted in a formal investigation by special agents from the Oregon Humane Society.
Wyant was sentenced to 3 days in jail, 5 years probation, is prohibited from possessing domestic animals and horses for 5 years, must attend an online animal cruelty course, provided 80 hours of community service work, and was ordered to pay restitution of $7,169.98 to Sound Equine Options.
While 3 days of jail does not appear to be a lengthy sentence, advocates for the horse indicated that any jail time was rare in such cases. Wyant was taken into custody shortly after sentencing and booked into the Clackamas County Jail.
"The Clackamas County District Attorney's Office is happy that justice was served in this case. The office is thankful for the hard work the Oregon Humane Society special agents did on this case." said Rachel Erickson, the deputy district attorney who handled the case against Wyant.
During trial testimony it appeared that Wyant still had five other horses in her possession. There was no information if Wyant had any other domestic animals. Wyant must rehome all animals currently in her possession no later than 11pm on September 23rd, 2021.
NW Horse Report spoke to Kim Mosiman who serves as the Executive Director of SEO to get an update on the horse Muddy and her thoughts about the handling of Wyant's case. She expressed that while it has been a long road, he continues to make great progress.

"We are very happy that the Clackamas County DA's Office understands the seriousness of the crime and are pleased with the outcome." said Mosiman.
A call placed to Wyant's attorney's office seeking comment resulted in a prompt response of "no comment". Wyant was represented by Geordie Duckler who's practice is called "The Animal Law Practice". Duckler had both refused any comment to NW Horse Report on several past occasions, although Wyant did make one brief statement to NW Horse Report shortly after her trial.
Our previous story covering Wyant's trial can be found by clicking here.
NW Horse Report works hard to bring you the latest equestrian news from around the northwest. You can like us on Facebook to stay up to date. We depend on our readers us tips about matters important to equestrians.