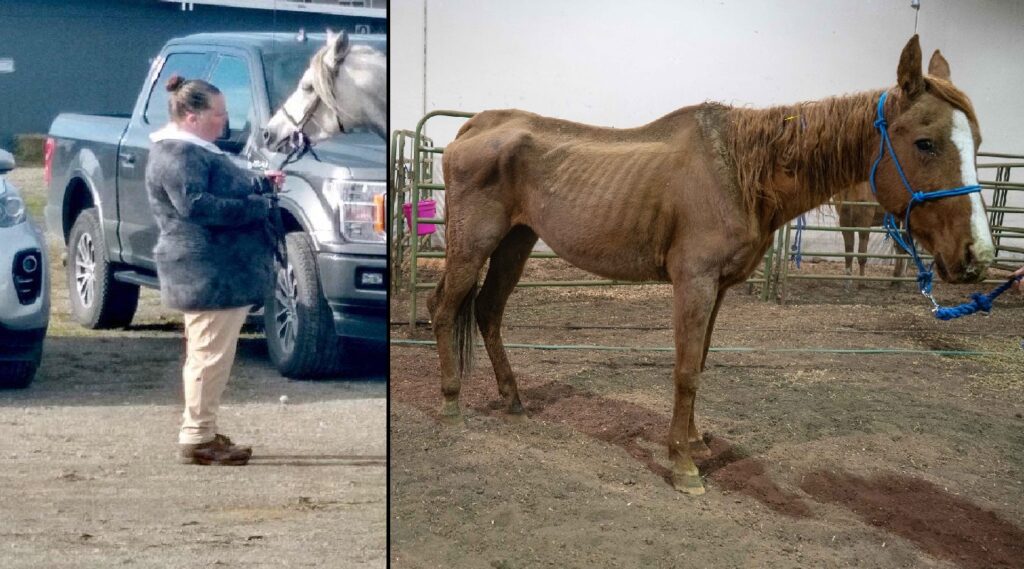 Eugene, Ore. – A Lane County Circuit Court Judge has issued a warrant for the arrest of Gwenyth Davies, the woman behind an infamous 2019 case that was considered to be one of Oregon's biggest horse neglect cases in recent memory.
It's another recent example of the frequent failures by those convicted of horse neglect to comply with probation terms, especially related to provisions on restrictions or prohibition of having animals– adding to growing sentiment by proponents calling for stiffer penalties and jail time during sentencing.
Rarely do those convicted of animal neglect in Oregon face more than days– if any jail time at all.
The case was widely covered by numerous local and regional news outlets and publications and resulted in the seizure of over 60 horses from the property in Creswell, Oregon. A story by The Register-Guard said that Davies operated DeLeonardo Training Center, a boarding and training facility for horses.
DeLeonardo is the last name of Davies' partner, Michael DeLeonardo, a retired farrier who also faced scrutiny from the equestrian community in the past case. He was never criminally charged.
One of NW Horse Report's earlier investigations included following up on tips that Davies was not complying with the terms of her probation, leading to us breaking the story when Davies was previously brought back into court in 2021 for another probation violation. NW Horse Report did not yet exist during the original charges brought in 2019.
The neglect case also involved the now-past friends of Davies. Erica Ott and her daughter Raina Ott were also charged and convicted in the case, with both Ott recently facing their own ongoing issues for repeated probation violations.
NW Horse Report just recently reported on new allegations that Raina Ott had defrauded a Coastal Farm & Ranch store in Eugene just weeks following her release from a jail sentence for multiple past probation violations. Other rumored reports indicated that Ott had been doing the same with other local feed stores in Lane County.
Ott had previously spoken to NW Horse Report and laid the blame for their criminal charges on Davies.
According to an August 15th motion submitted by the State's Special Animal Cruelty Prosector Jacob Kamins, it's alleged that Davies, "Failed to provide monthly digital pictures of each of the 4 horses sufficient to see overall body condition and hay and grain receipts to OHS and LCAS," and "Failed to make monthly restitution payments."
Court transaction records appear to show a history of Davies making payments months late. To date, it appears Davies is at least several months behind in her $140 monthly restitution payments. The amounts owed were reduced during Davies' previous probation violation hearings in 2021.
At the current rate, it was determined it would take a total of over 27 years for Davies to repay the existing $45,797.28 owned in restitution. The restitution is owed to Sound Equine Options, the Oregon Humane Society, and Lane County.
According to multiple sources, Davies was rumored to have left Oregon to manage a horse barn in California, although NW Horse Report has yet to be able to corroborate the claims. If true, Davies may also be in violation of other probation terms, including not keeping the court updated on her current address and employment information.
A court date on the probation violation will not be set until Davies is taken into custody, at which point Ott will be offered the opportunity to admit or deny the State's allegations.
A spokesperson for LCSO did not respond to a request for comment prior to press time to confirm if the agency was proactively seeking Davies or simply waiting until possible contact.
Anyone who might have information on Davies' whereabouts could contact the Lane County Sheriff's Office at (541) 682-4150, or the local law enforcement agency where Davies may be located. According to the LCSO website, confidential tips can also be sent to LCSOCONF@lanecountyor.gov
---
This is a developing story you can count on NW Horse Report to keep you updated on.