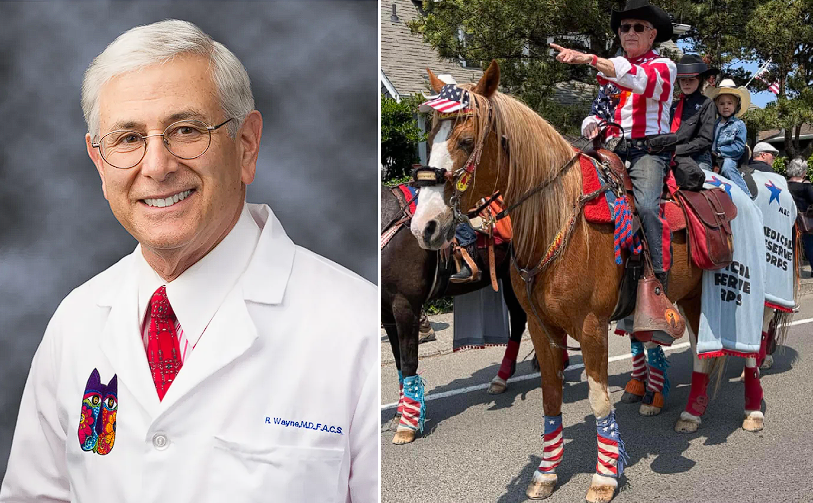 Astoria, Ore. – An Oregon Coast community and medical profession is remembering a respected retired surgeon and local equestrian following his passing just days ago, according to an announcement from Columbia Memorial Hospital CEO Erik Thorsen.
Dr. Robert Wayne, 80, who was born on August 14, 1943, in Brooklyn, New York, received his medical degree from Creighton University in Omaha and started his surgical training at the New York Hospital-Cornell before returning to Creighton to complete his residency in 1974.
Dr. Wayne was a Fellow of the American College of Surgeons and joined the Professional Staff at Columbia Memorial Hospital in 1978. He was granted honorary status in July of 2020. He was also the chief of surgery at Columbia Memorial Hospital and Providence Seaside Hospital.
Thorsen's statement also said Dr. Wayne was instrumental in developing a designated trauma center at CMH. He also served as president of the Clatsop County Medical Society.
A famous figure in his local town of Cannon Beach where he lived for decades with his wife Jean, Dr. Wayne was often spotted "riding his horses downtown, wearing cowboy boots, a cowboy hat, a large belt buckle and something red," said the Daily Astorian in 2019.
"He would often come across families with children and offer them horseback rides. Neighbors commented that Dr. Wayne added charm to the city as he rode his horses through the downtown streets," said Thorsen.
According to Thorsen's statement, countless medical professionals across Oregon also remembered Dr. Wayne with much praise for his work as a physician and equestrian.
Brett Sheppard, OHSU professor of surgery and chair of pancreatic disease research, called Dr. Wayne a "surgeon's surgeon and a prince of a man."
"He was always welcoming, and there was a permanent invitation to ride horses on the beach with him. He loves his horse, the kids he rides with and the beach. He is generous with his time and support and has helped so many folks in his community and elsewhere. A truly loving and kind man."
Dr. Nathalie Johnson, surgical oncologist and medical director of Legacy Cancer Institute, remembers Dr. Wayne as a great personality and loyal member of the North Pacific Surgical Association. "He has such a great sense of humor and always brings joy and a stimulating if not sometimes irreverent, conversation. I remember him staying at our home once … we didn't have a hair dryer in our guest room, and after that, he sent us one. Nothing but love for Bob."
I recall Dr. Wayne "for years shuttling between the two hospitals as one of only two surgeons taking care of the entire county." Dr. John Hunter, general surgeon and CEO of OHSU Health, has many Bob Wayne stories, "mostly to do with horses, goats and scooping horse poop."
Thorsen also went on to talk commend Dr. Wayne's service in the local community.
"Dr. Wayne served our community for over four decades, working tirelessly to care for patients at both CMH and Providence Seaside Hospital. He was a champion of our hospital, our caregivers, and our patients. He influenced a generation of rural surgeons on the Oregon Coast, and his impact will be felt [for] decades to come. It won't be the same here without him."
A memorial service for Dr. Wayne is scheduled for October 24th in Seaside, Oregon.