John Day, Ore. – A man was killed on Friday in a horse accident while herding cattle on horseback west of Magone Lake near John Day, according to a press release from the Grant County Sheriff's Office.
The man was identified as was Kenneth "Kenny" Brooks, but additional information about his hometown and age were not immediately confirmed. NW Horse Report was able to confirm him as 64-year old Kenny Brooks of Fox, Oregon. Brooks was said to have been working cattle in a section of the Umatilla National Forest known as Thompson Creek when the accident occurred. Family members were with him when he died.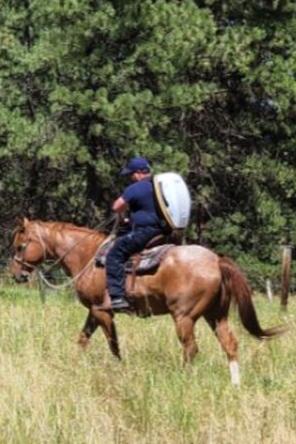 Dispatchers with Grant County were notified of the incident around 1:40pm on Friday and first responders were sent to the scene. Deputies along with their Search & Rescue Team, Blue Mountain ambulance crews, Oregon State Police, Life Flight, and the US Forest Service all responded to the area.
Due to rugged terrain, the Life Flight helicopter was unable to land near the site. Personal had to ride 2 miles to the site on horseback to reach Brooks as there were also no roads providing vehicle access. Unfortunately Brooks had succumbed to injuries before being transported.
Grant County Sheriff Todd McKinley provide praise and thanked volunteers and first responders who worked to save Brooks' life.
"As your sheriff, I am ever humbled by the respond of those that try their best to serve and support the citizens of this county, day by day," he said.
McKinley spoke to NW Horse Report and confirmed he personally know Brooks, describing him as an outstanding member of the community. "[Brooks] was also very well known and involved in Oregon's agricultural community." said McKinley.
The sheriff went on to acknowledge that this tragedy serves as a reminder to all equestrians that there is always risk to life in the things we love doing. He described Brooks as a very experienced equestrian who was in the saddle weekly.
McKinley also explained how important volunteers are in Grant County, describing how a recent move by the City of John Day, the seat of the county, disbanding it's own police force that nearly equaled the size of his own force. This has required that his office and Oregon State Police. "It's nearly doubled our case load this year," said McKinley, further describing that the city officials in John Day devoted the tax dollars elsewhere and said they refused to contract with the Sheriff's Office.
This has effectively forced the Grant County Sheriff's Office to provide coverage for the entire city without money from the city which is commonly the case across the State in incorporated cities who don't provide their own police force. McKinley implied that this has had disastrous impacts to the level of service to both citizens in John Day and across his sparsely populated county of just over 7,000 people.
NW Horse Report was able to make contact Brooks' daughter who now resides in Oklahoma and on Sunday was traveling to Oregon following the news. While she felt we should speak to others in the family, she did express her appreciation for Sheriff McKinley and other personnel, "We appreciate them and their support."
This article will be updated with any additional statement the family may wish to make.