Salem, Ore. – An investigation into the State of Oregon's outfitter guide program and alleged lack of enforcement is raising serious questions with the additional discovery that many of these outfitters are not only operating illegally without guide licensees but also improper employment practices. Complaints about numerous outfitters, along with the revelation that both the State of Oregon and the US Forest Service contracted with unlicensed– and in one case a non-existent business– was later discovered in the course of an investigation by NW Horse Report.
According to the Oregon Outfitters & Guide Association, not only are the owners of these equestrian outfitter companies subject to criminal and civil penalties, they are putting their own workers at risk of being charged with a Class A Misdemeanor for guiding without a license.
The Oregon State Marine Board (OSMB) is tasked with the registration and funding of law enforcement grants to various agencies for the enforcement of the outfitter guide program. OSMB can also impose civil fines. According to the OSMB, "[it] registers those individuals who provide outdoor recreational activities for compensation on land or water they do not own or control.  These individuals, called Outfitter Guides, are required to provide the state with proof they are adequately insured and bonded, have basic First Aid and CPR skills, and carry the required minimum safety equipment… Outfitter Guides also agree to conduct themselves according to a set of Ethical and Professional Standards, and are held responsible to them as well.​"
The allegations prompted an investigation by NW Horse Report that the OSMB was not fairly enforcing its Outfitter Guide program requirements between differing types of outfitter guides, allowing unfair competition between equestrian outfitters and jeopardizing the safety of the public. Many of these outfitter services offer horseback riding to children as young as 6.
It was discovered that less than one-third of the approximately 31 uncovered businesses currently operating across the State are unlicensed as outfitters as required by Oregon law. The shocking revelation was that 17 of those didn't appear to have any recent records, while 5 companies showed they had outfitter licenses expired in recent years.
The OSMB outfitting and guide licensing involves activities ranging from fishing guides/tours, kayaking and rafting, hiking tour guides, guided horse/carriage rides, and so on. OSMB's licensing process is meant to ensure that these outfitter companies offering these services to the public have sufficient liability insurance for the activity, that all guides have proper training and first-aid certifications, surety bonds if they charge deposits over $100, and comply with a list of "ethical standards". Those operating motor boats must all obtain their own guide license, while other outfitters including equestrian-based ones may simply keep an updated list with the OSMB.
A deeper look into these businesses also uncovered other problems, including failure to maintain active registration with the Oregon Secretary of State, or having never registered. Records from the Oregon Department of Consumer & Business Services (DCBS) could also only confirm that about one-third of the businesses carried current workers' compensation coverage as required by law.
Several outfitters that do have the required worker's compensation insurance coverage said that it is inherently expensive for their line of business, on average costing $6-$8 per $100 in payroll, even with the state's popular workers' compensation insurer SAIF.
The owner of a popular equestrian outfitter guide company called C&M Stables, Jeff Chastain, expressed his own frustration at the lack of enforcement on many of the illegally operating equestrian outfitters across the State, but made clear he wasn't surprised.
"We had to pay all of our fees, licensing, and even clear back when I started we had to pay a use fee on the beach," said Chastain, further detailing his 42-years of experience operating his company a few miles north of Florence on the Oregon Coast.
Chastain was one of the few operators who maintains active workers' compensation insurance for his employees. When asked if he'd have the coverage even if it wasn't required by law, "Absolutely I would," said Chastain. He went on to further explain that he's one of the few outfits that pays his staff a living page and meets or exceeds all licensing and insurance requirements.
He further detailed making numerous reports over the years when on the phone with officials at the OSMB guide office about illegal outfitters that came to his attention. Chastain also spoke about another issue with the number of unregistered businesses providing horse boarding services and engaging in illegal labor, including minors.
"Many facilities here in Lane County are actually not legally zoned to offer commercial horse boarding, so that's another issue," said Chastain. Although he admitted that several facilities near his had recently shuttered, likely due to economic impacts.
Other legal equestrian outfitters who would only speak on the condition of anonymity, out of fear of retaliation from other equestrian outfitters and the State, said they had made similar reports in the past– expressing that they felt it was unfair so many others were blatantly operating without a license, but held little hope it would ever change.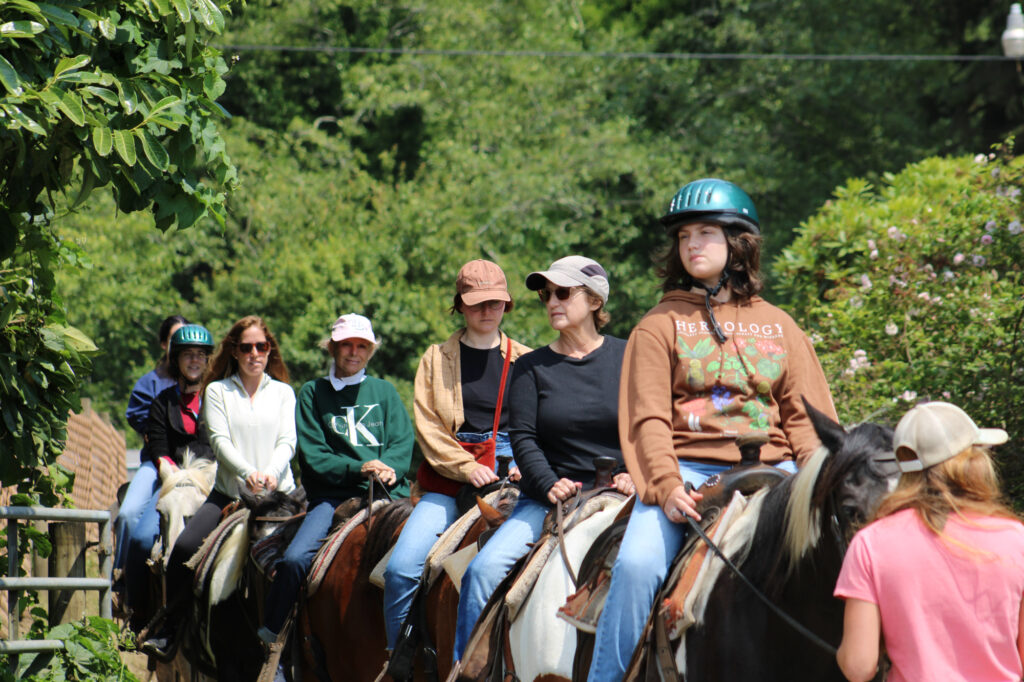 Sgt. Robert Rookhuyzen, PIO for the Washington County Sheriff's Office (WCSO), told NW Horse Report that violations of State outfitter requirements is a Class A Misdemeanor and is outlined in ORS 704.990. He went on to explain that while the Oregon State Marine Board contracts WCSO to provide various marine services and enforcement of outfitter guide laws on the Tualatin River and Hagg Lake, their deputies would fairly enforce any such laws that apply to all outfitters, including equestrian ones.
"If we find anyone violating the state's outfitter requirements they would be charged regardless if they are a fishing guide or any other outfitter," said Rookhuyzen. For perspective, a single charge of DUI is also considered a Class A Misdemeanor in the State of Oregon.
Anyone working for an outfitter is required to ensure they carry a copy of their own guide license on their person while conducting guiding. In cases of non-vessel operation, as with equestrian outfitters, guides should ensure they have a copy of their employer's guide license and know that they are listed as an associate guide. Those wishing to check that they are approved to guide with the Oregon State Marine Board can lookup the status of their employers guide license online. A section for "OG Associates" lists the current employees who are approved for outfitting.
Response from the Oregon Outfitters & Guides Association
Brian Sykes, President of the Oregon Outfitters & Guides Association, told NW Horse Report that guides working for an outfitter should understand that they can be charged with a crime and provided a recent example he was personally familiar with.
"Absolutely, it's guiding without a license. Even if they are an employee of an outfitter, if they do not have their own license or ensure they are not added as an associate with the Marine Board with a properly licensed outfitter, and they go out and provide guiding services, then yeah they are an illegal outfitter," said Sykes in explaining his advice for those who may be working for any unlicensed outfitter company.
"Consumers & parents especially should be concerned if their guide is not properly licensed and registered… how do you know if they are properly insured, if their guides are properly trained, how do you know that they are following safety protocols," said Sykes.
When provided information on the findings surrounding illegal equestrian outfitters, Sykes was also surprised, agreeing that it provides a serious unfair advantage between outfitters and that he felt it was an issue that needs to be addressed and investigated. Sykes also suspected that the lack of proper insurance and licensing was due to barriers some would run into with the OSMB, at least during the initial application process.
"The state marine board is diligent and will background check people, check for insurance, etc." said Sykes, but further admitted there could indeed be issues with continuing follow-up and enforcement to ensure outfitters even apply to begin with. "None of the professional guides in this state like seeing any of these unprofessional and illegal guides operating," he remarked.
Syke's own company, Ouzel Outfitters, which primarily provides rafting trips in Oregon and Idaho, also detailed that many river-based outfitters would have a harder time avoiding enforcement. Ouzel Outfitters is a registered Oregon and Idaho company that also maintains outfitter licensing in both states and employs approximately 30 guides during the peak summer season.
"Keep in mind that for rafting guides and fishing guides, most of us are operating under federal permits, so we have an additional layer of rules and regulations imposed by the USFS or BLM." When we're out there we are checked by BLM and US Forest Service rangers, state troopers, sheriff's deputies– so there are a lot various enforcement agencies we run into."
Sykes further explained that the environment and lands being used by equestrian outfitters are less frequently running into law enforcement when they don't have to deal with federal requirements. He also admitted that it is likely that many other law enforcement agencies are unaware that the outfitter laws exist for non-water outfitting guides.
"The Oregon Outfitters & Guides Association is a professional group of licensed outfitter guide companies that provides regulatory work and support for those getting into outfitting services in a professional and legal manner." While Sykes said they work closely with the OSMB and some of its members also serve on the OSMB's separate advisory committee, he cannot speak directly for the agency.
Major issues with equestrian outfitters along the Oregon coast
In the area that reportedly brings in top dollar for the State's equestrian outfitters and is often seen as a 'bucket list' adventure for most wanting to ride a horse on the beach, NW Horse Report found that 5 of the 6 outfits on the Oregon Coast were not in compliance with one or multiple aspects of the outfitter's laws.
Oregon Beach Rides, LLC which operates at Nehalem Bay State Park was found to not have current workers' compensation insurance, along with an OSMB license that expired last year. This lack of licensing was further surprising considering that the Oregon Parks & Recreation Division actually awarded an exclusive contract to provide equestrian outfitting to Oregon Beach Rides.
The company did not return any calls requesting comment. Despite being made aware of the issue by the State Parks in late July, the company was allowed to continue operating by park officials who thought the company would be covered under some sort of "interim" period thinking the license had just expired earlier in the month.
Chris Havel, Associate Director of the Oregon Parks & Recreation Department, reported back on Monday that officials were mistaken about both any "interim period" and the timeline of the company's actual license expiration, saying that officials notified Oregon Beach Ride's owners that they cannot operate in the park until registration is in hand. Havel also said park officials were not aware of anyone other than the owners operating, a response to the issues pertaining to workers' compensation findings.
"According to the manager, park staff hadn't noted any other employees working for the business… which isn't a guarantee it hasn't happened, but it's not one of the things we are able to monitor," said Havel.
NW Horse Report found video and photo evidence from multiple sources shared by customers on social media that left little doubt the company does in some fashion have other workers involved, including recently. The company has not returned multiple attempts seeking comment.
When asked further about Oregon Beach Ride's likely use of occasional labor that is unlicensed and doing so without following state law pertaining to workers' compensation, "Any business that is sanctioned for violating state law can have its contract canceled." said Havel.
Bandon Beach Riding Stables on the southern coast was also found not to have an active outfitter license or workers' compensation but did respond to a request for comment. Its owner explained that he inherited a business shortly after being discharged from activity duty military service. He did however register the business as an LLC in 2021, and acknowledged that the business was not keeping up to date in decades past, but has been working to ensure the business operates "according to the law and with good business practices" he said.
That included action to obtain a license from the OSMB and obtain workers' compensation coverage to protect his employees, which he said is about 6 in the peak season. An official with the Oregon DCBS reported that the company received workers' compensation coverage effective July 25th of 2022.
Employees at C&M Stables also spoke to NW Horse Report late last week and said that while they didn't even think about having protections for workers' compensation, they were delighted to learn that the company provided this benefit when so many equestrian businesses are illegally avoiding it.
"It definitely is good to know that," said Jordan, one of the workers and guides. All of the company's workers had high praise for Chastain, saying that he was an incredible employer who really cares about the horses, taking care of his employees, and "doing things the proper way". They also said they go through extensive training and are very aware of the outfitter guide laws and requirements.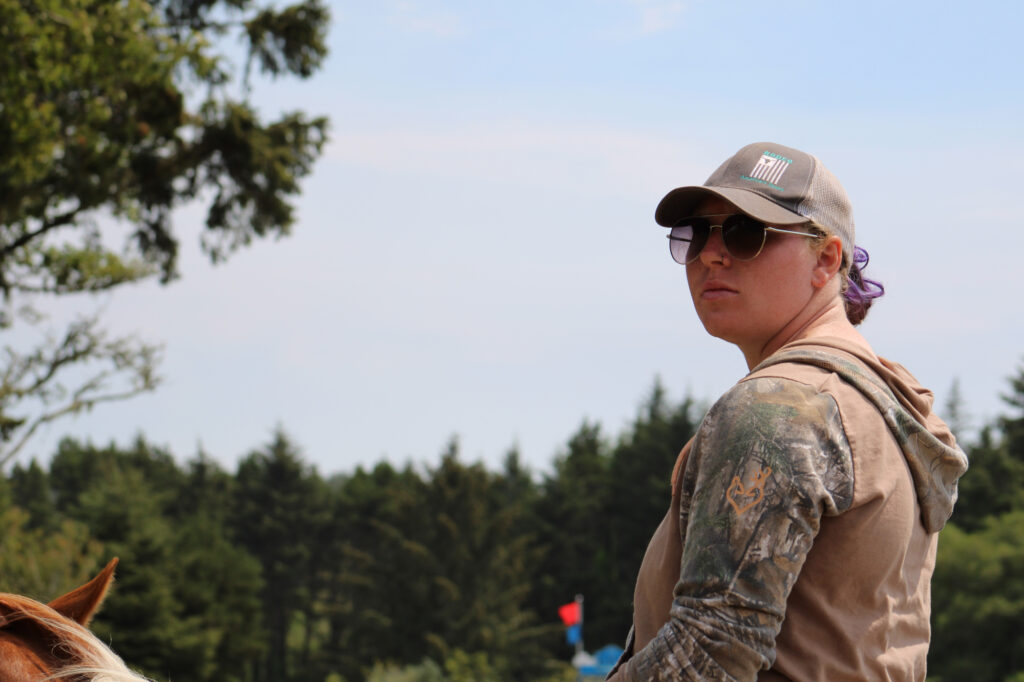 The workers also explained that the amount of illegal business practices by equestrians does have a harmful effect on the industry's legitimacy, safety, and reputation. This included the number of children, something they admitted is seen everywhere and not hard to find in most stables. They also said there was a difference between kids working at a commercial for-profit business like C&M Stables vs helping out on their own family farm.
The Oregon State Marine Board did confirm that another Oregon coast outfitter called Heritage Hills Acres, LLC, was not licensed after having been recently discovered by NW Horse Report through online searches.
The company was recently providing guided horseback riding on lands under the control of a non-profit group called North Coast Land Conservancy (NCLC), lands that are part of a "conservation easement". NCLC said that they are legally required to prohibit any and all commercial activity on based on the terms of the easement.
Shortly after comment from NCLC, Heritage Hills appeared to remove all references to their guided outfitting services and their booking system for guided trail riding from their website, although they still offer carriage rides that are subject to the same outfitter requirements. The company also did not have workers compensation insurance according to DCBS records, despite allegations that the company does have workers at their facility just outside Lincoln City, Oregon.
Oregon State Parks & residents decade long battle with Outfitter in Pacific City
Another company an hour south of Oregon Beach Rides in Pacific City, Green Acres Beach & Trail Rides, was found to be licensed as an outfitter but has not maintained workers' compensation coverage for nearly 2 years. The business has had a history of issues with maintaining its license, having been unlicensed while operating between June of 2019 and May of 2020.
In late 2020 the workers' compensation insurance coverage for Green Acres lapsed, and in early 2022 the business reported to the Department of Consumer & Business Services (DCBS) that it no longer had employees, despite the company reporting and listing some of its non-owner workers to the OSMB on their outfitter license application renewal. NW Horse Report also confirmed through evidence on social media of reports that multiple individuals working at the location– including those who were also not part of the listing of licensed guides for the business.
The Marine Board had numerous reports and complaints for years that Green Acres had not been properly listing and ensuring required certifications for its guides, including allegations and evidence of minors as young as 9 years. According to BOLI's Child Labor Division, the practice is not only illegal under state and federal law, but in order for the business to employ minors 14-17, they would have to be granted a certificate from the agency. Green Acres previously applied after being investigated, but was ultimately denied due to restrictions under the federal Fair Labor Standards Act.
Oregon Park & Recreation Department officials also disclosed a mountain of complaints against the business going back many years, including citations and repeated warnings for nearly a decade from park officials for violations at Bob Straub State Park and along the ocean shore. Other complaints detailed other serious illegal activity, including illegal minor labor, safety concerns with pedestrians on the beach, and local residents reporting excessive amounts of manure left on the beach.
A report was also discovered from a park ranger has also detailed the owner's hostile conduct towards them when attempting to address violations witnessed by the park ranger.
Other allegations included that Green Acres was providing an incomplete listing of guides conducting trips, and provided false information on past applications– which the Marine Board ultimately approved according to the records obtained by NW Horse Report. State Park officials stated that Green Acres did not need to have a contract with them as they are not based within the park itself, but did need to comply with their rules along with state/federal law. Records also detailed a lengthy and sometimes dramatic situation in dealing with violations by Green Acres for approximately a decade, with a drastic increase in such issues over the last several years.
Other equestrians have reported concerns that the company's repeated violations and hostility to park officials and residents could result in a reduction or exclusion of equestrians who visit for personal recreation– it being one of the few day-use parks open to horses on the central coast.
In March 2020, one of the unlisted owners, Teresa Stuebgen, was cited by the Tillamook County Sheriff's Office for guiding without a license.
The Tillamook County District Attorney's office reportedly dismissed the charges, reportedly due to the company's claim that the lack of renewal of their license was a simple oversight. However, the business continued to operate without a license for several more months, obtaining their license in late May or early June of 2022. To date, the OSMB has never issued any civil penalties against the business, nor does it appear they have issued any civil penalties against any equestrian outfitter.
The listed owner of the business, Daniel Stuebgen, was also was found to have a history of criminal charges in recent years, including for domestic assault and harassment in late 2021. He was also charged last year by the Oregon State Police with failing to report an accident, unlawful operation of a vehicle, among other counts. The charges for domestic assault and harassment were later dropped earlier this year after the district attorney stated in court filings that they were unable to subpoena Stuebgen's wife Teresa to testify against him.
In 2019, Stuebgen ran unsuccessfully for a seat on his local fire district in Lincoln County. It was unclear if he continues to have any involvement with the fire service, but appears to also own another business store called Happy Trails Feed & Tack in Lincoln City.
Mrs. Stuebgen is also facing her own legal troubles following charges for DUI in early 2021. According to Tillamook County Court records, she allegedly failed to comply with the terms of a diversion agreement with the district attorney, but has recently been granted an extension to next year. The discovery raises further questions about allegations and complaints related to drug and alcohol use at the business by a relative of the Stuebgen's that were included in public records.
As to the matters of park rule violations, records also showed that Oregon State Parks officials were also working with an Assistant Attorney General at the Oregon Department of Justice in an effort to consider seeking legal action against Green Acres for their repeated issues. Associate Director Havel explained that an "exclusion order" is still on the table as they continue to deal with the company.
"In the case of an exclusion, we rely on a county sheriff or Oregon State Police to enforce it. In the case of Green Acres, we have been climbing that ladder since 2017 and attempted to notify them in 2020 that we would proceed to an exclusion if necessary." said Havel.
The Oregon State Marine Board also placed blame on continuing issues in Tillamook County with the District Attorney's office, "As to Green Acres Beach & Trail Rides, we have had County and State law enforcement officers investigate their operation, only to have the Tillamook County DA's office refuse to take the case to court." said Brian Paulsen, a Safety Program Manager with the agency.
Illegal Outfitter, also unregistered as a business for 18-years, working under US Forest Service permit/contract
In July, NW Horse Report also uncovered that an equestrian outfitter at Diamond Lake, just miles north of the world famous Crater Lake, was working with the Diamond Lake Resort to provide guided horseback riding.
Not only was Diamond Lake Corrals not licensed as an outfitter guide, it has not had workers compensation coverage for any workers since 1989, some 23 years. The company was also not an active business on paper with the State, having been dissolved 18-years ago in 2004 by the Oregon Secretary of State.
When reached for comment, the company's current owner Justin Watson declined to answer any questions and asked for a call back, but promptly hung-up the phone when finally asked if he had any explanation for the businesses deficiencies. Additional attempts in the following days to reach Watson seeking comment went without success.
An official from the US Forest Service (USFS) did return a call early last week, but declined to answer any questions at the time, including to confirm any bit of its relationship with Diamond Lake Corrals. Later the agency provided an official statement saying that the business was "closely tied" to the Diamond Lake Improvement Co, Inc dba Diamond Lake Resort, but didn't really explain what closely tied meant. The official did say they considered the operation of Diamond Lake Corrals to be covered under a license held by Diamond Lake Resort.
The official confirmed that the operations of Diamond Lake Corrals were suspended until the operation was in compliance.
When reached for comment, John Jonesburg, Operations Manager with the Diamond Lake Resort, admitted that the horseback riding was technically via a subcontract, but they had "missteps" over the years by not checking the licensing and business registration of Diamond Lake Corrals. He explained they were also helping the current owner Justin Watson who was the son of the companies former owner who had passed away a couple years ago. Jonesburg also stated that they expected any company their corporation contracts with to be in "full compliance with state and federal laws."
Jonesburg also said he wasn't surprised about the lack of licensing overall by equestrian outfitters and also felt that the Oregon State Marine Board and other officials have over the years been unfairly enforcing outfitter requirements, detailing how they ultimately had to stop provided guided trout fishing due to what he said was unrealistic requirements and targeted enforcement on fishing guides, even when working to meet all the licensing requirements. Diamond Lake Resort no longer provides guided fishing on the lake.
Jonesburg said that if the OSMB was fairly enforcing the outfitter rules they clearly would have discovered the issues with Diamond Lake Corrals many years ago before the investigation by NW Horse Report, especially since he said that Diamond Lake Corrals had been previously licensed with the agency.
Non-profit providing unlicensed equestrian outfitting, other questions about personal gain
One particular organization caught the attention of NW Horse Report's investigators that offered guided outfitting services. It involved a 501(c)(3) organization called Rice's Horses, officially Rice's Horses & More Outreach. Initially the group appeared to be for-profit business, having no references to charitable services on it's website, and improperly referencing the organizations "owners"– something that non-profits do not have since they cannot be owned by any particular person or group.
There was no for-profit company under a similar name that could be found, or any other for-profit business tied to that location involving equestrian services. Waivers on the organizations website for customers does use the full title of "Rice's Horses & More Outreach"
Even as a non-profit the organization, the organization is required to be licensed as an outfitter due to the commercial purpose. Greater concern and questions about the organizations financials came about when finding that the Rice's Horses was further promoting the for-profit company of one of it's board members who provides tiny vacation rentals on the property.
Financial disclosures from the Internal Revenue Service and the Oregon Department of Justice Charities Division showed the organization has generated approximately $100,000 each year for the last several years. However, $60,000 alone was reported paid as rent for the organization, apparently to the directors who's personal property where the group is located. While directors can sometimes be paid for renting facilities to a non-profit they are involved with, the Oregon DOJ and IRS both provide important guidance on the rules to avoid personal gain/inurement.
Many equestrian horse rescue non-profits have been facing a wave of similar issues involving improper use of funds and personal inurement in recent years– including some being under investigation by the Oregon DOJ.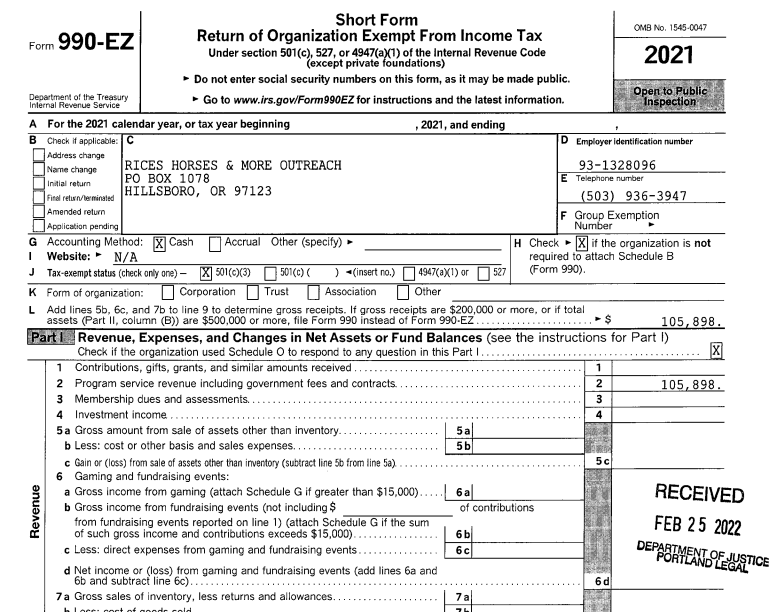 The guidance includes having only the directors without any conflicts voting, ensuring rent/fees are at current fair market values, etc. The $60,000 itself appears to be arbitrary, having been the same amount for at least a decade.
It did not appear the organization was currently engaged in any charitable work. The organizations 2021 financial records showed a total revenue of $105,898, all from program reservices revenues. It listed non fees from any membership dues, contributions , or any other sources. Expenses totaled $84,665, which included the $60,000 in rent, along with $24,025 claimed as "other expenses" and $640 in professional fees.
The "Schedule O" reported that the $24,025 was for $22,500 of contract labor at $1,525 for insurance. This alone raised questions as it was improbably that any outfitter could obtain actual outfitter insurance coverage for such a rate. Other outfitters stated that such insurance rate appeared to be closer to what a homeowner with a small private barn and possible boarding operation would pay, but is a far cry from rates for outfitting services at the limits required by the State.
The entire sum of the "contract labor" and rent paid apparently being paid to the Rice's was $84,025, the same amount the organization also claimed on the 2021 IRS 990 disclosure was for "Support services for adults with developmental disabilities", despite it not appearing that the bulk of the services they actually provide are for such services. Instead, it appeared the Rice's were using the organization to simply avoided taxes and other labor expenses that their competitors face.
An official with the Oregon DOJ who spoke with NW Horse Report off the record stated that even as a non-profit, in many cases the organization would still be required to comply with labor laws and provide workers compensation insurance, especially when it involves services to the general public that are not a charitable activity.
The organization has not responded to multiple requests for comment, including multiple emails. When reached directly, the organizations President Richard Rice promptly hung up the phone when asked if he could answer some questions about his organizations financials and charitable work after the suspected employee previously said we'd need to "speak to the owner". Rice said, "we don't have employees, you can put that on your report" before hanging up and making no further comment.
Rookhuyzen (with WCSO) also told NW Horse Report that their agency had not been aware of Rice's Horses when we spoke with him regarding their enforcement of outfitter laws and that there had not yet been any complaints against the outfitter, at least in recent years.
DCBS provides information about Workers Compensation.
While it is still illegal for companies and their owners to skirt the law in respect to workers compensation insurance, including by trying to classify workers as "contractors", Public Information & Communications Director of the DCBS, Mark Peterson, told NW Horse Report that, "However, even injured workers working for noncomplying employers are protected, as these injured workers are entitled to the same benefits as a worker employed by an insured employer. "
Peterson further stated, "The Workers' Compensation Division (WCD) of DCBS administers and regulates laws and rules that affect the participants in the Oregon workers' compensation system, including workers, employers, insurers, claims examiners, attorneys, medical providers, and others. A key component of what WCD does is enforce workers' compensation insurance coverage laws so that employers maintain coverage for their subject workers."
"As with most no-fault insurance, workers' compensation is fair only if it applies to all workers and employers. Oregon requires most employers to carry workers' compensation insurance for their employees. Workers' compensation insurance provides key benefits and protections for both workers and employers. It helps ensure prompt medical and wage replacement benefits for injured workers and protects employers from lawsuits that could otherwise be brought against them by injured workers." said Peterson.
Peterson also reported that while WCD does not track the average percentage of noncomplying employers, the recent first quarter 2022 report showed that of 1,000 claims, only 1.7 percent were employers without coverage. This clearly is a far cry from the numbers uncovered by NW Horse Report with equestrian outfitters, even if factoring that several of these companies are not required to have workers compensation when it is only operated by the owners without workers.
Peterson also had guidance for workers or other parties who had concerns about a business not maintaining workers compensation coverage, "…we can accept anonymous complaints. If someone has specific concerns about an employer not carrying appropriate workers' compensation insurance, they can call and we will handle it under our established processes. Contact information: 888-877-5670 (toll-free) or email us at wcd.employerinfo@dcbs.oregon.gov."
Oregon DCBS also maintains an online search tool to see if a particular business has current coverage that can be located here: https://www4.cbs.state.or.us/exs/wcd/cov/
Concerns of rampant illegal labor practices
The lack of workers compensation also brings to light another issue with equestrian outfitters and even equestrian businesses as a whole, the issue of rampant tax evasion and illegal labor practices that involve improper minor labor and avoiding minimum wage law. Many equestrian businesses appear to often advertise jobs in form of 'trade for board/lessons' or paying flat rates that others would often claim are sometimes half of the State's minimum wage. As of now Oregon's minimum wage is $13.50 in most of the state, with the special Portland Metro zone at $14.25 and non-urban counties at $12.75.
Several of the legally operating equine outfitters and businesses who spoke with NW Horse Report expressed that they were extremely disappointed about such practices when their businesses comply with the laws and aim to provide living wages to their employees. They repeatedly were dumbfounded that many of these businesses continue to "get away with it".
"I can't imagine trying to justify a guide as a contractor and not an employee." said Sykes with the Oregon Outfitters & Guide Association. He explained it would be impossible for a rafting or equestrian guide, while explaining it can happen with fishing guides who can supply all of their own tools, boat, etc. "That just isn't the case with our guides or those who'd be working for a horse outfitter".
One source who spoke off the record stated, "I probably shouldn't comply either but I believe in doing what is right. The State is just full of people who just pass the buck and don't actually care about protecting the legitimate folks in the horse and ranching industry." he said.
"Since 2014 we have worked to make the guide application process and the public lookup features available on the web and easier for compliance purposes. It is an ever-evolving process and we strive to make it better and more efficient every year." said Paulsen with the OSMB.
Those who wish to report illegal guiding can also contact the Oregon State Police at (800) 452-7888 or file a complaint online at https://www.oregon.gov/osmb/Pages/Guide-Complaint.aspx
---
Updated at 5:51pm on 8/2 – A correction to the last name of the owner of Diamond Lake Corrals was made shortly after publication, correcting Saxton to Watson.
This is one part of a series of upcoming stories detailing issues with illegal equestrian outfitting across the pacific northwest. You can count on NW Horse Report to continue bringing fair and accurate reporting that brings attention to consumer protection and support of legal equestrian industry professionals & business.