UPDATED on 12/20 at 4:44pm to reflect responses from multiple state officials at OSMB and BOLI.
Pacific City, Ore. – The owner of a camel riding business, which operates in partnership with a horseback riding outfitter, has been arrested by Tillamook County Sheriff's detectives for recording people in a bathroom located at the business's location.
John David Bonander, 48, of Pacific City, was arrested December 13th on charges of two felony counts of first-degree invasion of privacy, and two counts of tampering with evidence. Bonander was already on probation in relation to a conviction of telephonic harassment earlier this year against a victim in Linn County.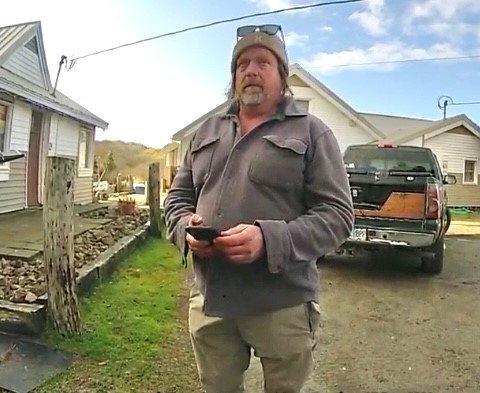 "We received information that a minor female found a surveillance camera hidden under the sink in John Bonander's bathroom," said Tillamook County Sheriff's Detective Chase Ross. "The victim removed the camera and they believed that they were recorded in the bathroom on several occasions."
According to TCSO, Bonander appeared to be preparing to flea the area.
"We found two phones in the process of being erased, as well as a 'go-bag' filled with passports and birth certificates. Bonander also had a large amount of cash on him." said Ross.
Detectives reportedly found evidence that victims had been recorded secretly while using a bathroom at the properties location. Based on TCSO seeking information from other potential victims, it appears the restroom may have been used by employees and customers of both businesses.
The charging document can be viewed here. NW Horse Report also obtained a copy of his Arraignment Order from December 14th. Additional court documents were sealed, which appears to be standard practice in cases involving minors or crimes of this nature.
Court documents and records showed that Bonander resides at the business location used by both companies, but neither business owns the the property that they appear to be leasing. Since initial publication, NW Horse Report has attempted to see comment from the properties actual owner– due to the growing civil and criminal issues that continue to embroil these business and their owners. We have yet to hear back.
John Bonander is the owner of West Coast Camels, a camel-riding outfitting company that operates in partnership with Green Acres Beach & Trail Rides at the same location on Pacific Ave in Pacific City. Both businesses and respective owners also had numerous issues with State agencies and law enforcement, including being previously found to be operating without a license after reports from local citizens to the OSMB and Oregon State Parks.
Both owners of Green Acres Beach & Trail Rides, Daniel & Teresa Stuebgen, have had numerous criminal charges and civil complaints in recent years, including criminal charges against Daniel Stuebgen for domestic violence and assault in Lincoln County. Both also own and operate a business called Happy Trails Feed & Tack in nearby Lincoln City.
Numerous allegations against the businesses over the last several years included violations of labor laws, illegal employment of minors., operating illegally without an outfitter license, and providing false information on OSMB applications. NW Horse Report has had a number of stories involving illegal outfitting as part of our "Shadow Outfitting" series, which included details about Green Acres. Despite these reports and findings recently uncovered, state authorities have continued to allow the operations by the jointly operating businesses.
Despite Green Acres Beach & Trail Rides reporting to the Oregon Department of Consumer & Business Services (DCBS) earlier this year that it no longer had employees, the company reported numerous employees, including minors, to the Oregon State Marine Board. The report came after DCBS sent warning letters to the business about failure to carry workers compensation coverage, which it dropped in recent years. It does not appear the company has obtained the required coverage, nor does it have a certificate for employing minors.
Officials with DCBS indicated earlier this year that they had reopened an investigation, which has since again been closed after the business failed to obtain insurance, but was within a timeframe the agency gave in the warning since the season employees were "laid off". The agency previously said they completed an investigation and found the company did not have employees onsite, but the investigations on-site visit was in the companies off-season, a fact that had been pointed out to DCBS officials.
Bonander and West Coast Camels, who did appear to have workers compensation coverage, also submitted a list of employees to OSMB which contained several individuals who were also jointly listed by Green Acres. The list included multiple minors, according to sources who spoke months ago with NW Horse Report and were familiar with the individuals.
Records previously obtained by NW Horse Report showed that officials at the OSMB were concerned months ago about Bonander's outfitter application, based on his recent conviction for telephonic harassment. Despite being aware of this conviction and his background check, the agency went ahead and gave it their approval.
Notes entered on a status sheet by OSMB officials stated, "Background check items of concern, please see attached" immediately following John Bonander answering that he had been convicted of a crime under ORS chapter 166 in July of 2022. OSMB outfitter guide licenses require disclosure of certain criminal convictions as they may disqualify an individual from guiding services.
The referenced attachment from the background check performed by OSMB was not included in public records. The OSMB did not respond to a request for comment before press time regarding the allegations and the status of either company, or Bonander' with their agency's recent arrest and felony charges.
Following publication, Brian Paulsen, a spokesperson for OSMB, responded with a statement saying, "The Marine Board is aware of the situation and working with law enforcement partners to gather the facts as quickly as possible. Given that this is an active investigation, we are unable to provide any additional information at this time."
Paulsen went on to state that the Marine Board "extremely concerned about the situation".
According to numerous individuals who have been blowing the whistle on these businesses for years, the inaction by State officials from multiple state agencies, including OSMB, BOLI, and DCBS, has allowed both Green Acres and West Coast Camels to continue operating in an irresponsible and unethical manner. They claim this is putting customers, workers, and even minors at risk.
When asked to provide comment on their investigations and years of complaints filed with the agency about illegal labor practices and minors working at Green Acres, BOLI immediately declined to comment.
"BOLI offers no comment on this case." said BOLI Deputy Commissioner Duke Shepherd
Many local citizens, including a neighborhood association called Citizens on Sunset, also say the years of issues with animal feces on the beach and damage to the dunes due to illegal trails has continued despite efforts by park officials over nearly a decade. The new allegations against Bonander only appear to further back that sentiment.
West Coast Camels is also licensed by the United States Department of Agriculture as an "exhibitor", a program run by the Animal Plant & Health Inspection Service.
The company and Bonander had previously been contracted with the Wildlife Sufari in Winston, Oregon. Company records with the Oregon Secretary of State appear to show outdated information on West Coast Camels being located in Roseburg.
Bonander could not be reached for comment. It appeared he is still lodged in the Tillamook County Jail as of press time with a bail amount of $26,000. He is scheduled for his next appearance on January 3rd at 1pm in Room 224 in Tillamook County.
Investigators believe that there may be more victims that were secretly recorded by Bonander. If you, or anyone you know has ever been inside the property at 5985 Pacific Ave, in Pacific City, and believes they could have been secretly recorded, you should contact Detective Chase Ross at 503-815-3326.
Following publication Bonander was released from jail as reported in our follow-up.