**** UPDATED at 9:21pm on 12/23: This story was promptly updated to include numerous attachments and records obtained from State agencies and court fillings. This has been done due to allegations made by the involved parties against NW Horse Report. It is our intention to give our readers confidence in our reporting and to be able to review such records themselves when drawing their own conclusions.
Tillamook, Ore. – A Pacific City man arrested December 13th, 2022, in connection with allegations he was filming people in a bathroom at his residence and camel-riding business, has made bail. He was released around 9am on December 21st, spending just over a week in jail.
John David Bonander, 48, was arrested and charged with two felony counts of invasion of privacy, and two counts of tampering with evidence. The discover was made after a minor, who NW Horse Report has confirmed from State records was also an employee of his business and an associated horseback riding business, found the camera and confronted him. Bonander is the co-owner of West Coast Camels.
Court documents also identified, albeit unexpectedly, a Brian Kennedy of Chicago, Illinois, as the individual who posted his bail over by phone. Kennedy's relation to Bonander is unknown.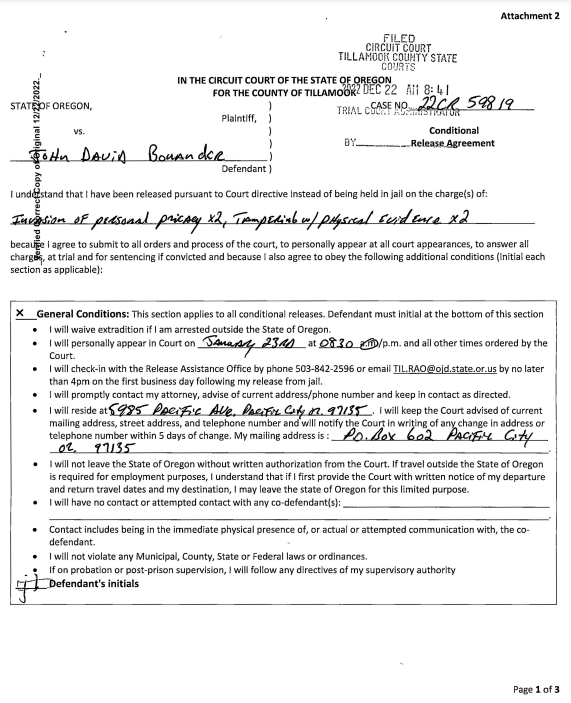 According to a press release made by the Tillamook County Sheriff's Office, investigators believe there are more victims and are working to identify them in the course of their investigation.
Many local citizens were already upset that another Tillamook County man arrested on sex crimes involving minors, and included in the same press release by TCSO as Bonander, promptly made bail weeks earlier. The revelation that Bonander was able to make bail by posting the 10% of the $26,000 bail ($2,600) is likely to anger many locals in Tillamook County. According to his security release document obtained by NW Horse Report, Bonander is still residing at the business location.
Until a few years ago, West Coast Camels worked in conjunction with the Wildlife Safari located in Winston, Oregon.
An official with the Wildlife Safari was unable to provide any information on the circumstances leading to the end of its business with Bonander, citing company policy.
"[John] Bonander was a past contractor, but per company policy, we do not give out information on previous or current contractors." said an official with the company on Thursday.
Horseback riding company tries to distance itself
The business, located at 5985 Pacific Ave in Pacific City, is also the site for another business that Bonander has had ties to called Green Acres Beach & Trail Rides, which has been under fire in recent years by numerous local residences in Pacific City, as well as State officials, namely the Oregon Parks & Recreation Department.
That business and one of it's owners, Teresa Stuebgen, are now distancing themselves from West Coast Camels, claiming no ties to Bonander and that the businesses are separate. Multiple attempts in many months during our 'Shadow Outfitting' investigation and story segment, offering Green Acres an opportunity to provide a statement for publication, have gone unanswered. Stuebgen has continued to post on social media that the allegations of hiring minors, along with it's ties to Bonander, are false.
The businesses are indeed two separately registered legal entities, as confirmed by records from Oregon Secretary of State, but NW Horse Report has confirmed through various documents that the businesses have closely tied operations. This includes shared employees, joint advertising, and multiple shared facilities. The businesses were found to also share facilities used at a secondary location.
The allegations of shared employees was further confirmed through records from the Outfitter & Guide licensing program at the Oregon State Marine Board, which contained lists of employees that are submitted by the businesses themselves. Both businesses had multiple similar employees, which included minors.
Local sources have said that Bonander and the Stuebgen's have been friends, at least until recently. Bonander has also self-identified the Stuebgens as "business partners", according to records submitted in a law enforcement investigation.
Articles published by multiple local newspapers over the last couple of years had also promoted both businesses. Numerous photos on the since deleted Facebook business and Instagram pages for West Coast Camels also repeatedly showed the housing of camels with the horses of Green Acres at a separate property, as well as statements of Teresa Stuebgen taking care of the camels belonging to West Coast Camels.
The ties between the businesses do not however provide any indication that the Stuebgens or Green Acres had been involved in Bonander's recent alleged crimes. It does raise serious questions about the Stuebgen's and Green Acres having minor employees at the business, considering it was not legally allowed to employ minors to begin with.
When not at the public site on Pacific Ave, the camels are also reportedly housed with horses at another facility at 34850 Resort Dr, couple miles from their main property. Court documents specific list this address as a place Bonander is not allowed to be per his release conditions.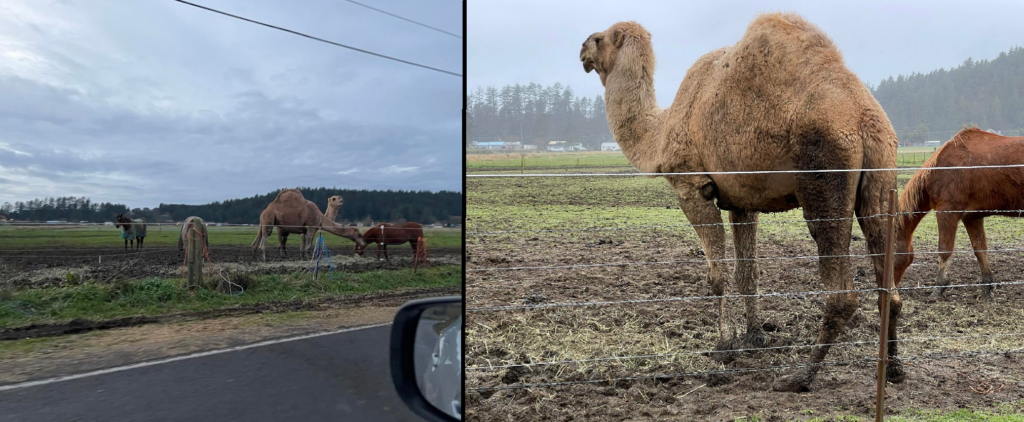 Photos provided by a source who has been identified by NW Horse Report, but is not being named for a genunine fear of retribution, showed horses from Green Acres and Bonander's camels at the same Resort drive property. The individual also said the photos showed the camels "caked in mud" and the animals being fed with hay thrown over the mud from a fence line.
Green Acres denies using illegal minor labor; but state records tell a different tale
While Stuebgen has repeatedly posted via Facebook that they do not employ minors, records obtained from both Oregon Bureau of Labor and Industries (BOLI) and other agencies tell different story. In July of 2020, BOLI sent a warning to the business about the employment of minors 14-17 years, demanding the business file immediately for a "minor exemption certificate".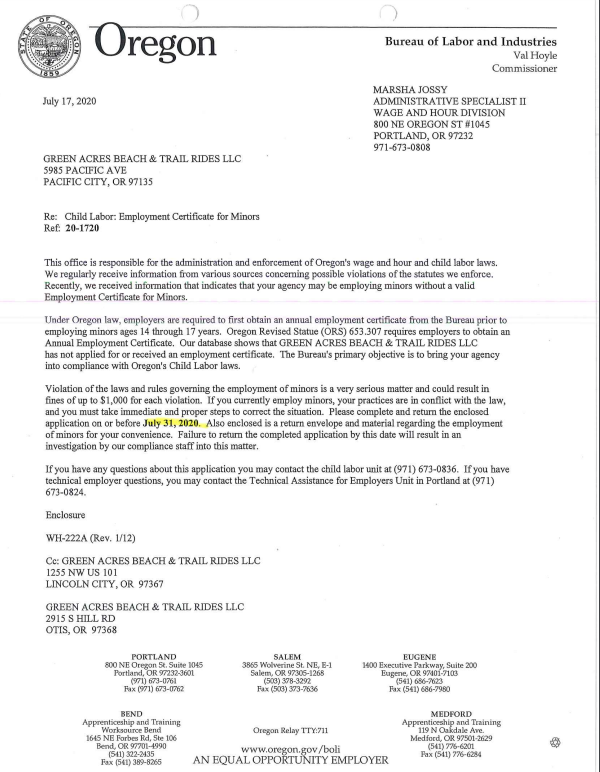 Daniel Stuebgen, another owner of Green Acres, responded by submitting an application days later. In his application, Mr. Stuebgen falsely reported the business anticipated hiring minors, not that it already had minors working as evidenced.
BOLI's Child Labor Unit then attempted to receive more information from the company, but their requests were ignored. The State informed Green Acres that they could not employ minors.
"You may not employ minors as long as you do not have a current Employment Certificate." said a August 13th, 2020 email. According to BOLI officials, Green Acres did not respond to their requests through October.
Laura van Enckevort, Interim Wage & Hour Administrator, confirmed that the agency has had no follow-up with Green Acres since then. "There has not been any other contact with Green Acres or its owners since October 2021." said van Enckevort. No exemption certificate was ultimately issued to the business.
The company later submitted records with a list of employees to the OSMB months ago after NW Horse Report ran it's first Shadow Outfitting story regarding the many equestrian outfitters that had not be in compliance with OSMB rules, an issue that had been causing years of frustration for several reputable outfitters.
The Stuebgen's did not appear to address the allegations that the company has failed to keep workers compensation coverage, or the fact that it lied to DCBS officials earlier this year that it no longer has employees.
The business has continued to ignore Oregon laws pertaining to workers compensation insurance, according to records and officials from the Oregon Department of Consumer & Business Services. The company has not had coverage for it's workers since 2019, a costly advantage according to competitors of Green Acres who say the rates average from $6-$8 per $100 in payroll. The business provided a false statement to DCBS officials during a past investigation, claiming they no longer had employees and were not subject to laws surrounding workers compensation.
In September, the Oregon Department of Consumer & Business Services (DCBS) said another investigation was in-progress after NW Horse Report uncovered that it had told the OSMB a different story when it submitted a list of employees.
"The investigation on Green Acres is in progress, but not yet complete." said Mark Peterson, a spokesperson for DCBS.
Numerous online reviews (both overall positive and negative) for the company found on Google and Trip Advisor also left serious doubt of Stuebgen's claim that they did not employ minors. Many such reviews were over the course of the last few years, including some with responses by the business itself acknowledging minor workers.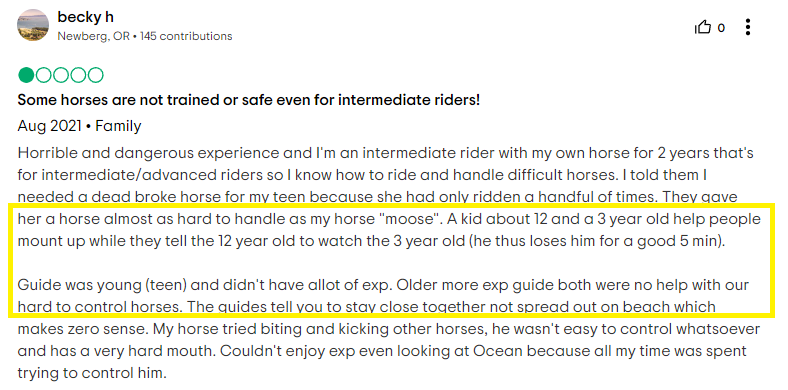 Sources familiar with the business have also said it's unlikely there would be a paper trail, believing the business frequently pays it's employees under the table. A family member of the Stuebgen's has also alleged the company has coached employees
Documents and photos were also uncovered of Green Acre's own office manager's minor child repeatedly working and guiding customers on rides in 2020 and 2021 by an investigator, along with other minors. This also included Bonander's own minor child, who was not listed as an employee by Green Acres with the OSMB.
Due to the current nature of the allegations against Bonander, NW Horse Report will not be releasing photos identifying minors at this time, although there is no legal prohibition to do so. The identify of the minors in the photos had also been confirmed by Stuebgen's own daughter-in-law during the investigators interview
The daughter-in-law also alleged in the interview that drinking at the premises around minors during work was frequent. It also claimed the employees only performed CPR and First-Aid training online. The OSMB rules say such training must be "in-person". An employee of the company, Roy Cabal, was also the instructor listed on all of the certificates issued to the company, oddly including duplicate certificates issued to Daniel Stuebgen far before the current one expired.
However, recent changes to the OSMB guidelines do not require the outfitters to submit the first-aid and CPR training certificates to the state for guide employees, instead requiring them to provide them upon request from the OSMB. It is unclear if OSMB has performed such an audit of Green Acre's training records.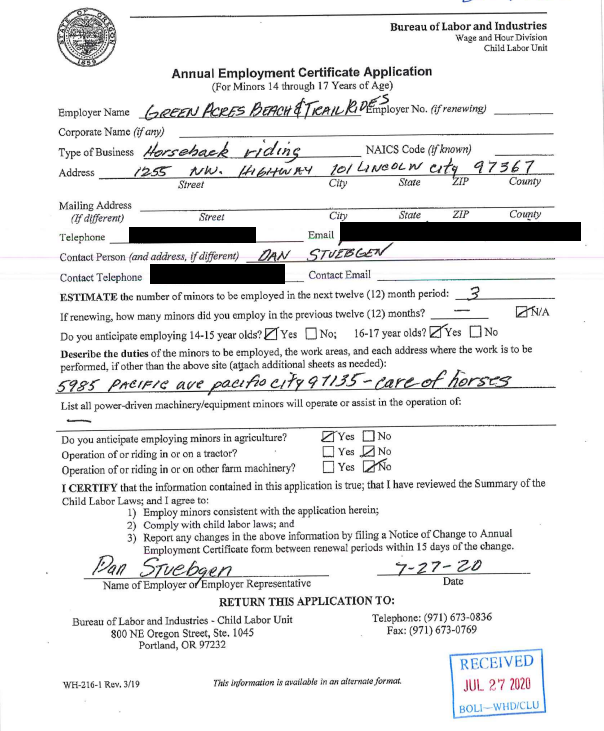 While Stuebgen denies having employed minors, Green Acre's own office manager recently stated instead that the company was in compliance because they are not legally required to obtain the exemption certificate.
However, BOLI officials determined that Green Acres is not considered a "agricultural" employer as defined by state and federal law. Even if the company was, it would still have to obtain a the exemption certificate. Additionally, it would be required to obtain a separate permit, along with written parental permission, to employ minors as young as 12.
BOLI's Deputy Commissioner Duke Shepard declined to comment in relation to the either company as it pertains to the allegations with Bonander, including the results of the past (or ongoing) investigation into Green Acres.
"BOLI offers no comment on this case." said Shepard.
OSMB previously stated, "We are extremely concerned about the situation and working with our law enforcement partners. Given this is an active investigation we are limited in resolutions and information that we can provide at this time."
Peterson with DCBS also indicated that the agency relies on reports about particular employers.
"If someone has specific concerns about an employer not carrying workers' compensation insurance, they can make a referral to us and we will handle that according to our established processes. People can call us at 888-877-5670 (toll-free) or email us at wcd.employerinfo@dcbs.oregon.gov." said Peterson.