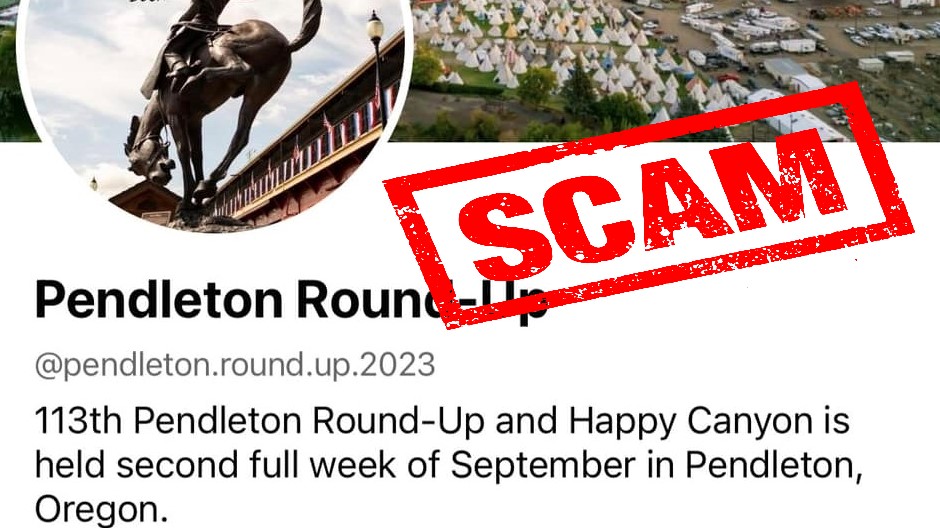 Pendleton, Ore. – Officials with the Pendleton Round-Up– known for its famous catchphrase "Let'er Buck"– are warning the public about a fraudulent Facebook profile impersonating the organization.
On Tuesday a post was made on the official Pendleton Round-Up Facebook page, "Please be aware of a fraudulent Pendleton Round-Up page circulating. Kindly note that we never send friend requests; instead, we'll only send a notification for you to like our official page!"
The individuals behind the bogus profile under the handle "@pendleton.round.up.2023", which is not technically a Facebook page, last posted on July 17th. The convincing post even tagged Niki Studer Naughton, an unknowing Sales Account Manager with Elkhorn Media Group. Naughton told NW Horse Report she was not aware of the bogus profile and post until logged into her profile. She pointed out that the fake profile had copied part of her own post attending
One reader who originally tipped NW Horse Report to the statement released by Round-Up officials stated they believed the individual(s) behind the fake profile was local and familiar with the Round-Up– based upon the content being posted. The Pendleton Round-Up is a multi-day rodeo and community event that takes place annually in the small Oregon town about 5-hours east of Portland.
Just over 2,000 people have befriended the fake profile, although the amount of "followers" page the profile has since dropped from 774 to 690 in the day since officials made note of the likely scam.
Earlier today officials with the National High School Rodeo Finals also warned the public about similar Facebook scams targeting their followers through bogus Facebook chat groups. Shortly after initial publication the Chief Joseph Days Rodeo also reported a fake Facebook page created that was impersonating their organization and rodeo event.
Often these sorts of fraudulent pages are part of the early efforts to prepare to defraud consumers as popular events near and spectators start looking to purchase tickets. The rodeo industry has faced years of these attempted scams across the country.
Facebook users can also visit the fake profile and initiate a report for "Pretending to be something" and then search and select the real Pendleton Round-Up page which uses the handle "pendletonroundup" as the legitimate group being impersonated.
A fake group associated with the page had also been created June 6th and happened to show the fake profile as an admin along with a profile under the name Rakibul Islam.
An official with the Round-Up directed NW Horse Report to their marketing manager for further comment, but they have yet to get back to us prior to press time.
Attempts seeking comment from whoever is behind the fake Facebook profiles and group were unsuccessful.