A pre-trial hearing was held yesterday in Yamhill County for a woman charged with 55 counts of felony animal neglect and one count of fraudulent use of a credit card, following the seizure of 48 horses and 7 cats from her horse stable just outside Carlton, Oregon.
The hearing often became tense with Swango having several outbursts, mostly while claiming all the charges against her where a "farce" and that the county has stolen her horses illegally. She also was granted her wish of self-representation by Judge Cynthia Easterday after having been warned of the many risks. Swango appeared to focus on wild claims that many attorneys have conspired to steal money from her over the years and engage in systemic fraud.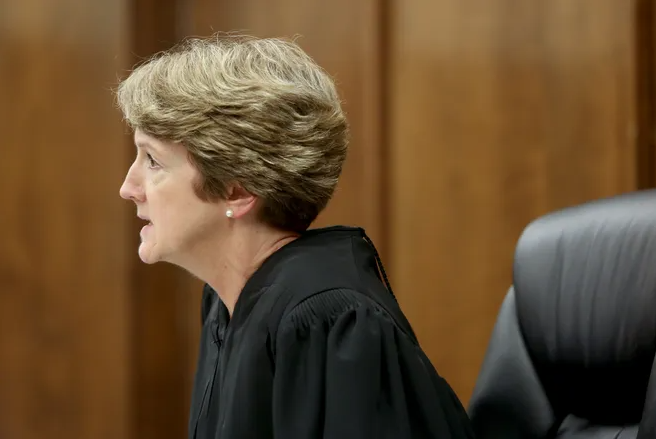 Susan Swango was charged earlier this year after a several months long investigation by the Yamhill County Sheriff's Office. The investigation was spurred by numerous citizen complaints spanning many years, and more recent complaints by a citizen whistleblower who started posting photos of the condition of horses at Swango's business.
Swango had previously failed to appear on several previous pretrial hearings in which she was required to attend. Judge Easterday pointed out to Swango that despite her failure to appear she chose not to issue an arrest warrant, apparently with the hope that she would appear as she did yesterday.
At one point, Judge Easterday had to loudly tell Swango to quiet down after having repeatedly warned her about interruptions, using improper language, and directing statements directly to the prosecutors. She also repeatedly reminded Swango that the pre-trial hearing was not a trial.
At one point Swango's tone of voice and continued interruptions of the Judge prompted a deputy in the courtroom to position himself towards the front of the courtroom near Swango.
Despite her desire to represent herself, Swango had implied that two friends were helping her file paperwork in the case instead, but the Judge also cautioned Swango in having individuals not licensed to practice law in Oregon acting on her behalf. She additionally claimed that a phone call that came through during the hearing had to be from some California attorneys that "were the best in the country" and were supposed to be there.
NW Horse Report obtained an exclusive statement immediately after the hearing from Swango and attempted to get clarification on whether she was going to continue to self-represent herself and who the California attorney's were that she mentioned in court.
Swango seemed to further imply that the Yamhill County Sheriff was violating the law with the action taken against her. "…the Sheriff is involved in it, they are violating all the laws." said Swango. "They have no jurisdiction over me at all, they arrested me, took my horses and everything, and we are in the process of getting ready to file damages for all they did."
When asked about the fraudulent use of a credit card, Swango had this to say, "I used it because they gave it to me, it was a friend I thought…".
Swango told NW Horse Report that the condition of the horses was the fault of the county and state due to them shutting off her water. She implied there was a conspiracy to steal her horses for profit. During the hearing Swango had also demanded to have access to her horses and wanted to know where they were at, which were mostly ignored by the Judge.
According to State Prosecutor Jacob Kamins, a previous forfeiture motion was granted by the court which transferred the ownership of the horses to Sound Equine Options, a Oregon 501(c)(3) horse rescue based in Gresham, Oregon. The 7 cats also seized went to the Oregon Humane Society.
When asked about the pictures taken of the horses poor condition as far back as September 2020 that seemed to get the attention of law enforcement, Swango and the two women accompanying her claimed that those photos were taken by someone who was "trespassing". The two women eventually proceeded to tell Swango to stop answering our questions.
Swango alleged to the court that she was missing a critical time to have her mares and stallions breeding, and she would be loosing out of hundreds of thousands of dollars.
A trial date for the charges of fraudulent use of a credit card were set for September, while the trial for the 55 counts of felony animal neglect were set to begin January 25th.