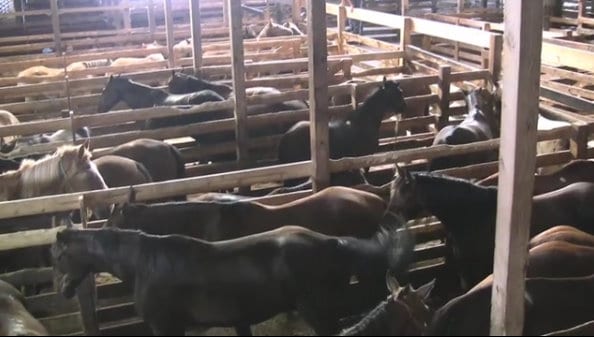 A handful of US Representatives had introduced an amendment to HR 3684, the Investing in a New Vision for the Environment and Surface Transportation in America ("INVEST") Act, that would essentially end the practice of slaughter of equines by banning the export for slaughter. The amendment passed the US House late last night by a voice vote in a bloc of amendments.
The proposed amendment was supported by hundreds of businesses and organizations. It would prevent what the Animal Wellness Action (AWA) organization calls a "cruel and predatory trade" that claims the lives of tens of thousands of horses and burros every year at foreign abattoirs.
Led by Chairman and Oregon Democrat Peter DeFazio, the House Committee on Transportation and Infrastructure has been considering more than 100 amendments, including the one to ban export of lives horses for slaughter to other countries, namely Canada and Mexico.
The amendment was led by Rep. Troy Carter, the Democrat elected in a special election to replace Cedric Richmond when he vacated Louisiana's Second Congressional District to work in the White House. Rep. Carter was joined by two veterans of the anti-slaughter fight– Reps. Brian Fitzpatrick, R-PA, and John Katko, R-NY. While US-based horse slaughtering activities are essentially outlawed across the country, this amendment would halt the export thousands of horses shipped to other countries for slaughter. Halting this trade has long been a top target of Animal Wellness Action (AWA), the Animal Wellness Foundation (AWF), and many other groups.
"Our iconic American equines drove commerce and the development of infrastructure in the first 150 years of the republic, and it's fitting that the INVEST Act pay a debt to them by halting their ruthless exploitation from kill-buyers who cart them off to Canada and Mexico for butchering." said Marty Irby, executive director at Animal Wellness Action. Irby was recently honored by Her Majesty, Queen Elizabeth II, for his work to protect horses. "We applaud the Members of Congress who are leading this measure and will continue to bring new and creative solutions to ending the most egregious abuses in the equine world." said Irby
Currently the slaughter of equine is barred on US soil through a "de facto" ban achieved through the appropriations process. More than 70,000 horses are shipped to Mexico and Canada each year to be slaughtered for human consumption across the globe.