Sherwood, Ore. – A young equestrian near Portland, Oregon, was recently awarded a civil judgment to the tune of $4,702 against a Yamhill County horse trainer. The horse trainer, Torry Brooks, 63, was the defendant in a case of alleged theft and conversion of a saddle and other accessories. It was then later discovered that Brooks and her husband made false statements to the Judge in a motion attempting to delay the trial for what was then the second time.
The compliant and judgment also lists the Brooks' business called Brooks Performance Horses– which appears to be operating illegally– as it has never been registered with the Oregon Secretary of State, a common problem with horse boarding and training operations in Oregon. A website for the company, brooksph.com, was not accessible at the time of publication.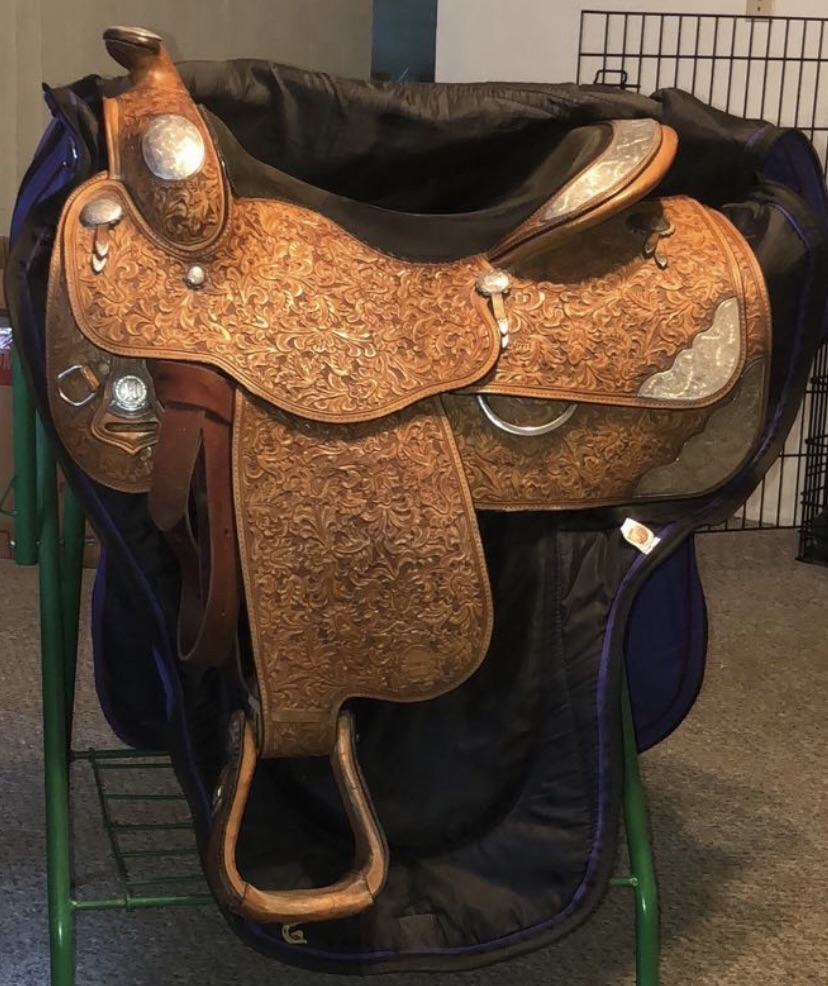 Emma Clark, 21, jointly with her father David Clark, filed the legal complaint in Yamhill County Circuit Court in April against Brooks. The duo's complaint detailed an arrangement that they made with Brooks to help resale an expensive saddle around around late 2018 and early 2019, for reasons that Clark later told NW Horse Report was due to "financial reasons" related to personal family needs.
Clark previously had lessons and training from the Brooks', primarily the Brooks' daughter that was heavily involved in the business at the time.
Brooks agreed to help sell the saddle, but in February of 2022, having not been informed of any success in the sale of the saddle, Clark requested the saddle back from Brooks.
Brooks didn't respond, and weeks later Clark tried again without any success. David Clark then went to Brook's facility in Sherwood off NE Wild Horse Mountain Rd, to pickup the saddle. Brook's husband, Wayne, allegedly told Mr. Clark that the saddle was up in Washington State with Brooks. The Clarks went on receiving no response from Brooks following the first visit, so Mr. Clark reportedly returned another time without success. That time they claimed Brook's asked Mr. Clark to 'name his price', and that she had a buyer offering $2000 and stated that was all the saddle was worth, despite the Clarks purchasing the saddle and some accessories for $3250 and having received other valuations prior.
Clark detailed to NW Horse Report the repeated and unsuccessful attempts to get the saddle after Brooks offer was declined, while also witnessing social media posts that showed Brooks allowing– what were believed to be her clients– extensive use of the saddle.
Brooks allegedly told the Clarks the saddle was never used. Photos currently on the Facebook page for Brooks Performance Horses appeared to show students using the same saddle.
Clarks complaint alleges the saddle sold brand new in 1995 for $3935, which factoring for inflation of 86.2% since then, would be roughly $7325.61 today. The complaint went on to state that in excellent condition and with comparable saddles being sold, the saddle could have a starting listing at $4,500.
In early April, Clark confronted Brooks again at a horse show in Eugene, Oregon, where Brooks again claimed the saddle was not with her and was still in Washington, but would be returned to her on April 11th. Shortly thereafter Clark claims she saw photos from a Eugene horse show that proved her saddle was not in Washington and was being used. The Clarks again attempted to contact Brooks one more time on April 11th after not hearing from Brooks, without success. The following day the Clarks filed their complaint in Yamhill County Circuit Court for a total of $4,702.
A trial last month in Yamhill County Circuit Court resulted in the court awarding the Clarks the full amount they asked for, including court costs and prevailing party fees. According to court documents obtained by NW Horse Report, Brooks– who was supposed to attend the September 9th trial– had a motion filed shortly before by her husband Wayne Brooks asking for a postponement. claiming that Mrs. Brooks had COVID-19 and had to "quarantine".
The Judge denied the order but permitted Brooks to attend via telephone, but Brooks was still a no-show when it came time for trial on September 9th. Clark claims after about fifteen minutes or so of waiting and attempts to connect with Brooks on the day of the trial, the Judge reviewed her case and ultimately ruled in her favor.
Around 2013, Brooks also had another civil judgment issued against her for damages just over $7,500 by another equestrian.
Clark then says she discovered Facebook posts from a current student of Brooks being at the The North West Emerald AQHA / APHA horse show, held September 8th through the 11th, 2022. Clark says she eventually discovered photos posted by a Elizabeth Knight Photography that showed Brooks was at the show, photos which NW Horse Report confirmed through multiple sources was Brooks pictured next to her student, the same student that Clark says has been seen in numerous photos using her saddle.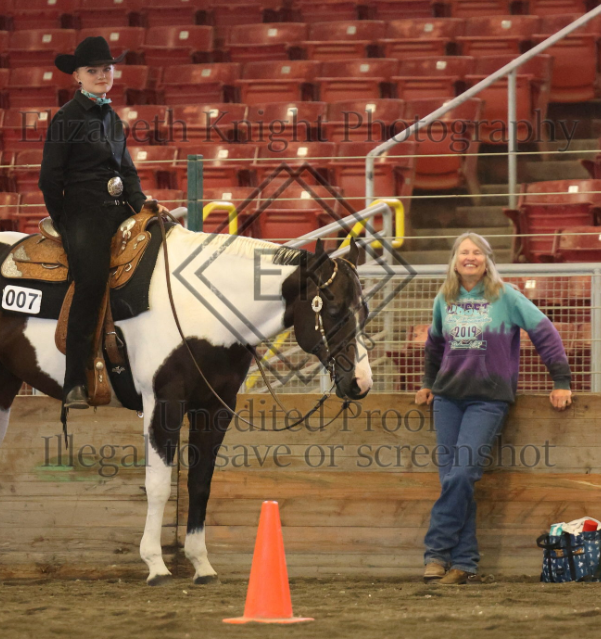 It was not immediately clear if Brooks or her husband will face any consequences for the false declaration statement in support of their motion to the court, but it at least raises serious questions due to other legal cases being handled by the District Attorney against others that were based on statements made under oath by the Brooks to a Yamhill County Judge.
Other legal entanglements & past felony charges
Brooks is also the primary complainant in a completely unrelated criminal case that involved her providing sworn testimony to a Judge late last year in order to get a protective order against another equestrian, Annie Rich, who is now facing criminal charges for allegedly violating that protection order in Yamhill County.
Rich was charged after allegedly violating the protection order in connection with ongoing disputes at the Rich's mother-in-law's property where she lives, and were the Brooks had a engaged in a questionable "lease" of the equestrian facility on the property where Rich resides. While there was never a a written lease, as confirmed in a November 30th letter by an attorney who represented the Brooks and their unregistered business, there had been serious questions as to the legitimacy and terms of a lease between Rich's mother-in-law, Beverly Nadeau, 83, and the Brooks'.
While the attorney for Brooks alleged that the lease was valid based on Facebook messages between Nadeau and Brooks– Nadeau says that although she allowed the Brooks to come in without a formal signed lease, the agreement was to be month-to-month until the Brooks signed a formal lease. Nadeau told NW Horse Report that Brooks continually avoided signing a formal lease after entering the property and disputed the characterization made by Brooks' attorney that claimed the formal lease wasn't signed solely due to Nadeau becoming "ill", the basis supporting the claim that the Facebook messages established a the contract.
Nadeau said that the Facebook messages did not account for all of the communication with Brooks'. Nadeau also told NW Horse Report the illness was a coma associated with a stroke, but has gradually been recovering since the start of the year.
"[The Brooks'] have completely made a mess of things and I feel they took advantage of my situation." said Nadeau, further detailing that despite the one-year lease claim by Brooks, they left not long after the conflicts started in January. Brooks Performance Horses now operates from another leased Sherwood property at 35600 NE Wild Horse Mountain Rd.
While also confirming there have been some internal family disputes involving herself and Rich, Nadeau said, "It's an absolute injustice what is happening to my daughter-in-law, but she also really helped after we finally got [the Brooks] out of there."
Both Rich and Nadeau both stated that Brooks and her husband claimed they had a lease for the entire property that included the two houses, but later walked back this claim. Nadeau and Rich separately described situations of strange men coming to the property and looking into the second house that had other tenants not related to Rich or Nadeau, all due to the Brooks' attempt to lease out the houses themselves. This all allegedly happened at a time that Nadeau had also suffered a stroke and was suffering from illness that limited her ability to deal with the situation involving Brooks which continued to escalate.
Nadeau told NW Horse Report that her stroke and illness was after many opportunities and attempts to execute a formal lease with Brooks who was avoiding doing so. She also detailed what she said was a "strange visit" by Brooks and her daughter around January after her condition had improved, feeling that Brooks was attempting to get her to sign paperwork.
Multiple individuals familiar with Rich's ongoing case and its ties to Brooks told NW Horse Report that they felt Yamhill County District Attorney is unfairly pressing forward with charges against Rich and ignoring the serious credibility of Brooks' in obtaining the protection order. The initial order was issued from an "ex parte" hearing in which only Brooks testified, and the filling made by Brooks for the protection order did not appear to be publicly available in court records.
One source told NW Horse Report that they thought the discovery originally made by Emma Clark through her civil case that strongly supports the Brooks' making false statements under oath, needs to be look into by prosecutors in Rich's case.
The revelation by Nadeau herself raised further questions regarding the Brooks' own conduct and credibility, as NW Horse Report discovered that both Torry Brooks and Wayne Brooks were charged in 2013 by the Yamhill County District Attorney with 2 Class C Felony counts of Criminal Mistreatment in connection with the responsibility for care of an elderly family member, who others claimed was Mr. Brooks own mother.
A 2013 grand jury indictment and motion for an arrest warrant for the couple claimed that between December of 2010 and August of 2011, the Brooks' had "unlawfully and intentionally or knowingly take for and appropriate to, any use and purpose not in the due and lawful execution of the defendant's responsibility, money belonging to Marian Brooks".
Brooks eventually took a plea deal and pled guilty to the charges, resulting in 3 years probation, restitution of $12,420 to be paid over 9-months, and 2 days in jail– but were credited for time already served.
Both Rich and Nadeau told NW Horse Report that there had also been issues that involved investigators being called to document serious allegations regarding the treatment of horses. One of the allegations made by Nadeau involved a colt being "hog-tied" and could not get up, resulting in a response by investigators. Rich also alleged a case where a dog shock collar was tied to another horse by Mr. Brooks.
The alleged investigations by law enforcement for horse abuse have not been immediately confirmed by NW Horse Report, but records requests with multiple agencies are underway. NW Horse Report is continuing its investigation into the story regarding Rich's criminal charges in connection with the protection order obtained by Brooks and intends to have a more in-depth follow-up story shortly.
Kate Lynch, Chief Deputy for the Yamhill County District Attorney, declined to comment on most questions related to ongoing cases posed by NW Horse Report late Friday, citing Oregon ethics rules. She was also unable to confirm if the DA's office was aware of the issues related to the lease between Brooks and Nadeau and any impact that might bear in their decision on the charges against Rich.
It was unclear following NW Horse Reports conversation with Lynch if the DA's office was aware of the matter regarding the alleged false statements made by the Brooks' in the recent civil case with Emma Clark.
It isn't the first time NW Horse Report has come across stories involving Yamhill County– a recent hotbed of stories– including on numerous equestrian related fraud cases, horse neglect, and even a McMinnville horse trainer who had 300k seized in a nationwide drug-related asset forfeiture by federal authorities last December in Pennsylvania.
One of the headline stories covered by NW Horse Report in October of last year involved a Marion County based horse trader and trainer, Geneva Boston, who stirred significant controversary over her conduct related to attempts to launder title of a horse belonging to another equestrian from Yamhill County. In that case, Boston went so far as to provide false statements to investigators as part of a cover-up. Based on social media posts, Brooks and Boston appear to know each other, but it was unclear if they have any business relationships.
It was also discovered that Brooks is a current equestrian judge with Oregon Family Equestrian Activities (OFEA). The non-profit group has not respond to a request for comment before press time. It was later discovered that Boston's mother is the point of contact for the organization.
When asked why Clark decided to share her story and make the social media posts about her win in court, "I just wanted to make sure others know what I went through and can hopefully avoid the trouble." she said.
Clark also said that it was clearly the "right thing to do" after the other discoveries involving Brooks. She also said that when she was a minor she had been unaware of the previous felony charges brought against the Brooks'. Clark also stated that payments made by her father for her past lessons and training were indeed made to "Brooks Performance Horses", raising questions how the checks could have been deposited if the business was not legally registered.
Federal and state banking laws require that the business tradename have been registered with the Secretary of State in order for them to open a bank account that does not contain the full names of all owners. It was unknown if the business might have previously been incorporated in another State in years past, but considering the business has had decades of operations physically in Oregon, the Brooks' are currently in violation of Oregon laws intended to protect consumers by doing business under the name.
Following original publication, an application to register the business was filed with the Oregon Secretary of State.
Since recent posts made by Clark on social-media regarding her win in court– countless other equestrians have started to come forward with other stories and allegations against the Brooks'. Multiple attempts to reach Brooks seeking comment have been unsuccessful.
Clark said that despite the judgment and sending a required 10-day demand notice, Brooks has still not made any payment on the judgment. Clark says she plans to use further legal remedies to collect on on her judgment.