Eugene, Ore. – According to court records, a Eugene area doctor has been convicted of first-degree animal neglect in connection with her care of multiple dogs, although new allegations of neglect have arisen following the woman's surrender of nearly a dozen horses. NW Horse Report has confirmed the woman as Dr. Christy Horton, who works for PeaceHealth, a non-profit healthcare system with numerous operations in Oregon and elsewhere.
An unnamed staff member at Peace Harbor Medical Center in Florence, Oregon, confirmed Horton currently works at the facility but was not scheduled to be back at work until Wednesday. A page on the official website for PeachHealth lists a Christy A. Horton MD.
The page further stated, "[Horton] comes to us after a year with Mid Columbia Medical Center in The Dalles, Oregon. Prior to that, she worked as an emergency physician at Overlake Hospital in Bellevue, Washington, as well as being the Medical Director for King County (Seattle) Medical Services."
The fact Horton is working as a physician has many citizens– and those familiar with Horton– up-in-arms, especially since this isn't Horton's first time being the subject of animal cruelty allegations or charges which span multiple states over the last two decades.
Horton faced criminal charges of animal neglect in 2005 in Kent County, Washington, but failed to appear for a hearing. This resulted in Horton being a fugitive from justice for over a decade after a warrant was issued for her arrest, with numerous warrants being reissued until around 2016. The case event log shows it was eventually dismissed without prejudice, apparently to simply remove it from an active case log for King County Prosecutors.
Court records show that on November 1st, Horton pleaded guilty in Eugene Municipal Court in a completely new and separate case to one count of Animal Neglect in the 1st Degree– an apparent part of a plea deal that resulted in multiple other charges being dropped and Horton facing 1-year of probation. Some of the specific details were not immediately available, but multiple sources familiar with the case indicated that Horton was charged in connection with her neglect of numerous Great Danes.
As part of her plea deal, Horton had to surrender all domestic animals on October 16th, including nearly a dozen horses that were located at an additional residence owned by Horton located in Mapleton, just east of Florence in western Lane County. She cannot own dogs for 5-years, or any other animal for 1-year.
It was then discovered that the horses also appeared to have been mistreated, with some receiving body scores of 2 by a Portland area veterinarian. The horses were formally transferred by authorities in Eugene into the care of Gresham-based Sound Equine Options, a 501(c)(3) horse rescue who is known for assisting law enforcement on these cases.
The incident eventually led to several out of state horse breeders in multiple states– who sold young horses to Horton– learning of the situation. Several expressed their displeasure with SEO for having placed the animals in several homes without first providing them an opportunity to have the horses back, some going as far as alleging such handling was "illegal".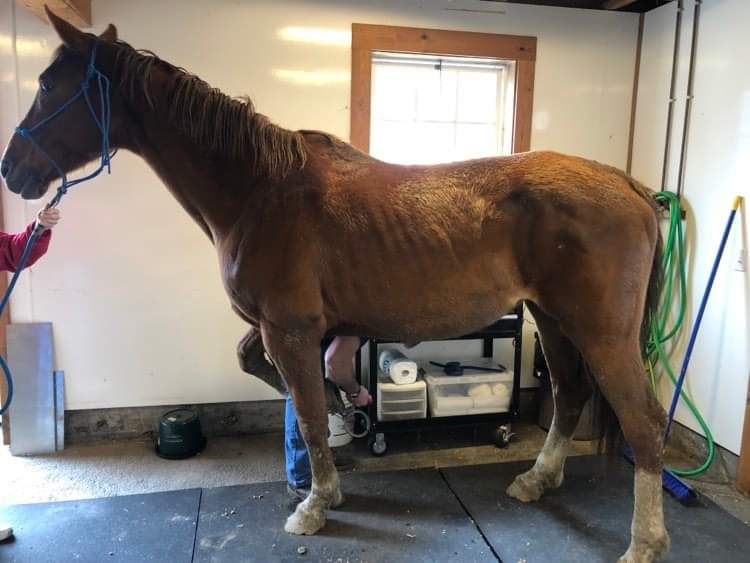 NW Horse Report spoke to some of the former owners of the horses, who expressed their own emotions to the entire situation. While upset with SEO, it eventually appeared that they understand that SEO handled the situation according to normal practice, in accordance with the law, despite this not being their desired outcome.
An attorney familiar with animal and property law, who wished to remain unnamed, confirmed that SEO and law enforcement would not have been under any obligation, nor was it common practice, to just return animals to former owners. "In this case, they are former owners, which would mean they no longer had any rights to the animals in question." said the attorney.
"Even if there were any return clauses in a civil contract, the seizure of the animals by law enforcement in accordance with Oregon law would almost certainly trump such provisions. The former owners may still have a civil case to bring against the individual they sold to, but not against law enforcement, the rescues, or adopters.
Countless individuals, including another well known Oregon equine attorney, came to SEO's defense on posts viewed on social media. One thing was clear, people on both sides were still upset with Horton's neglect of the dogs and horses. Many of the individuals who came to the defense of SEO further expressed their take to the numerous out-of-state breeders and former owners– that the issue is the lack of enforcement and prosecution in certain parts of the state.
The bulk of the posts on social media have since been removed.
Lane County Animal Services (LCAS) itself has been facing scrutiny for years in connection with it's handling of equine and livestock investigations, but it is unclear their level of involvement in Horton's case. It is unclear if Horton could still face new charges in connection with the neglect of the horses, considering they were surrendered as part of her plea deal in the conviction for neglecting several dogs.
The current case leading to the conviction last week of Horton was handled by Eugene Animal Control investigators who are part of the Eugene Police Department. While it was not yet clear why, investigators brought the charges to the Eugene City Attorney instead of the Lane County District Attorney's Office for prosecution.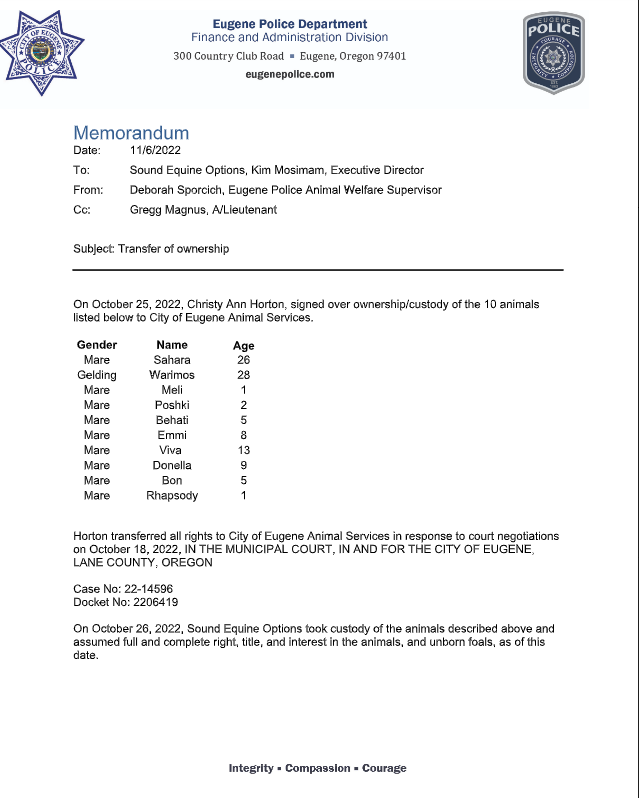 Some municipal courts have authority to prosecute certain misdemeanor level offenses in Oregon. In some cases, animal neglect in the first and second degrees can be classified as a felony in Oregon, but only in certain circumstances outlined in ORS 167.325 and 167.330.
Executive Director of SEO, Kim Mosiman, who is appointed the non-profit's Board of Directors, spoke with NW Horse Report early Sunday to provide details as to the conditions of the horses, "All of the horses are being cared for and recovering as well as can be expected. Two of the horses face serious medical conditions that we are doing all we can to remedy or monitor. We want to thank the generous adopters who were willing to take on horses sight unseen that likely needed extra care." said Mosiman.
SEO stated in a Sunday Facebook post the following details about the horses, "One horse with a body condition score (BCS) of 4, one BCE 3.5, five horses with a BCS of 3, one horse with a BCS of 2.5 and three horses with a BCS of 2. One horse has a large untreated ulcer on her eye that was 3 to 5 days old, several tired and lethargic horses, MANY horses' hooves were in very bad condition and did not look like they had received proper farrier care, one mare with a known serious heart condition that was already heavily in foal, two other mares in foal, one of which had a 2.5 body score and feet with white line disease and one skinny 4 to 5 year old mare who was severely lame on a front foot and had stifle issues in behind that were likely caused by lack of normal movement for a long period of time."
In addition to the criminal charges going back to 2005, in 2017 there was a resurgence of public outcry from citizens in Lane County who attempted to blow the whistle on Horton's alleged care and negligence of numerous other animals and livestock. Allegations have included that Horton has allowed feral dogs to attack and even kill some cows.
Amanda Hendricks, a Florence woman who was familiar with the 2017 incidents, claimed that LCAS officials simply demanded that Horton take her last live cow to auction or face a fine. She then alleges that Horton eventually got a cow again that was "brutally attacked by [Horton's] great Danes." Hendricks had video on social media showing was is alleged to be severe injury to the cow.
Several sources claimed that LCAS officials are no stranger to the complaints and allegations against Horton in recent years.
A media & communications official for PeaceHealth spoke with NW Horse Report briefly on Saturday, but declined to answer any questions and said they would follow-up at least confirm if Horton did indeed work for them. The official stated PeaceHealth would likely not answer any other questions.
The official did not follow-up prior to press time, leading NW Horse Report to provide several questions late Saturday which have also gone without any further response. One of the questions posed to Peace Health included if the organization had been aware of Horton's charges in Washington State, and if they had ever had any reports from citizens concerning allegations of animal neglect during the time of her employment.
Shortly after the story went to press on Sunday, the official did respond to NW Horse Report, "Like I said before, it's unlikely we'll have a statement regarding a staff members private legal matters."
It was also unclear if PeaceHealth would have been aware of the past warrants for Horton upon conducting any standard background check which is assumed to be standard practice for healthcare facilities. NW Horse Report has asked the communications official more generally about conducting nationwide background checks of their employees and is awaiting a response.
The Oregon Medical Board (OMB) could not be reached over the weekend for any comment. NW Horse Report was also unable to reach Dr. Horton by phone over the weekend seeking any comment as well.
This is a developing story that NW Horse Report is breaking and will continue to keep our readers up to date on. Remember that you can count on us for the latest equestrian related news within the northwest.
---