Two jockeys were injured Tuesday night after the track lights went out during the 11th and final race at Grants Pass Downs in Oregon.
A video posted by the Paulick Report shows that the horses were just going into the first turn coming off the initial stretch when the lights suddenly went out. The horses later reappeared along the final stretch under lights from the scoreboard. Two of the horses were riderless.
Jockeys Patrick Henry Jr. And Alex Anaya had undisclosed injures and were taken to a local hospital. They were both released on Wednesday. None of the six horses were injured according to officials with Grant's Pass Downs. The race was declared as a no contest.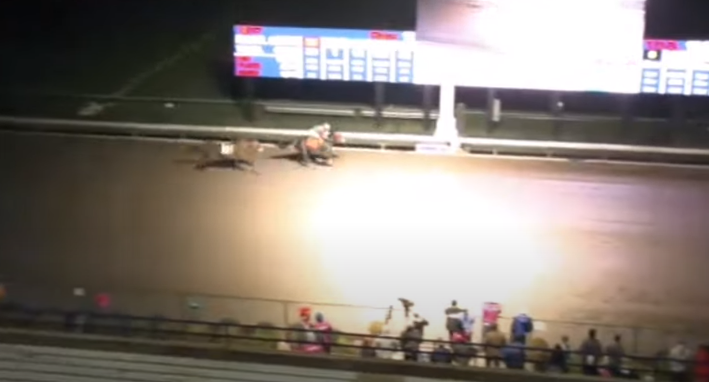 President of Grants Pass Downs, Randy Evers, provided a statement via email to NW Horse Report on Wednesday saying, "Grant's Pass Downs is currently reviewing an unfortunate incident at Tuesday's races." He further reported on the conditions of the riders, "Both [jockeys] have been released from the hospital and are in good condition." Evers did not make any statement on the extent of their injuries.
Attendees at the race reported that while the track lights went out, other lights at the facility stayed on, leaving some to believe it was not caused by a power outage.
The statement from Evers further stated, "Grants Pass Downs is an industry leader in safety and dedicated to continually improving and enhancing our policies and procedures to ensure our riders and horses are operating in an exceptional environment. We take our commitment to horse racing and the equine community seriously and will consult experts as needed to ensure our races meet the high standards we've set for ourselves."
The race was the final of the Fall meet at Grants Pass Downs.