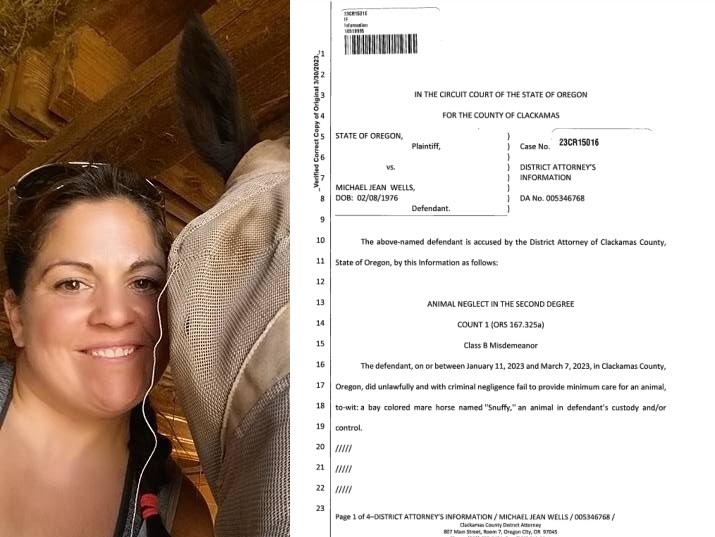 Colton, Ore. – A woman well known throughout Oregon equestrian circles as a BLM Mustang trainer has been charged by the Clackamas County District Attorney on eight criminal counts of animal neglect and abandonment, according to court records obtained by NW Horse Report.
The charges come following allegations that Aurora resident Michael Jean Wells, 47, who also goes by "Mickie", had neglected her horses prior to then abandoning them at a commercial horse boarding facility months ago outside Colton, an unincorporated community located in Clackamas County, Oregon.
Wells had also been a trainer with the Mustang Heritage Foundation (MHF) and owner of Wet Paint Mustangs in Burns, Oregon. According to the Oregon Secretary of State's Corporation Division, the business never legally existed.
Wells' affiliation with the organization was part of their Trainer Incentive Program (or "TIP), which states it has "trainers in over 40 states" and has "more than 16,000 animals placed" through the program.
Cary Scholtes, Director of the Trainer Incentive Program for MHF, confirmed that Wells was no longer active with their organization and had been "suspended" as a TIP trainer in late 2018.
While Scholtes could not disclose the reason for the suspension, she did state that it is rare for any TIP trainer to be suspended and that such actions are typically related to violations or other improper conduct by a trainer.
She also explained that trainers with any criminal history of neglect or abuse of animals are not permitted to be part of the program which functions in partnership with the Bureau of Land Management.
Scholtes went on to say that Wells was not permitted to continue using any of the MHF and TIP branding or marketing materials that were still displayed on a Facebook page for her unregistered business.
MHF did say such suspension actions are also shared with the BLM as part of the program, and that MHF does not condone or permit trainers with convictions of animal neglect or abuse from being part of the program.
According to the Mustang Heritage Foundation, "Once a home is approved by the BLM, TIP trainers are reimbursed up to $1,000 for their training and marketing efforts."
Officials with the US Bureau of Land Management (BLM) just outside of Burns did not respond to NW Horse Report's attempts to seek comment before press time. NW Horse Report is in the process of seeking disclosure directly from the BLM regarding the circumstances behind Wells' suspension as a TIP trainer.
Following the original publication, NW Horse Report received a comment from the Oregon Humane Society regarding the seizure that took place last month.

"The horses from this case are getting the care they need thanks to a concerned citizen who called Oregon Humane Society," says Chris Allori, OHS Chief of Humane Law Enforcement.
"Everyone can play a part in protecting animals from neglect and abuse – if you see something, say something."
Wells is also reportedly the founder of one of the more popular equestrian Facebook groups used by Oregon equestrians called "Horse Boarding of Oregon". Sometime after the recent seizure of her horses, Wells was no longer a member or even an admin of the group, having been removed by one of the other admins.
The only remaining admin says he was added as an admin sometime around 2020, and another admin besides him and Wells must have removed themselves.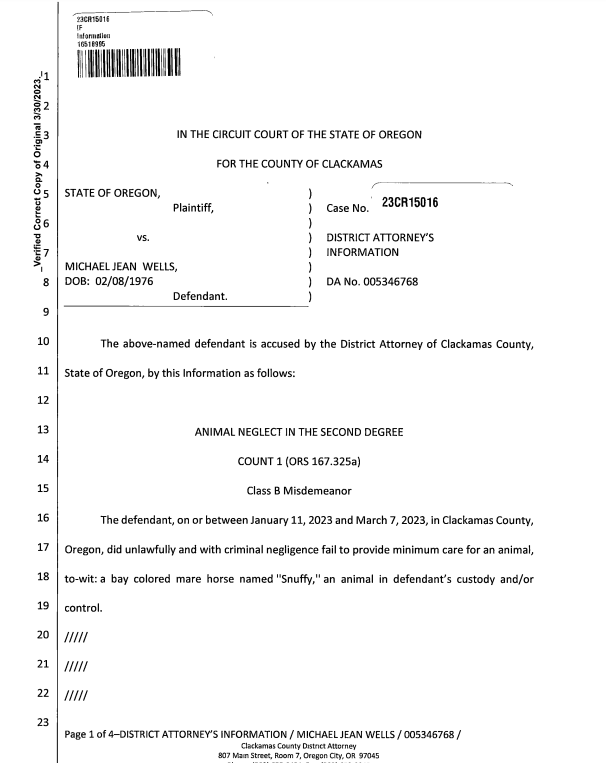 Multiple sources familiar with Wells told NW Horse Report that she frequently had been using the FB group to find unsuspecting facility owners to also defraud, frequently bouncing between facilities in recent years, a history of also leaving both back-yard horse barns and registered horse facility companies with thousands in unpaid boarding and care bills.
Wells allegedly has several more horses not part of the current charges at a facility called Cindy's House of Horses, which is owned by an elderly man in Tualatin. Wells allegedly owes that company tens of thousands, along with the facility she abandoned horses leading to the charges. The facility where the horses were recently seized was known as Spot N' Splashes Ranch, located just outside of Colton, Oregon.
The owner of that facility, Carena Bolton, spoke to NW Horse Report and detailed how Wells brought in the horses and that their facility did not have an opportunity to see their condition prior to their arrival in early January.
"They were really really bad, and the boarders were concerned," she said.
Bolton ultimately expressed that she then suspected the company probably wouldn't get paid, but that they cared about the horses.
"I did expect her to move in and not pay," Bolton remarked, further saying, "I don't particularly care about the person, but I care about the horses."
She then went on to detail the issues with Wells not coming out to provide the necessary care for her horses, leaving it to them while incurring increasing labor and other costs for the "one-off" and daily services, explaining that Wells did not set up to pay and receive full care.
"We also had to pay for a farrier to trim their feet," going on to explain how overgrown their hooves were upon Wells dropping the horses off.
Bolton expressed that they almost immediately informed Wells about a farrier who had a regularly scheduled visit, but that Wells never made any effort to make the arrangements.
The criminal investigation was prompted after reports from concerned boarders at Spot N Splashes Ranch, although the facility stated the horses were slowly improving under their care while Wells remained absent.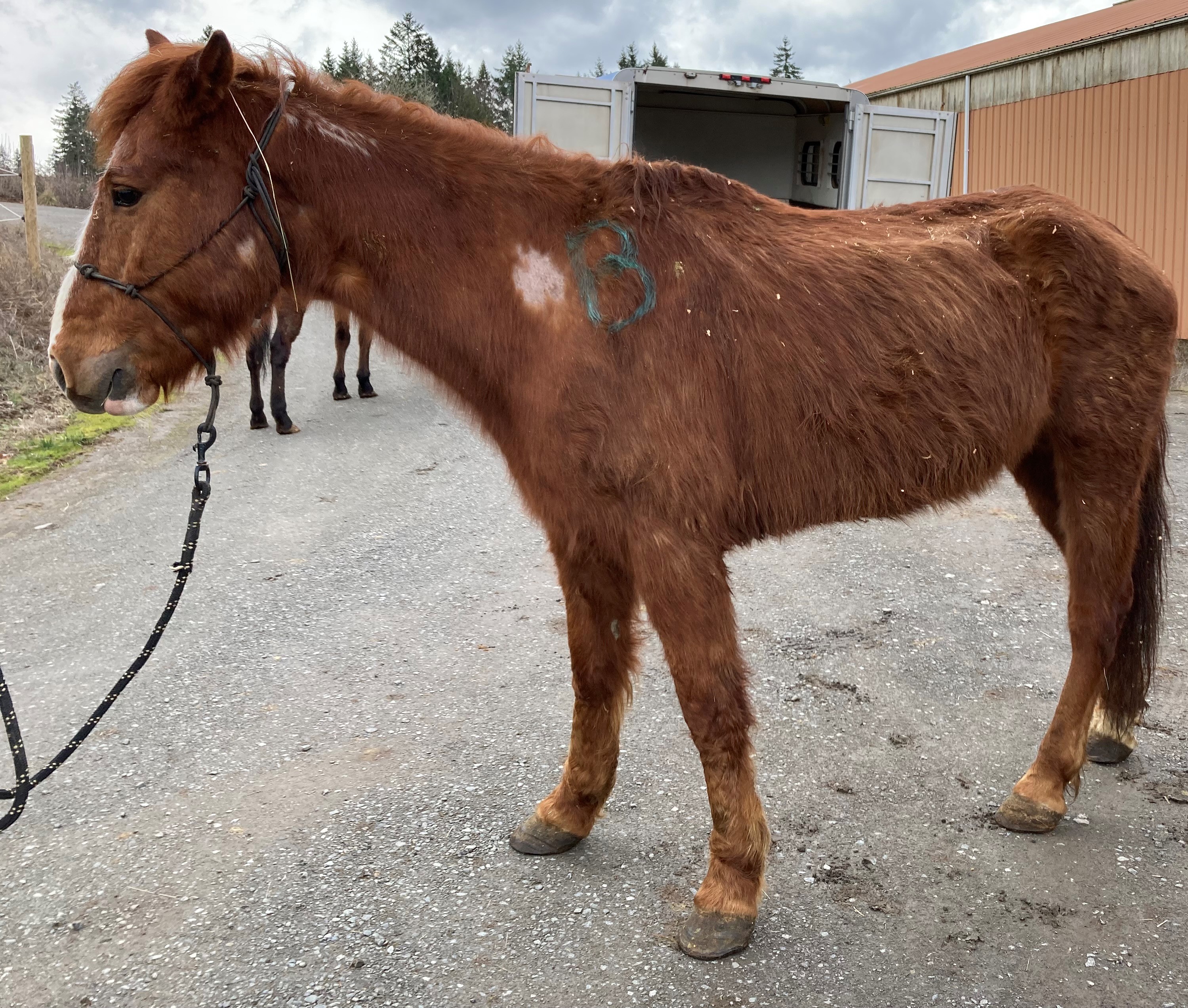 Those reports reached investigators with the Oregon Humane Society (OHS) whose special agents from the agency, along with support from 501(c)(3) horse rescue Sound Equine Options, then moved in on March 7th to seize the horses after securing a warrant.
SEO's Executive Director Kim Mosiman told NW Horse Report, "SEO was asked to help assist with the handling, hauling, care, and housing of the 4 horses. All horses are gaining weight, receiving basic medical care, and gaining energy."
The non-profit organization frequently assists law enforcement throughout Oregon and southwest Washington on equine neglect cases.
Spot N Splashes stated they fully cooperated with and allowed agents access to the property in order to investigate prior to the warrant used to seize the animals.
Attempts to reach Wells for comment were unsuccessful prior to press time– her last known number which was also used for her business was disconnected and no longer in service.
According to an order from Wells' arraignment last Monday, she is due to appear back in Clackamas County Court on May 24th at 10am.
This is a story you can count on NW Horse Report to keep you updated on as it progresses.