On February 24th, 2020, volunteers associated with Sound Equine Options assisted the Yamhill County Sheriff's Office and Oregon Human Society with the seizure of 48 horses from Silver Oaks Saddlebreds, a horse boarding, breading, and training facility located in Carlton, Oregon. The facility is owned by Susan Swango. Sound Equine Options (SEO) is a 501(c)(3) horse rescue located in Gresham. Additionally, 7 cats were seized also taken to the Oregon Human Society.
A press release from the Yamhill County Sheriff's Office said "Deputies assisted Yamhill County Code Enforcement in the service of an administrative warrant at Silver Oaks on February 19. During the service, deputies discovered inadequate food and water sources for the horses. Water was being obtained from a nearby creek but was insufficient. Deputies on scene were very concerned about the physical condition of the horses."
The Sheriff's Office immediately arranged for a donation of 2 tons of alfalfa hay for Swango. While she did accept the hay, she refused an offer for a donation of 1,000 gallons of water.
On February 23rd and 24th, the Yamhill County Sheriff's Office Crime Response Team (CRT) and the Special Investigations Unit (SIU), with the assistance of special agents from the Oregon Humane Society, served a search warrant at Swango's property.
Silver Oaks Saddlebreds is located at 8350 NE Hendricks Road just east of Carlton, Oregon.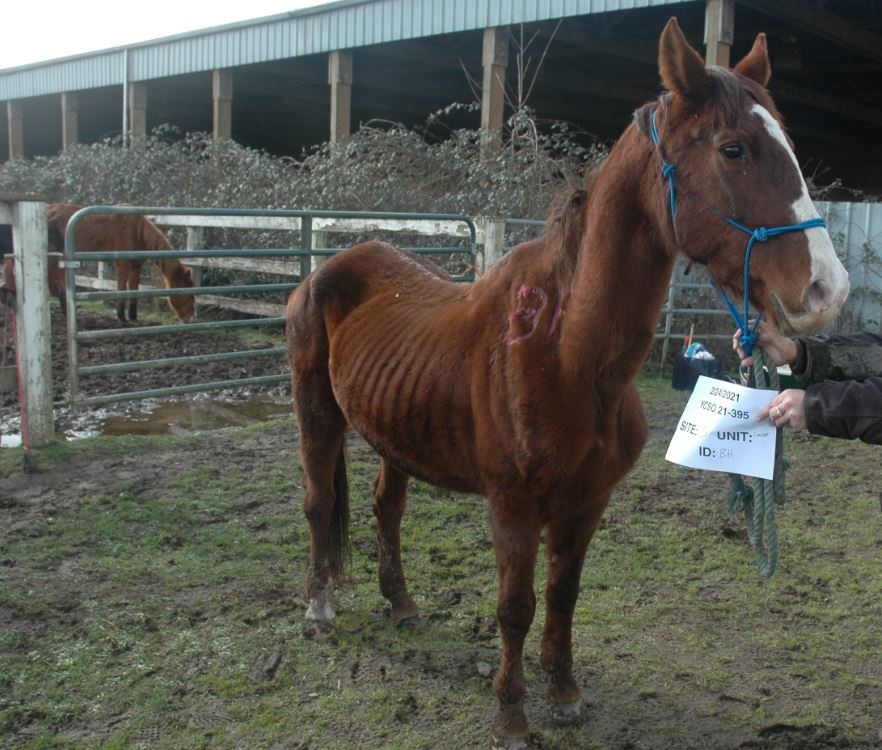 Capt. Chris Ray, Public Information Officer for Yamhill County Sheriff's office also confirmed that a horse died during the rescue efforts "In an unfortunate incident, one horse died of injuries sustained from falling over while volunteer attempted to guide the horse into a rescue trailer." according to the statement from Capt.
Swango has been charged with a felony, Animal Neglect in the Second Degree. She has been issued a citation to appear for these charges on March 24th. There appeared to be no record of her being arrested and booked into the Yamhill County Jail at this time. Deputy District Attorney Jake Kamins from Yamhill County will be prosecuting the case. The Yamhill County Sheriff's press release seems to imply that Kamins is experienced in handling cases of animal cruelty.
Silver Oaks Saddlebreds is an assumed business name used by owner/operator, Susan Swango. According to records from the Oregon Secretary of State, Swango registered the assumed business name (aka DBA) in May of 2011, but failed to renew in 2013. However, several sources have reported that Swango has been in this line of business for well over 30+ years with a trail of reports and complaints about her care of horses in other parts of Oregon.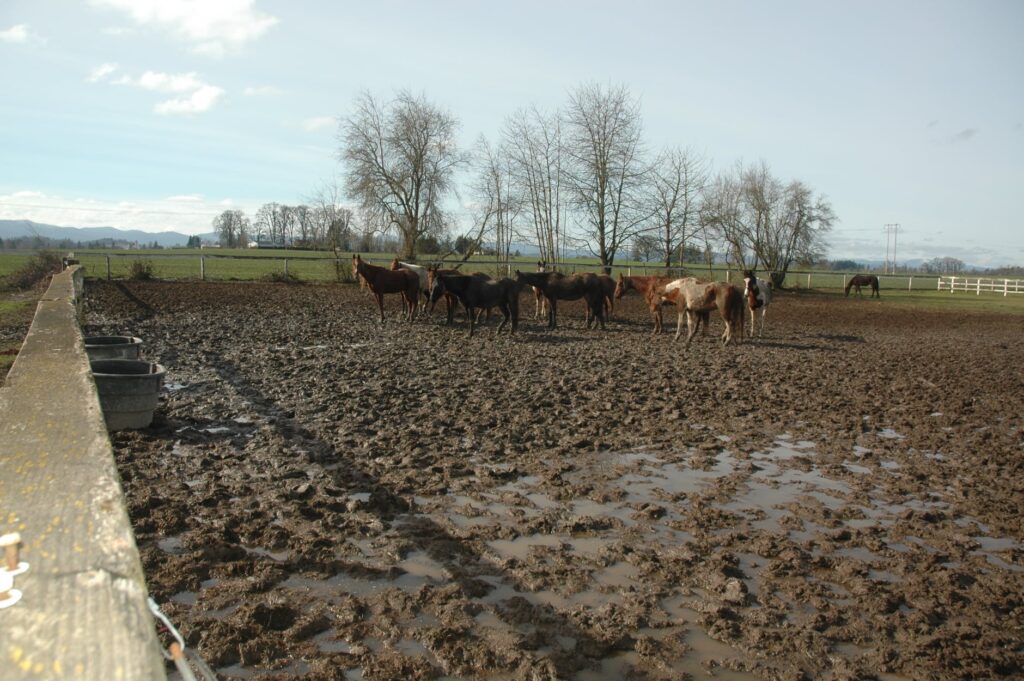 It was further reported by Yamhill County Sheriff's Office that a veterinarian had come to Swango's property about 5 months ago to assess the horses, finding at the time that evidence did not rise to the level of probable cause for an arrest or search warrant. While NW Horse Report has learned that the veterinarian who came to Swango's property may have been Dr. Carrie O'Brian who is based in Yamhill County. Dr. O'Brian has not returned our call at the time of this publication.
NW Horse Report further learned from Carlton Police Chief Kevin Martinez that Swango was also recently charged with fraudulent use of a credit card related to attempted payments of her water bill with the City of Carlton. While Chief Martinez indicated that his Department was not involved in the investigation regarding horse neglect, he did say the case of this magnitude is not normal for the area. He said that most equestrians he's aware of in their area of Yamhill County we're diligent equestrians.
In September of 2020, Casseay Tadlock of Carlton created a Facebook Group and posted pictures and provided a public statement due to conditions she found on the property in an effort to raise attention with fellow equestrians. Tadlock told NW Horse Report that she had heard about terrible conditions at the property and was able to get a job as a stable hand with Swango, doing so with an open mind and unsure of how accurate the reports had been about Swango and horses on the property. Tadlock said she was shocked after discovering the conditions, much of which she detailed in photos and video posted to the Facebook Group she created. Tadlock indicated she has a background as a vet tech and livestock farrier.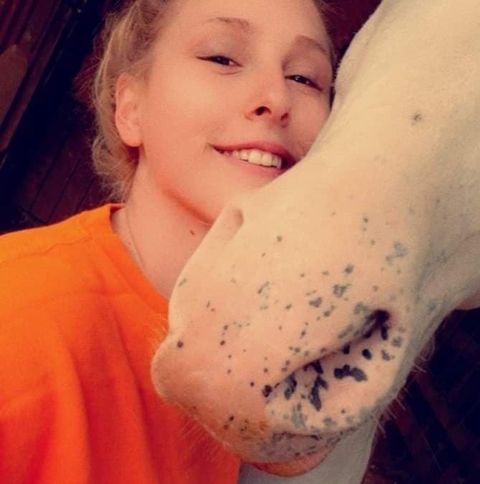 While Tadlock expressed she was relieved for the horses upon the news that they were rescued from the property, she was still upset about the amount of time it took for authorities to take action after being witness to the conditions in September of 2020. She and others continued to contact Yamhill County Sheriff's Office and District Attorney's Office for months.
"Her manure pile is over the size of a football field and over 10ft tall. Pregnant mares crammed into a small area." Tadlock said in a post on Facebook.
"This is a woman who knows what she is doing is wrong, but doesn't care." she said when talking to NW Horse Report. "My personal and professional opinion is that Ms. Swango should never own animals again. I don't wish Ms. Swango any ill will."
Yamhill County Sheriff Tim Svenson expressed his sincere appreciation to all who participated with his office in this operation. "While we wear many hats in law enforcement, occasionally we run into situations where true expertise and skills in a particular area are needed. Sound Equine and the Oregon Humane Society's vast knowledge were instrumental in getting these animals the assistance they need".
The Oregon Human Society team traveled to the area in Carlton on Wednesday to assist with the processing of evidence and provide other expertise as needed. The cats in OHS's care will also receive a forensic exam to determine the extent of their neglect.
"This case demonstrates cooperation among multiple agencies and the statewide scope of OHS's work," says Sharon Harmon, OHS President and CEO.
Sound Equine Options is accepting monetary donations. Donations can be made through their website. These specific horses can be assisted by typing "YCSO" in the "Send an Acknowledgement to" box on the Donation Information page.

In the last decade, SEO has assisted with dozens of law enforcement cases, taken in more than 450 horses, and helped many countless more. SEO has assisted law enforcement agencies in Clackamas, Columbia, Coos, Linn, Marion, Multnomah, Polk, and Wasco counties in Oregon, and Clark and Klickitat counties in Washington. On average, SEO is caring for between 40 and 60 horses at a time.
---
This is a developing story which we will be following. Updated at 9:25pm on 2/25 – expanded on comments made to NW Horse Report by Casseay Tadlock.