Gwenyth Davies, the subject of one Oregon's largest horse neglect cases in recent memory, is due back in court April 26th over the State's allegation she's violating her probation terms. Davies was sentenced in February of 2020 to 5-years probation as part of a plea deal she received in order to to avoid jail time.
The charges stem from an October 2019 investigation by authorities from multiple agencies which resulted in the seizure of 61 severely neglected horses in Davies care. Several dead horses were also found on Davies' property during the investigation and seizure. Additional charges were also brought against Raina and Erica Ott, who lived at Davies' property.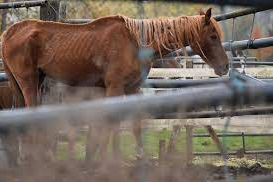 Raina Ott had been previously charged and convicted of felony theft in 2018. Raina Ott entered a guilty plea on one of the four courts of neglect in exchange for deferred sentencing on all counts while she completes terms of probation. Erica Ott's plea deal appears to have involved a guilty sentence on one count, not-guilty on another, and two counts being deferred until the completion of a 3-year probation. Erica Ott is eligible for an early end of her probation after 18-months.
"One of main goals in this case was to ensure this type of neglect doesn't occur again, and this agreement allows for a level of oversight that can aid in achieving that goal," Lane County Sheriff Cliff Harrold told KEZI news in February of last year when referring to Davies plea deal.
Davies was also ordered to pay nearly $50,000 in restitution between Oregon Humane Society, Lane County, and Sound Equine Options, to cover vet care and boarding fees. According to the payment plan, Davies was suppose to pay $300 a month toward the restitution.
The plea agreement also limited Davies to only having four of her own horses in her care at any one time for the duration of her probation, and she was prohibited from boarding other horses. Davies was additionally required to provide regular photos of her horses to Lane County Animal Control and the Oregon Humane Society, along with access to officials conducting inspections of her horses and other animals on her property.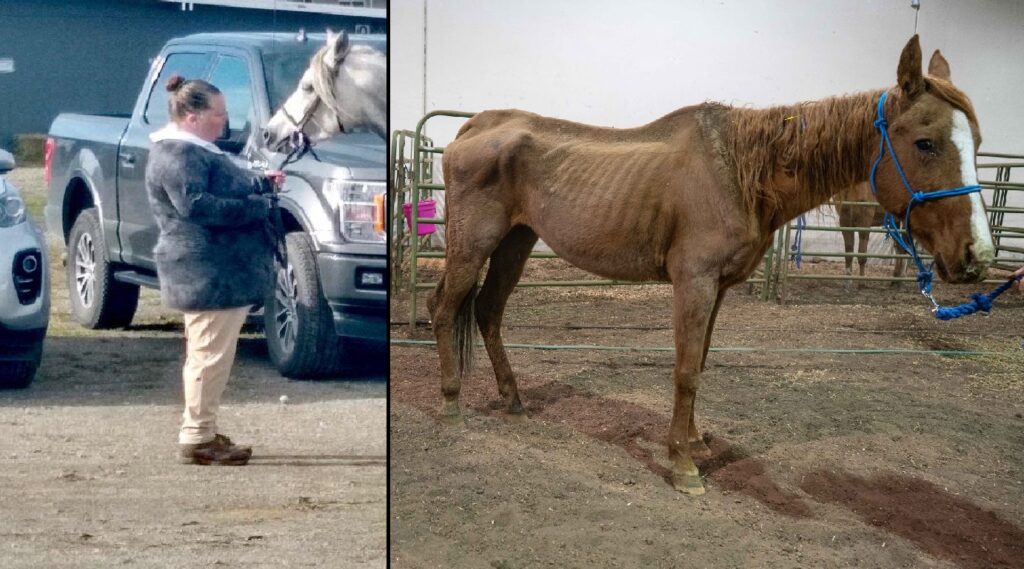 Jacob Kamins, a Special Prosecutor for Lane County who is the State's Animal Cruelty Prosecutor, filed a "Motion and Affidavit To Show Cause" on January 15th, less than a year after her sentencing last year. This motion states Davies is in breach of her probation for failing to provide monthly photos of her four horses, providing hay and grain receipts, and failure to make her monthly restitution payments. All of which are conditions of her probation per the 2020 plea agreement.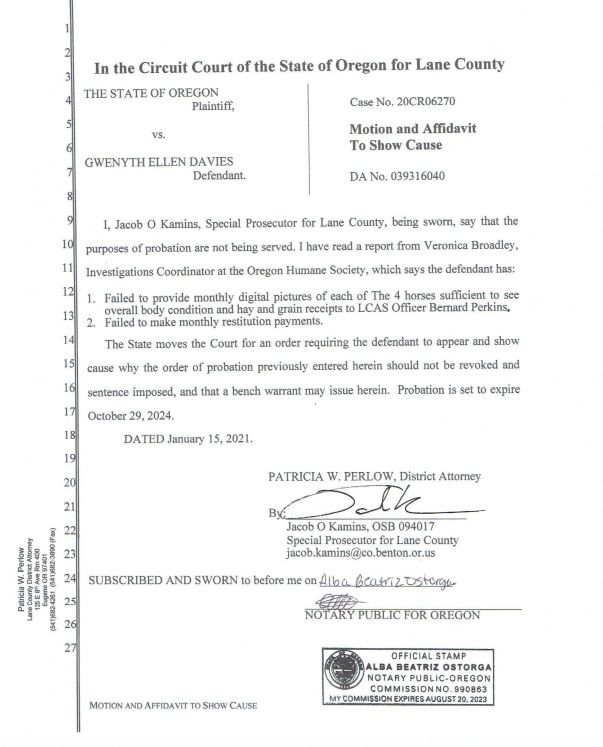 Additional court documents obtained by NW Horse Report show the full conditions of Davies' probation terms. Court records also show a single $200 payment from Davies' in June of 2020, indicating she still owes $49,577.36 in restitution.
Davies' former attorney of record had a January 2021 motion to withdraw as counsel denied by Judge Curtis Conover of the Lane County Circuit Court. The motion was later granted the following month, allowing her former attorney to withdraw from the case. Eugene attorney Jennifer Perkins was then appointed to represent Davies' by the court. Davies' new attorney has not yet responded to a request for comment.
It was not immediately clear what would come of a potential ruling on the motion or if that ruling would be made during Davies' next court hearing scheduled for April 26th.
This is the second large case involving over 50 horses in Oregon alone that Sound Equine Options has been involved with in less than 2-years. SEO is a Gresham based 501(c)(3) which works with multiple law enforcement agencies and the Oregon Humane Society.
Deputy District Attorney Kamins is the same prosecutor who is now handling a more recent large horse neglect case out of Yamhill County in Oregon, by Susan Swnago and her company, Silver Oaks Saddlebreds. NW Horse Report was one of the first to break the story about Swango and continue to provide updates as her case develops.