A more formal story in addition to this prompt statement will be published in the coming days. Due to the sudden attention and false rumor that our editor was arrested, we wanted to ensure this statement was made.
Salem, Ore. – Our managing editor was "trespassed" from a publicly accessible area of the Oregon State Fairgrounds after formally (and politely) being asked to leave by Oregon State Police, despite claims by PNW Horse Sales "officials" that he would be arrested during an altercation.
The incident later involved an official with PNW Horse Sales attempting an assault in order to take our editor's camera, part of which was caught on video.
We were attempting to take photos and observe in an open and transparent manner outside of any buildings that were reportedly leased to PNW Horse Sales. This was being done without approaching anyone or causing any disturbance, and audio and video recordings throughout the duration of the encounter will support this.
Our editor was promptly approached by Don Nowlin, who the company had maintained was "not involved" in the operations of the business itself. Nowlin claimed on a recording by our editor that he was "in charge" and demanded he leave the fairgrounds, which our editor argued he did not need to do, as Nowlin wasn't willing to directly confirm he was an official with PNW Horse Sales.
Our editor attempted to de-escalate a situation that was rapidly escalated by Nowlin, leaving the area outside the reportedly leased buildings at the Oregon State Fairgrounds where there was some activity. Tommie Reevs, the listed company owner, had also attempted to de-escalate and restrain Nowlin, albeit unsuccessfully.
Nowlin and another unknown "official" continued to follow our editor even further away through the fairground's publicly accessible areas and were physically close. The originally unnamed official, who was quickly identified as Kristina Jones, attempted to physically assault our editor in order to take his camera, leading to our editor recording a portion of the encounter immediately after, where Jones continued to rapidly advance on him.
Jones repeatedly demanded the "SD card" from the camera, at one time claiming he would be arrested if he did not comply.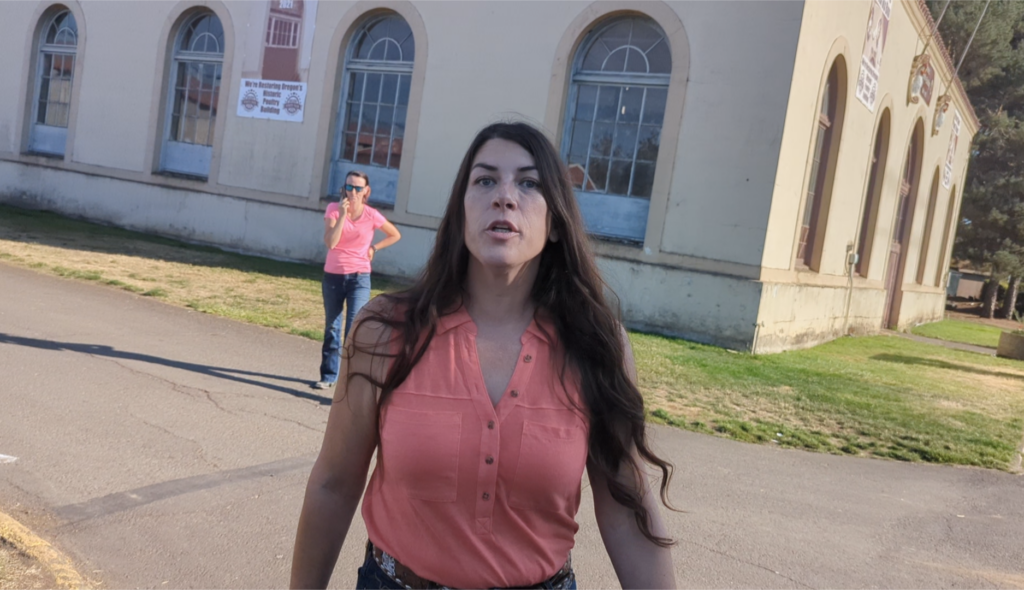 Our editor was also not at the location engaged in any "activism", despite the recording of numerous claims by PNW Horse Sales officials that our editor (and us) are animal rights activists.
Our managing editor, Justin Alderman stated, "I should be clear that the Oregon State Police troopers were nothing but professional in addressing the situation, and their role in the matter was perfectly understood. I commend the troopers."

"They also were quick to make clear that there was nothing illegal about taking photos in a public area and there was no such expectation of privacy– a fundamental element of free press protected by our 1st Amendment," said Alderman.
NW Horse Report is also starting to receive information about others being "trespassed" by the auction earlier this evening, and even more allegations about the company's operations, including that it appears the primary sellers are all involved in also running the company's operation, raising even more questions.
Numerous online posters were also alleging that they were specifically kicked off while making bids by the company.
A more formal story will follow in the coming days as our editor is still en route home, but due to the rapidly growing attention to this matter, we wanted to ensure our readers were aware of the situation and that our editor was indeed not arrested and thankfully not physically harmed. Significant effort and time resources were put into what was expected to be a quick task, as we had no intention of going inside the public auction.
You can read our previous story here: https://nwhorsereport.com/horse-auction-concealed-ownership-by-kill-buyer-also-allegedly-tied-to-woman-charged-in-viral-horse-abuse-video/
It is the policy of Equestrian Media Group for all of our reporters to act in a professional and respectful manner. Unfortunately, these are the types of hard situations any reporter can suddenly find themselves in within small elements of the equestrian (and other) industry that are often not accustomed to investigative reporting; resorting to bullying, intimidation, and sometimes even physical assault.