Salem, Ore. – An Oregon horse auction company facing growing allegations of illegal auction and unfair trade practices appeared to have removed all past auction history from its online auction site pages.
The company, PNW Horse Sales, maintained an online listing page with the popular auction site HiBid that would also show the history of all past "lots" that had been put through auction, a standard practice for most auction companies in order to assure transparency.
After initial publication, it was also discovered that ads for horses that dominated the company's Facebook page had also been deleted.
PNW Horse Sales received increasing attention and consumers coming forward about issues over the last week after Geneva Boston– who previously was heavily involved in the company– was arrested for aggravated animal abuse in connection with a now-viral video of her aggressively whipping a horse.
The scrubbing of info is further increasing speculations of ongoing efforts by the company and affiliates to cover its tracks in light of growing allegations of numerous misdealings by the company. The allegations include concealing and then later making false public statements denying the involvement of a notorious and self-described horse "kill buyer", Donald Nowlin.
Several sources also claimed to NW Horse Report that other sellers involved with the sale had been removing a long list of past ads for horses on social media.
Last week, NW Horse Report reported on the allegations that Nowlin was, in fact, an owner of the company despite a public statement by the company's listed owner, Tommie Reevs, denying any such involvement in order to deceive potential buyers.
Among the other allegations against the company included company officials and sellers engaging in "shill bidding", both in-person as well as via HiBid.
NW Horse Report received a tip early Tuesday morning that the company had allegedly scrubbed the information just days after the company's officials had an altercation with Equestrian Media Group's managing editor on Saturday, resulting in the questionable trespass of a journalist from the entire publically accessible fairgrounds, based only on unfounded claims of "disturbing the peace" made by Don Nowlin.
NW Horse Report also recently obtained records on Tuesday that appear to reveal that Nowlin is also operating an illegal Washington State business called Bar 4 Ranch, which according to the documents is located at 1530 Maplegrove Rd in Sunnyside, Washington.
There were similar business names to Bar 4 Ranch, but none of them appeared to be tied to Nowlin or the Sunnyside area. That included this document showing an inspection date of September 5th showing the shipment of 7 horses to the Oregon State Fairgrounds.
However, a Washington State Livestock Brand Book did list a brand under "Bar 4 Ranch" for Don Nowlin and Hanna Keyes.
The company is not registered with the Washington State Corporations Division or the Washington Department of Revenue. Nowlin is instead the listed owner for Outwest Livestock Transportation, LLC which is listed as "dissolved", but it was unclear if Nowlin is still operating under that company.
The use of the company name "Bar 4 Ranch" appears to allow Nowlin to conceal his involvement as the Washington State Department of Agriculture, Certificate of Veterinary Inspection (CVI), which listed Bar 4 Ranch as the owner/consignee, was issued by Dr. Kalie Mercer.
When reached for comment earlier Tuesday about the issuance of CVI's under the bogus business Mercer said, "I'm not interested in commenting on any of this. Thank you though."
Washington State's Veterinarian Dr. Amber Itle, the State Veterinarian for Washington State, told NW Horse Report that veterinarians often rely on the information presented by owners and consignees about a horse when issuing a CVI.
"The veterinarians do the best they can to provide the most accurate information they are provided. We really do rely on the integrity of producers to tell the truth, it's a legal document," said Itle.
"Veterinans work under high integrity and are going to put the information on the document that they are provided, but I have one-hundred percent faith that veterans are doing the right thing, or trying to."
Itle confirmed that verifying that a business name is registered when being used in lieu of an individual's name is not a specific requirement, reaffirming that the veterinarian's client would be the one providing false information for the legal document. Itle's comment was made speaking generally and not specifically about Nowlin's Bar 4 Ranch.
Veterinarians must be accredited in order to submit CVI's.
After the weekend altercation, it was discovered that PNW Horse Sales appears to be concealing that numerous sellers were indeed also "officials" involved in the operation of the auction itself, allegedly including its auctioneer.
Another company official and seller, Kristina Jones, who owns 4K Ranch in Roseburg, made repeated advances during the Saturday altercation by attempting to take our editor's camera and repeatedly demanding the camera's SD card.
Jones later admitted in a since-deleted Facebook post that she was also a "clerk" for the auction, as well as claiming that our editor was being "creepy" and taking photos of their children.
Oregon State Police later explained that taking photographs in public did not require any consent and there was no expectation of privacy, including of children.
NW Horse Report will soon be releasing all of the photos taken throughout the encounter. Those records will show that any minors pictured were incidental within the photos and only pictured in a few. The majority of the photographs were of Nowlin.
We believe Jones' since-deleted statement was simply meant to be inflammatory, if not a defense of her actions which this publication categorically believes is unacceptable, especially towards a known journalist in public.
Jones also alleged that NW Horse Report falsely reported that she did assault our editor, but our past reporting and the video from the incident are clear that it was only an attempted assault. Although, according to one legal expert and criminal law attorney, Jones' actions may have been considered disorderly conduct under ORS 166.025, and potentially menacing under ORS 163.190.
Equestrian Media Group's managing editor, Justin Alderman, stated, "I should be clear that the Oregon State Police troopers were nothing but professional in addressing the situation, and their role in the matter was perfectly understood. I commend the troopers."
"They also were quick to make clear that there was nothing illegal about taking photos in a public area and there was no such expectation of privacy– a fundamental element of free press protected by our 1st Amendment," said Alderman.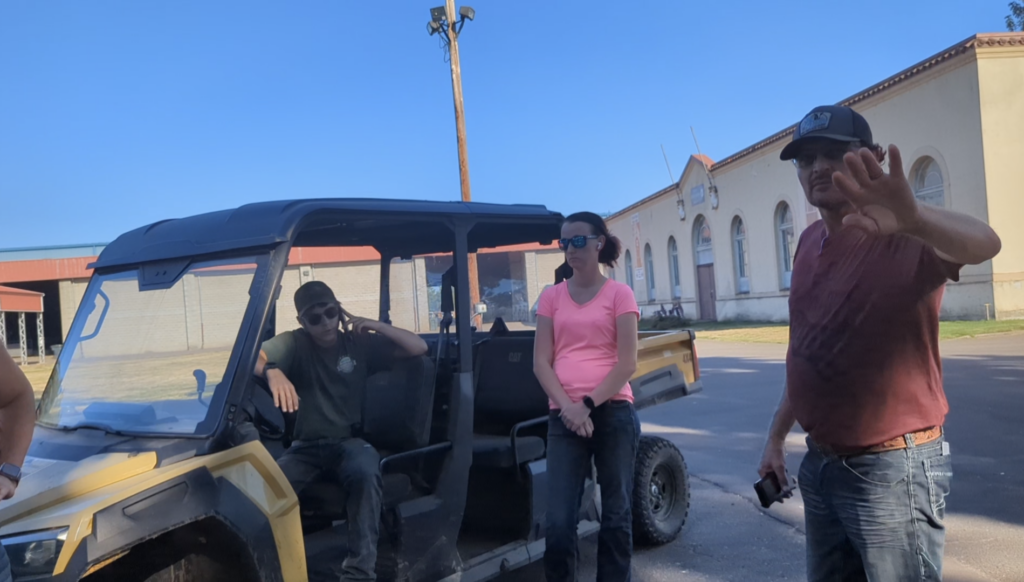 Evidence and witnesses have also claimed children have been involved in working at the sale, including riding horses in the ring. Officials with Oregon's Bureau of Labor & Industries (BOLI) confirmed on Friday that the company did not have the legal certificate required for minor workers.
According to HiBid officials who spoke to NW Horse Report, the removal of the past auction information was performed by the company, not HidBid.
"That's at the auctioneer's discretion," said the official. "We wouldn't remove anything."
The official stated they had not yet received any consumer complaints about PNW Horse Sales, but stated the company's account was only opened in April.
HiBid did however confirm that it still would maintain all the records from the past auctions and that all activity on the site was logged, confirming the company could not scrub such records permanently. The official went on to say they would share the information if requested by any law enforcement agency.
"If it came them (law enforcement), then yes." said the HiBid official.
In addition to filling complaints with law enforcement, HiBid said that consumers with any complaints or concerns about any auctioneer can contact their customer support by phone at (844) 775-4774 or by emailing support@auctionflex.com
NW Horse Report is currently combing through a pile of records, including import permits, certificates of veterinary inspection, and EIA testing records. The records from the Oregon Department of Agriculture that appear to be tied to PNW Horse Sales are provided here for our readers.
It was also confirmed that certificates of veterinary inspection submitted electronically through a State-approved system do not require a separate import permit.
Anyone who believes they have been the victim of any scam or fraudulent activity at the Oregon State Fairgrounds can reach OSP by dialing *OSP or *677 if calling from a mobile phone. Otherwise, you can dial (800) 442-0776.
---
This is a developing story that you can count on us to keep you updated on. If you have a news tip or any information related to this story, please be sure to contact us!