Salem, Ore. – Following months of investigation by NW Horse Report into a new Oregon horse auction company, numerous allegations as well as corroborating public records were uncovered that the company was intentionally misleading customers by concealing and then later denying the involvement of a well-known and self-described horse "kill buyer".
The denial was part of a public statement made on Facebook. It was also uncovered that PNW Horse Sales was not a USDA-licensed stockyard under the federal Packers & Stockyards Act, though it was obtaining a one-day horse sale license each month from the Oregon Dept. of Agriculture.
Documents obtained from a public records request by NW Horse Report with the Oregon Department of Agriculture appeared to corroborate the growing allegations that Donald Nowlin, a self-described horse kill buyer of Washington State, is likely a co-owner or manager of PNW Horse Sales.
This included a US Department of Agriculture Surety Bond issued to PNW Horse Sales that showed a Washington State address in the city of Selah that property records showed as being owned by Nowlin– not the Roseburg address as seen on other company documents.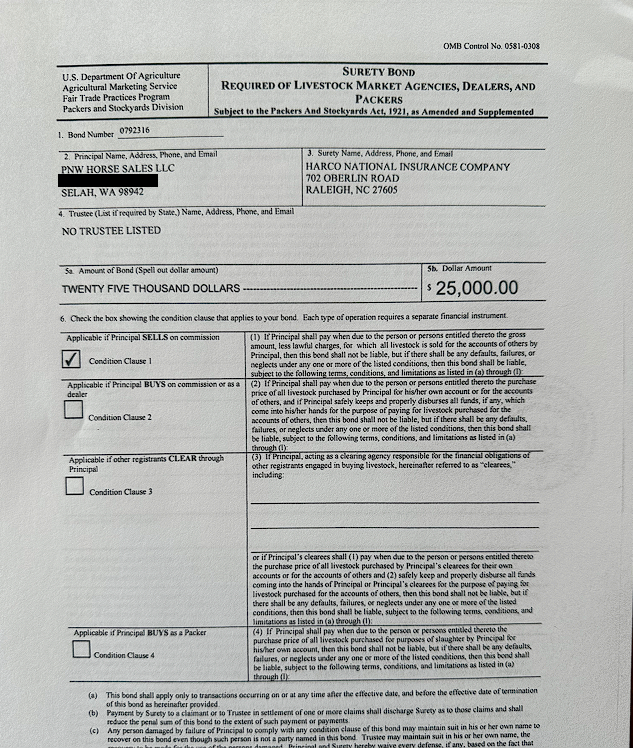 NW Horse Report also uncovered further shocking information, including a leaked recorded phone call recording that included Nowlin.
That recording contained statements by Nowlin saying he was also the original individual to whom Geneva Boston sent the self-recorded and now viral abuse video many months ago– a video that led to Boston's arrest on felony aggravated animal abuse charges earlier this week.
Based on Nowlin's statements, it seemed clear he had no intention of Boston's abuse video going public or ending up in law enforcement possession.
The other caller on the recording with Nowlin was not the individual who originally recorded and leaked the material to NW Horse Report, but the other speaker, who spoke to us only on the condition of anonymity, did directly confirm to NW Horse Report that they were aware of the recording made by the person was in the room with them.
Nowlin and Boston were both the subject of an investigative story by NW Horse Report in late 2021 involving a scheme to defraud a young equestrian during a trial period with a horse– going so far as to falsely claim the horse died to both the woman as well as to law enforcement officers.
Prior to reporting from NW Horse Report, Nowlin himself faced scrutiny related to criminal history in Washington State as well as a high-profile civil lawsuit involving a horse named Brad Pitt. An advocacy group maintains a Facebook page that has continued to keep updates as the case has continued for 6 years. An earlier ruling against Nowlin was handed down in arbitration, but Nowlin chose not to accept that outcome.
Based on the recorded phone call just obtained from earlier this week, Nowlin now appears to be distancing himself from Boston as well.
"You can call me all the names in the book; I mean you can call me kill buyer, meat buyer, whatever, horse killer, whatever; but there's one thing I'll never do, I'll never beat a horse like that," said Nowlin, while referencing the video of Boston.
The now-viral video was later obtained by Serenity Douglas who had originally provided the video to NW Horse Report just prior to leaking it online. Douglas was originally provided anonymity as the leaker until KPTV-Fox12 reached out to NW Horse Report on Thursday asking if our source would speak publically, to which Douglas agreed. KPTV-Fox12's coverage can be viewed here.
PNW Horse Sales and its listed owner, Tommie Reeves, were also facing renewed attention in recent days after Boston's video went viral. Sources claimed Boston was a one-time friend and business acquaintance of both Reeves and Nowlin.
Numerous sources and online posters also revealed that Boston was heavily involved with PNW Horse Sales and likely working with the auction "unofficially", including riding several sale horses during the auction that didn't belong to her, including horses belonging to Nowlin and other sellers.
One such poster who claimed publically that Nowlin was behind the sale included Jessica Parker, who is reported to be a now former friend of Boston.
"I would steer clear of PNW Sales Auction then as well since it is [Nowlin] that actually runs it." claimed a Bette Shellhorn.
"[Nowlin] isn't stupid and unfortunately covers his tracks well. All his associates end up getting blamed for his actions."
NW Horse Report later learned that the profile Bette Shellhorn was highly suspected to be a fake Facebook profile used by Boston.
Another proponent, Sarah Brown, referred to PNW Horse Sales as "ELA Reloaded", going on to claim the company was "…feeling some backlash after the Geneva Boston video. In fact, they tend to get backlash every time there is a neglect or abuse case that surfaces. The reality is, each time there is outrage in our horse community, it is tied to our local auction. Every single time."
However, until recently, other proponents in support of the new auction company had pointed to improvements over issues long reported at the ELA.
Boston also reportedly provided interstate horse transport for Nowlin to both the past ELA and the new PNW Horse Sale auctions, a service that Nowlin had previously advertised publically online. Others claimed Boston also offered hauling services, although it did not appear to have any licensing with the US DOT or FMCSA.

PNW Horse Sales started to distance itself from Boston on Thursday following the arrest announcement by the Marion County Sheriff's Office. The company maintained yesterday on Facebook, without mentioning Boston by name, that Boston had only "sold animals" through the company's auctions.
Posts made by users to the PNW Horse Sales' Facebook page regarding the incident and with questions of Boston's ties to the company were swiftly removed, according to several online users, followed by a statement from the company that said in part:
"PNW Horse Sales will not allow any slanderous remarks or harassment. This page is for advertising horses that will be sold at the next Auction only!"
Some then alleged the post by the company appeared to be indirectly defending Boston by inferring that shared news stories were false and defamatory.
In May, NW Horse Report first reported numerous concerns that were first raised in March concerning the business, including problems with its claims that it would be holding a horse sale at the Linn County Expo Center– despite county officials later confirming the company never had a contract in place.
It also appeared that the Oregon Dept. of Agriculture violated Oregon law and raised questions of special favor for the new company, ignoring a clear statute that indicated applicants for a one-day horse sale license "shall" submit their application no less than 30 days prior to the sale.
"Clear legal precedence has repeatedly found that the word 'shall', especially in the context of the law, means that it imposes a duty upon a party and is a mandatory word. This leaves little room for the ODA or businesses to circumvent this requirement," according to a now-retired Oregon judge who spoke on the condition of anonymity with NW Horse Report in May.
The agency argued that it interpreted the requirement as applying to the submitted entity, not the department, but the retired judge said such an interpretation would likely be a major precedence.
PNW Horse Sales was also not a business registered in Oregon or elsewhere, a discovery numerous early critics pointed out in posts since deleted by the company on its Facebook page.
Shortly after the public criticism, the company registered with the State of Oregon but only reported Reevs as an owner or manager of the business on the formation document that was submitted and electronically signed by her on May 3rd, 2023. A 2018 law passed by the Oregon legislature also required that those submitting business registration documents must also attest under the penalty of perjury to the accuracy of the information. Specifically, it includes a declaration saying:

"I declare, under penalty of perjury, that this document does not fraudulently conceal, fraudulently obscure, fraudulently alter or otherwise misrepresent the identity of the person or any officers, managers, members or agents of the limited liability company on behalf of which the person signs. This filing has been examined by me and is, to the best of my knowledge and belief, true, correct, and complete. Making false statements in this document is against the law and may be penalized by fines, imprisonment, or both."
The company also did not appear to have workers' compensation coverage, despite numerous witnesses who have participated or purchased horses in the auction witnessing Nowlin and others helping run the operation, including calling out bidders, riding horses, and more. A minor of one worker was also allegedly witnessed working during the auction.
An official with Oregon BOLI confirmed that PNW Horse Sales did not have a minor exemption certificate.
The same witnesses reported that many of the workers were also horse traders making up the majority of the owners of the sale horses, raising serious questions of conflicts of interest with auction requirements.
Since the trouble in securing the facilities at the Linn County Fairgrounds, the company was able to secure facilities with the Oregon State Fairgrounds nearly every month.
Public records obtained from the Oregon State Fair also showed the company had issues making some of its initial deposits and payment deadlines indicated on the documents.
Only a single payment under $382.50 was all that had been made days after the first sale event.
On May 23rd, 10 days following the end of the first event, Oregon State Fair & Expo CEO Kim Grewe-Powell confirmed to NW Horse Report that the $382.50 was all that was paid. "Yes, this is the only payment we have received thus far."
It was unclear why the Oregon State Fair Council was extending the company extensive courtesy with deferred payments on deposit and payment deadlines, including post-event.
PNW Horse Sales started in response to the Eugene Livestock Auction (ELA) ceasing its monthly horse sale. Numerous proponents claim that PNW Horse Sales is a defacto replacement of ELA which proponents alleged had been plagued by repeated issues of transparency and false advertisements by the actual sellers for years.
"I expect all buyers to be there and represent their horses. This is NOT a drop and dump your horse type situation. All sellers information will be posted and you can talk directly to the seller about the horse you are interested in." said Reevs prior to their first sale event.
Despite PNW Horse Sales' previous statements that horse seller information would be made available, a practice long under scrutiny with the ELA– many are reporting the company is failing to live up to its promises.
Douglas, also claimed she felt defrauded by PNW Horse Sales due to misrepresentations of numerous horse that was actually owned by Nowlin. She also stated that Nowlin was the individual to whom buyers would take their payment receipts at the horse barn in order to retrieve a horse bought at auction.
During the company's very first sale, a horse named Woody was sold to Douglas for $13,000, which the company advertised as its highest-selling horse. She claimed it was highly suspected that the horse was drugged in the sale. Douglas also said she was not originally aware the horse's owner was actually Nowlin.
Douglas also bought a horse named Duke from a PNW Horse Sale auction for approximately $3,400, a horse that was also allegedly owned by Nowlin, which Douglas said they soon found out had severe ringbone that she claims was concealed. After consultation with their veterinarian, she said Duke ultimately had to be euthanized weeks later.
Douglas also stated she believed the auction had secret buyers who were up bidding horses, and that the auctioneer would waive their bids, "They'd waive a bid after someone would say 'hey, nevermind', and that person would get out of it, it was suspicious."
Such a practice is criminal under both State and federal law, and is commonly referred to as "shill bidding".
As to a question about Nowlin's alleged role in the company, Douglas said it was absolutely clear he was not just a seller as the company has tried to maintain.
A confidential source, who spoke to NW Horse Report only on the condition of anonymity due to a concern for their safety, said that Nowlin even proclaimed he owned the company.
"I know for a fact that he owns it, [Nowlin] has said so to me and others before," they said.
"He even said Tommie (Reevs) is just the face of the company,"
The source also provided a statement to NW Horse Report alleging that Boston had previously engaged in the practice of shill bidding her own horses put into the now defunct monthly Eugene Livestock Auction, through an online site called HiBid. The site is a popular online bidding site that is fairly anonymous to other bidders and was used by ELA and is now used by PNW Horse Sales.
NW Horse Report obtained a portion of a message between our source and Boston from February 2021 that appears to confirm that Boston was actively bidding on her own horse. The screengrab of a message sent by Boston to an unnamed source even shows that she was "outbid".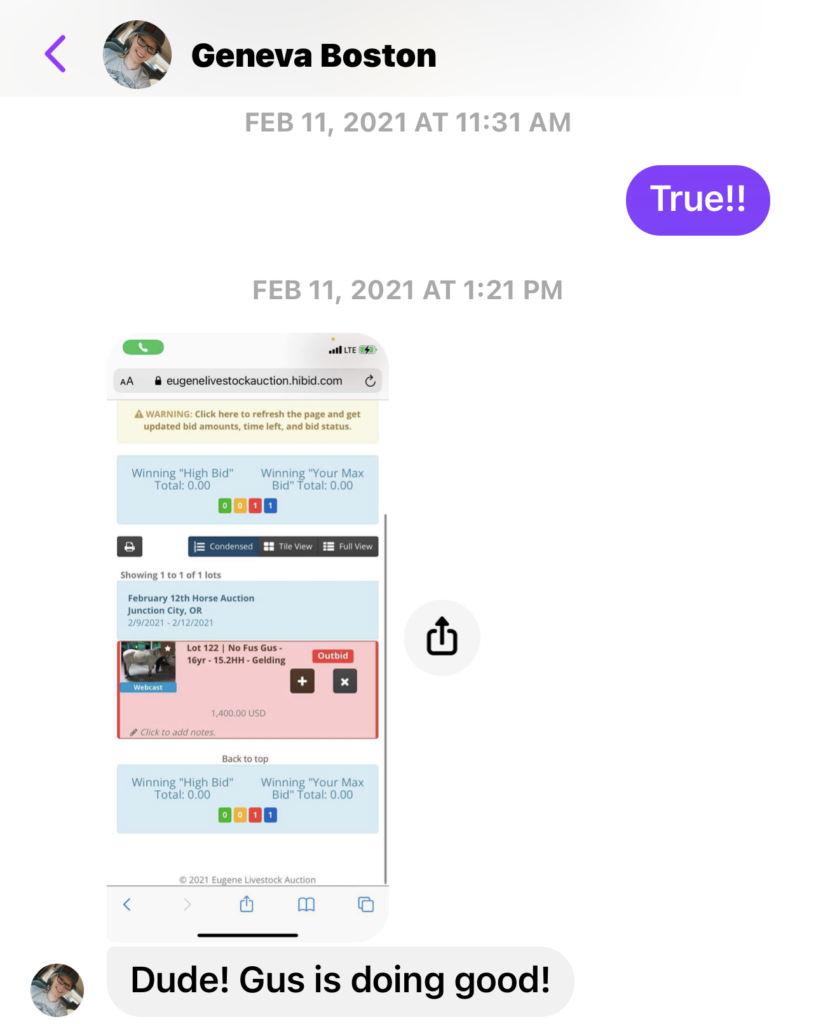 However, the source was not aware if Boston or others had engaged in the practice through HiBid since moving to the monthly auction at PNW Horse Sales from ELA.
According to HiBid's own terms, "Any deliberate attempt to artificially influence the sale price of any Listed Item(s), directly or indirectly, including but not limited to bidding through a secondary account, agent, or representative, bidding on Listed Item(s) that you may also be selling, communicating with other Bidders, or shill bidding is expressly prohibited.
Kim Mosiman, Executive Director of 501(c)(3) non-profit Sound Equine Options, was one of the individuals to question the company after being skeptical of several claims Reevs made publically in advertisements.
Reevs responded to Mosiman and others, publically denying that Nowlin was involved in the auction in any way while also being cagey about her alleged friendship with Nowlin.
"He is not involved. Like I said in my introduction. I've been in the auction world for the last 10 years so I know most of the others involved in that world." said Reevs.
On April 28th, Sydnee Gehrig of SG Livestock Designs posted on Facebook tagging Nowlin publically and saying, "Don Nowlin thank you for always trusting me and allow me to be creative. What do you guys think of this design?"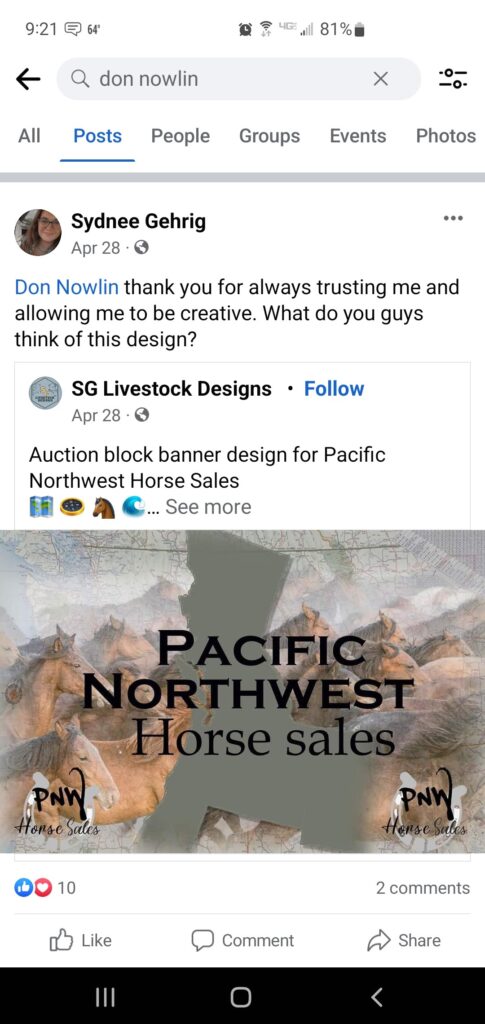 The post then went on to say, "Auction block banner design for Pacific Northwest Horse Sales" and then presented an image.
Another similar post on August 18th by Gehrig was made saying, "
"PNW horse sales September ad design","Don Nowlin thank you for allowing me to be creative", above an attached image promoting the September 9th sale.
In recent days, numerous online posters have further alleged their knowledge of Nowlin being an owner in the auction business in discussions involving Boston's viral video, leading many with experience with both Boston, Nowlin, and PNW Horse Sales to speak out.
In the recorded phone call recently leaked to NW Horse Report, the other caller mentioned to Nowlin that countless people were also now saying that he was the owner of PNW Horse Sales. "Weird, it's just people that don't know shit… If I do, I do. If I don't, I don't." Nowlin replied.
Nowlin implied on the call earlier this week that posts should be flagged, apparently in an effort to stifle the growing public attention to the allegations against Boston, "I think some guy needs to start flagging those posts and not let them get out of hand, somebody said that one of them already has a case number on it."
Many posts by Monday began sharing the police case number that was generated by the Marion County Sheriff's Office (MCSO) for its investigation into Boston's alleged horse abuse. MCSO reportedly received many calls starting Monday from those demanding action.
On the call, Nowlin also had choice words for the leaker, who Nowlin may not have known was actually Douglas, "What needs to happen is somebody needs to track down the leak[er] and have a couple undocumented mexicans give them a visit."
The other person, sounding uncomfortable, then says, "That's probably a little extreme, don't you think?" to which Nowlin replies, "Not in my world, that's how we play."
Nowlin then stated, "[unintelligable].. taking you out to the horse chute, put you in missionary style, and shoot you in the back of the head."
"What I'm trying to say is that nothing was intended for somebody to carry it that far, to get anybody in trouble, right? That video wasn't sent to anybody to get anybody in trouble, that video was sent to somebody to say 'hey, shut the f**k up and sit down, you know, back up, you know what I mean? I never sent that video to anybody that I thought would ever send it.." said Nowlin, before saying something else that was unintelligible.
He then mentioned that if he wanted to get Boston in trouble, "If that was the case I know exactly where to send it, she would have been tried a long time ago."
NW Horse Report reached out months ago to PNW Horse Sales, only for Reevs to immediately end the conversation, "Okay, I want nothing to do with you. You have caused a lot of problems for me already, please do not call me again," said Reevs before promptly hanging up.
As Reevs had demanded we not contract her again by phone, we reached out by email Thursday and directly asked Reevs about the involvement of Boston and Nowlin in the business, specifically informing her of the numerous and growing allegations of Nowlin's involvement and the document obtained from public records.
Reevs explained she was busy but was happy to speak on Monday morning following the scheduled auction for September 9th, expecting NW Horse Report to hold its story until after
"Like I said, it's sale weekend so I don't have time to sit down and type out a statement but I'd love to talk to you Monday morning if you're free! There's a lot of speculation here that I'd like to clear up especially [sic] on the Geneva (Boston) front! I'll gladly set some time aside Monday to answer any questions you have, including why Geneva Boston is banned from my sale."
Reevs response did not address questions of Nowlin's involvement. We then informed Reevs we would not be holding the story until Monday and clearly asked, "Is Don Nowlin an owner in the company or been involved in management in any way?"
Reevs responded by saying, "You are more than welcome to talk to my attorney if you would like and if there is any false allegations they will be reviewed."
We again responded and asked if Reevs was denying the publically growing allegations of Nowlin's involvement in the management or defacto ownership of the company, but received no further response.
Oregon State Fair's admitted non-compliance with Oregon Public Records law
NW Horse Report also ran into additional roadblocks with the Oregon State Fair Council (OSFC) when attempting a minor expansion to its original records request involving PNW Horse Sales, specifically a request for a single hour of phone log records.
OSFC then demanded a fee based on their estimate of $600, based on what they claimed was 8 hours of work at an arbitrary $75 an hour. NW Horse Report directly contested and called into question the extortionate fee estimate, especially considering such records would ordinarily be able to be generated within minutes in nearly all modern business phone systems.
OSFC had waived all fees in NW Horse Report's original and much more expansive original request after articulating a clear public interest and benefit test. OSFC's initial responses did not even address the fee waiver or reduction in response to the expanded request.
After OSFC admitted it used Comcast Business Phone, NW Horse Report provided direct links to instructions from Comcast's Business Phone support documentation that was available online, which cast serious doubts on the estimates made by OSFC.
The agency then reduced the fee estimate to 3 hours, but still at the $75 per hour rate. NW Horse Report then also called into question that estimate, along with what appeared to be an arbitrary $75 hourly rate.
OSFC also then attempted to claim in their response that Comcast had removed a feature allowing the use of a simple tool to export phone logs, a claim promptly challenged by NW Horse Report.

"We have reverified with Comcast Business Enterprise today, and although you mention things it will do or we can access, it is not available in their portal any more. [sic]"
NW Horse Report then responded by stating that the sudden estimate change in itself from 8 hours to 3 hours of work, "…seriously calls into question your body's steps to estimate the costs involved."
NW Horse Report went on to demand a copy of its required public records policy: "…pursuant to ORS 192.324(7) that [OSFC] immediately provide a copy of your written procedure for making public records request outlined therein. If this document does not currently exist simply advise of that."
OSFC was then asked for a copy of their Public Records Request policy which is required by Oregon law. The policy is supposed to articulate how the agency makes fee calculations under the Oregon Public Records Law, and agencies are ultimately only able to recover reasonable and actual costs of producing records.
NW Horse Report believed it to be highly unlikely that the compiling of such records would require an employee who made $75 an hour.
As an example, the Oregon Dept. of Agriculture (ODA) promptly provided phone log records as part of a request from NW Horse Report without any fees.
OSFC was unable to provide a copy of its policy, as NW Horse Report later learned it did not even exist. OSFC then ignored NW Horse Report for a week despite multiple follow-ups, until NW Horse Report stated it intended to appeal the unreasonable delay and failure to provide its policy to the Oregon Attorney General.
Just over an hour after signaling the appeal, an attorney with Garrett Hemann Robertson PC, a Salem-based law firm that frequently represents government entities in Oregon, emailed NW Horse Report stating that it was providing legal counsel for the OSFC.
The attorney stated their client would be waive fees for the phone log request, and that they were working with Comcast Business to obtain the records.
NW Horse Report continued to challenge claims communicated by OSFC through its attorney, who repeatedly placed blame on delays with Comcast support, despite repeatedly being pointed to documentation showing how an OSFC user with appropriate permission could provide the necessary file export within a matter of minutes.
After two weeks of back-and-forth communications with OSFC's attorney, NW Horse Report received no reply to a clearly outlined instruction showing how the agency could access Call Detail Records within the Comcast Business Phone system.
After having no response for two weeks, NW Horse Report again outlined its intent to appeal what appeared to be a defacto denial of its request through repeated delay, resulting in a prompt response by the attorney in producing the requested records.
The attorney for OSFC eventually admitted in an August 9th email to NW Horse Report that the agency did not yet have the policy required by Oregon Public Records law.
Additional efforts to obtain records are ongoing. If you wish to support our efforts to not only obtain public records but also battle some exorbitant fees often faced by investigative reporters, you can donate here.