UPDATE 3/13: Following this story being published, Oregon HORSE Forum decided to re-block and deny re-entry to a number of individuals associated with the ethics complaint against Wacker. It was further discovered that several other group moderators had close ties and friendships with Wacker. Additionally Oregon HORSE Forum claimed that those individuals were being denied reentry for allegedly "One of the main reasons that OHF has been so successful is that we do not promote or engage in drama. When a group of people join with the same agenda, we stop it before it can escalate." said Gartner.
However, individuals posted that they had been banned by the group before and/or again without having made any post regarding Wacker on Oregon HORSE Forum. Gartner further proceeded to criticizedNW Horse Report for it's reporting of the Wacker case and the allegations against Crouch on its group, differing greatly from statements made by Gartner and others made outside the group. It is unclear if they have criticized Pamplin Media Group who has had much more in-depth and frequent reporting regarding Angie Wacker.
---
Following the initial breaking story from Oregon City News regarding a high school equestrian coach found running afoul of Oregon ethics laws, NW Horse Report learned from multiple sources alleging that the popular equestrian Facebook group, "Oregon HORSE Forum", was engaged in questionable censorship of any news regarding Oregon City High School equestrian coach, Angie Wacker. Wacker was found guilty of State ethics violations last month. A Final Disposition order for Wacker has yet to be released by OGEC on her case.

Wacker, who is still currently the coach for Oregon City High School's OHSET equestrian team, was found to have violated four counts of Oregon ethics laws by the Oregon Government Ethics Commission (OGEC). She, along with several Oregon City School District officials, are now subject to additional investigations from the Oregon Department of Education as well as the Teacher Standards and Practices Commission. Having convicted Wacker, the Oregon Government Ethics Commission has launched a new investigation into whether the Oregon City School Board broke other laws in voting not to fire Wacker.
Following the initial story by Oregon City News, NW Horse Report also released its initial story on Wacker's violations and questions regarding improper injury reporting, bringing further attention to additional issues that were uncovered of alleged check fraud by Wacker. Read that story here
Oregon HORSE Forum is one of the largest Facebook groups for Oregon equestrians, having a current membership of over 12,000 members. The Group is currently setup as a "private" group, meaning that Facebook users must be approved prior to seeing or being able to comment on posts made by other group members.
In the days following the initial story from Oregon City News on February 11th, tips came into NW Horse Report showing shares by Facebook users of a news story about Wacker from Oregon City News being removed without any explanation. It was additionally claimed that several of those who were complainants feared sharing the story on this Facebook group, stating it would result in them being "banned" from the group. Although, several individuals associated with the complaints against Wacker found themselves blocked from Oregon HORSE Forum starting around this time.
Further material provided to us indicated that other people not associated with the Wacker case may have innocently shared the same news story, unaware that a moderator of Oregon HORSE Forum Facebook group, Polly Crouch, was friends with Wacker.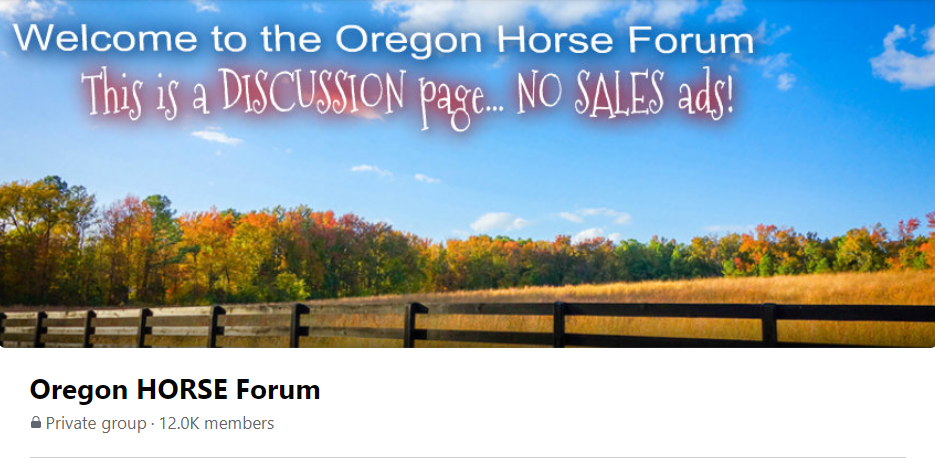 It was discovered that Crouch currently rents a house and horse barn from Wacker, the same house that was part of the alleged retaliatory termination of a residential lease held by a former parent and student-athlete of Wacker's. Additionally, the complaint to the State's Ethics Commission alleged that Wacker used her position to arrange for a student-athlete's family to lease the house owned by her Husband.

In documents released by the Ethics Commission, it explains that the issues related to the lease where just beyond the 4-year limitation for the commission to have investigative authority and were not addressed any further by the commission.
On March 8th, we reached out to Pam Gartner who is the Admin for the Oregon HORSE Forum Facebook group. While Gartner stated that while she had only glanced at one of the stories about Wacker, she was unfamiliar with any ties between one of her moderators, Polly Crouch, and Angie Wacker. She also said she had no knowledge of improper censorship and actions by any of her moderators, including Crouch. She stated she had no relationship herself with Wacker, but did state that "most people in the show world know the Wackers and have had positive things to say about them."
Gartner further went on to explain that the group she created was done so about a decade ago, having been the result of other Facebook groups that she said where "unfairly censoring discussions about a particular [horse] trainer". She further explained that she had always meant for the group to be a place where people could appropriately discuss issues and differing opinions, so long as people are threating others.
When asked if she knew others had alleged Crouch was improperly using her role as a group moderator to ban users and remove posts related to discussions related to Wacker, Garter explained she wasn't sure of the extent of any of Crouch's alleged actions. She said if the allegations were true, including removals of posts sharing such news stories, that it "would be extremely inappropriate".
"I have removed many moderators in the past for doing such things" said Gartner. She further explained that while she was also Facebook friends with Crouch and had only met in person once or twice, they really didn't know each other personally.
Gartner did confirm that Crouch had taken some moderator actions on users who had shared articles on the group discussion page, including requiring preapproval of posts. However, she stopped short of confirming if Crouch had actually removed the posts which were no longer on the group page, stating that her moderation log on Facebook wasn't showing the actual posts ever being removed.
Gartner also explained that she was unaware about the any removals/bans that may have been made by Crouch recently against those who had spoken out about Wacker.
She did go on to explain that the management team for Oregon HORSE Forum would ban any users which blocked the personal profiles of herself or any of the moderators. Several individuals told NW Horse Report that they have blocked or been blocked by Crouch, perhaps providing an explanation for the reason they were banned from Oregon HORSE Forum.
We asked Gartner if she had been contacted by anyone who had issues with any of the moderation of her page, which she said she had not. She further stated that anyone who feels the moderators are overstepping should be brought to her attention and that she would address it "fairly, without bias".
Stephanie Nolte, who's daughter was previously in Wacker's 4-H program, discovered that sometime between the middle to late February that she was banned from the group, despite not having had any discussion on the group regarding Wacker. "I have never posted anything negative, slanderous, or business bashing. I do like to follow the page to keep up to date on what is going on in the horse world and sometimes offer advice on what has worked for us." said Nolte.
Another individual who came forward during the ethics investigation, Amanda Barton, also discovered she was blocked from the page sometime in late February. Barton was also one of the individuals who received "cease and desist" letters, following parents who appealed the school districts decision to retain Wacker in 2019. These letters were sent not by Wackers primary attorney, but a second attorney she had retained. Pamplin Media Group reported that Oregon Ethics Commissioner Nathan Sosa, a Hillsboro-based attorney, said Wacker "put significant pressure" on parents and the district to ignore issues and keep Wacker in her position as coach.
"This is a place for you to ask or offer advice, chat about horse related issues, share your success, and upcoming events. Discussions are welcome. Please allow differences of opinion, and do not attack members if they do not support your views. There are topics that the horse community will NEVER agree on! Foul language will not be tolerated." a statement from the Oregon HORSE Forum's About section.
She also confirmed that those under 18 years of age are not permitted in the group as the discussions and business of the group should never involve minors. This statement raised further questions regarding an incident involving Crouch as a group moderator going back to 2017. In that case Crouch messaged via Facebook a 16-year-old student-athlete, who was also allegedly part of Wackers OHSET team at OCHS and her 4-H program. The message about the student being Facebook friends with another girl who requested to join the Oregon HORSE Forum.
"I'm curious if she is 21…and also curious why you would be friends with someone like her?" said Crouch to the minor. The minor student replied "I thought she was friends with [name redacted] when I was younger, and when we were close. I might have been thinking of someone else though." Crouch went on to say "Not really someone you need to be associating with… even just [on] Facebook. People judge other people by the friends they keep." Crouch followed-up at the end confirming she "denied and blocked" the other girl from the Oregon Horse Forum." It was unclear the age of the other girl who requested to join the group at the time.
Considering Gartner's policy where they would only permit those who are 18-years of age to join the group, we asked Gartner if a group moderator like Crouch should be involving minors when reviewing the applications of other adults. She further indicated that "anyone under 18 is not supposed to be involved in any matters concerning the [Oregon HORSE Forum], just not appropriate, that's always been my rule,"
The day after Gartner spoke with NW Horse Report, it appeared Crouch was no longer a moderator of the group. In our call with Gartner she expressed that anyone who feels they were improperly removed or blocked from the group should contact her for assistance. Multiple individuals, including Nolte and Barton, have since reported that they were successful in reaching Gartner about being blocked from the page, or would be reaching out shortly. They said Gartner was prompt in restoring their access to group page on Facebook, for which they were thankful.
We reached out by email to Ms. Crouch for comment on March 8th regarding the allegations that she was abusing her moderator role with Oregon HORSE Forum and unfairly blocking users on the group. She has yet to respond upon the publishing of this story.