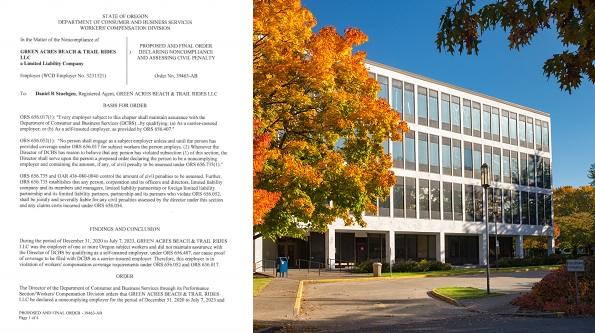 Pacific City, Ore. – A horseback riding and outfitting guide company on the Oregon coast and its owners are facing increasing legal woes, including allegations from one State agency of illegally failing to comply with and pay for workers' compensation insurance law for several years.
The new issues embroiling the company, Green Acres Beach & Trail Rides, all come on the heels of ongoing public scrutiny and outrage stemming from allegations back in April of neglecting horses and other animals, including a chicken being burned alive. Other legal issues involved a former business partner who in conjunction with the company operated a camel-riding business and was charged with felony sex crimes for filming minor employees of both businesses in a bathroom.
The company has also faced a slew of issues of other illegal labor and licensing allegations, as well as years of complaints by local citizens made with the Oregon Parks & Recreation Division for violations of Oregon beach rules.
One of the owners, Teresa Stuebgen, has again had another warrant issued for her arrest in an unrelated matter for a probation violation following a DUII conviction. NW Horse Report previously reported on Stuebgen's repeated failure to comply with the terms of a "diversion agreement" in the same case, resulting in a previous warrant earlier this year.
Despite the later plea deal and sentence in May, which included that Stuebgen could not drive a motor vehicle and was prohibited from visiting alcoholic establishments, Stuebgen also reportedly failed to report to Tillamook County's parole and probation department within the days following her conviction.
That failure prompted Tillamook County District Attorney Aubrey Olson to motion the court for a warrant for Stuebgen's arrest that was later issued by Judge Jonathan Hill.
Stuebgen was then arrested on a "no bail" warrant yesterday evening, August 9th, and according to the active jail roster, currently remains in custody. Earlier today, Tillamook County District Attorney Aubrey Olson filed documents alleging Stuebgen was found in violation of two more terms of her probation; Possession and consumption of alcohol, and failure to submit to a breath test at the direction of supervising officer. A deputy allegedly smelled alcohol during her booking process and alerted her probation officer.
Tillamook County Parole & Probation recommended that probation be revoked. "Stuebgen is not amenable to probation, and I respectfully ask that her probation be revoked," the report stated. Stueben, who has a court-appointed attorney, is due back in circuit court on August 28th for a hearing on the new charges. Stuebgen posted bail Thursday evening following an arraignment late afternoon.
State officials issue $119 thousand fine for workers' compensation coverage violations
According to public records obtained by NW Horse Report, the Director of Oregon's Department of Consumer & Business Services has issued an order stating that Green Acres violated Oregon law by failing to maintain critical workers' compensation insurance that protects its employees in the event of workplace injury.
The order, issued on July 14th, stated in its findings that Green Acres did not "maintain qualification as a self-insured employer, under ORS 656.407, nor cause proof of coverage to be filed with DCBS as a carrier-insured employer."
The order went on to state that the company was ordered to, "pay a civil penalty in the amount of $118,991.00 for violating ORS 656.407, ORS 656.052, and ORS 656.017."
It also ordered that Green Acres, along with its owners and managers, "including but not limited to Daniel R Stuebgen and Theresa Jo Stuebgen, shall be jointly and severally liable for all civil penalties assessed…".
While not specified on State records, multiple sources have reported that two other managers within the business included Tina Cabal and Jeffrey Cutler. Cabal was alleged by two former employees to have been involved in the manipulation of payroll and time records.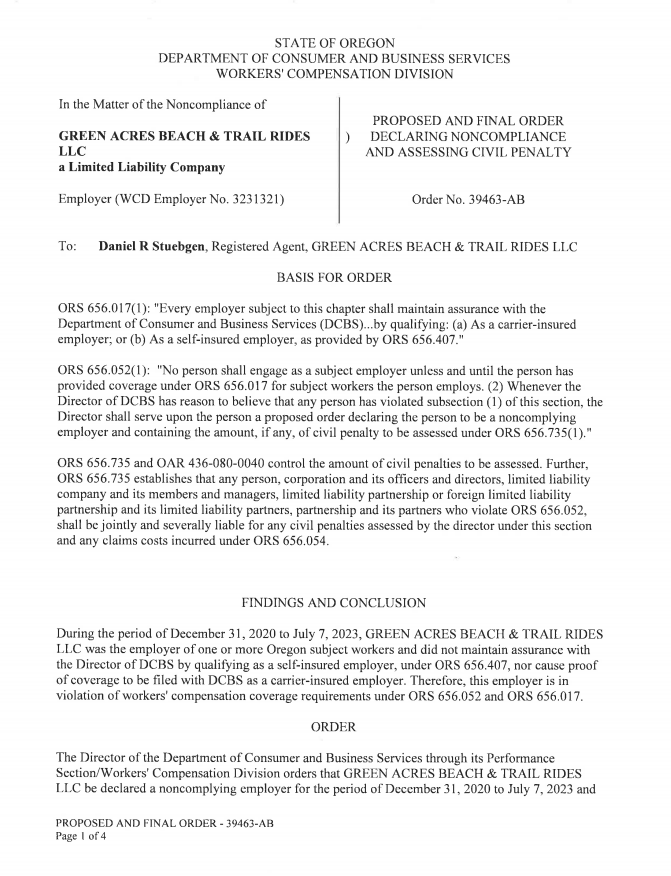 DCBS stated that the company has failed for just over two and a half years to carry the required coverage after it allowed its past coverage to be canceled by its insurer, something typically done for reasons of non-payment. The company's insurance provider was previously SAIF, Oregon's optional state-charted non-profit insurance provider.
According to Oregon DCBS spokesperson Mark Peterson, Oregon employers are required to maintain and provide workers' compensation insurance.
"As with most no-fault insurance, workers' compensation is fair only if it applies to all workers and employers," said Peterson.
"Workers' compensation insurance provides key benefits and protections for both workers and employers. It helps ensure prompt medical and wage replacement benefits for injured workers and protects employers from lawsuits that could otherwise be brought against them by injured workers."
Peterson explained that DCBS "is Oregon's largest consumer protection and business regulatory agency."
According to records obtained from the agency dating back to early 2021, Green Acres' management appeared to have intentionally lied and misled DCBS officials with varying statements when contacted by the agency about the lack of coverage. Green Acres had previously maintained coverage from July 2017 until December 2020.
After receiving notice in early 2021 from SAIF– who provided insurance coverage of Green Acres– DCBS sent a notice to the company. In late March the agency originally determined the company did not have subject workers, a determination based solely on a response from the business claiming they had no employees. The company was then again investigated in May of 2021 following this response, but DCBS investigators were unable to determine if the company was actually employing subject workers.
In March of 2022, an investigator from DCBS physically drive to the location but "observed no activity". The company primarily operates daily during the summer, but only as weather and bookings allow during the "off-season".
A month later, an investigator spoke with Daniel Stuebgen, one of the company's owners, who told the DCBS investigator that the business is operated only by him and his wife and that they had no employees.
On August 26th of 2022, the investigator again attempted to make contact by phone with the company but received no response back, prompting the investigator to make another physical visit the week after on September 2nd, 2022. The investigator then determined the company did indeed have employees working and informed Green Acres they would need to come into compliance within 2 weeks.
On September 13th, the investigator reported leaving a message for the company requesting a call back with confirmation of policy being obtained. On September 27th, 2022, the investigator made contact by phone with the company who then claimed they were no longer employing workers.
However, NW Horse Report had received information from numerous sources that confirmed the company and multiple employees continued to be employed into at least October of 2022.
The DCBS reported the investigator would conduct a follow-up investigation in the spring of 2023, an investigation which now appears to have happened and determined the company continued to intentionally avoid compliance with Oregon workers' compensation law over what is now three operating seasons.
Based on a fine of $118,991, it appears the agency determined the insurance premiums avoided by the company were approximately $59,495.50. Oregon law states the fine for the first violation is the greater of $1,000 or "200 percent of the premium for the period of noncompliance."
In addition, employers who continue to violate this policy, following the first day after the initial noncomplying period, can then face a fine of up to $250 per day– which would be July 7th, 2023.
According to Oregon statute, even if Green Acres appeals the order from the Director of DCBS, at best the company can only have the penalty reduced would be to 105 percent of the premium for the period of noncompliance. Based on the order, this would currently stand to be approximately $62,470.28.
The action taken by DCBS is also likely to serve as a warning to other Oregon businesses, including many other equestrian outfitters who are predominately out of compliance with Oregon labor and licensing laws. NW Horse Report's ongoing story series, "Shadow Outfitting", continues to highlight allegations of unfair business practices by a surprising number of Oregon's equestrian outfitters.
Based on information gathered from State records, over two-thirds of Oregon's equestrian outfitters continue to avoid required licensing with the Oregon State Marine Board, licening which ensures outfitter guides are properly trained in first-aid and CPR, have employees processed through background checks, and have the required insurance to product consumers.
Even more of these outfitting operators are currently failing to comply with Oregon's workers' compensation laws.
Jeff Chastain, the owner of the outfitting and guide company C&M Stables outside Florance, Oregon, stated he continues to be surprised by the number of companies violating Oregon laws and had in years past said he was also more outspoken about the issues which he claims have only gotten worse.
Chastain has been involved in the outfitting business for around 40 years and has previously been involved in industry associations and committees.
"Fines like this from State agencies will hopefully be a wakeup call to other outfitters who continue to flaunt the law, I believe many think they will only get a slap on the wrist if they get caught, so they avoid it until that time comes, but that can take years," said Chastain.
"Everyone should play by the rules, that's just being fair, and we need to do the right thing by taking care of our employees and our customers– we pay a lot of money to do it the right way, and we need to set a good example for our industry as horsemen."
Chastain expressed that he's holding out hope that officials will start to hold nefarious and illegal equestrian outfitters accountable as the industry continues to grow, especially with the increases in tourism and outdoor recreation following the COVID-19 pandemic.