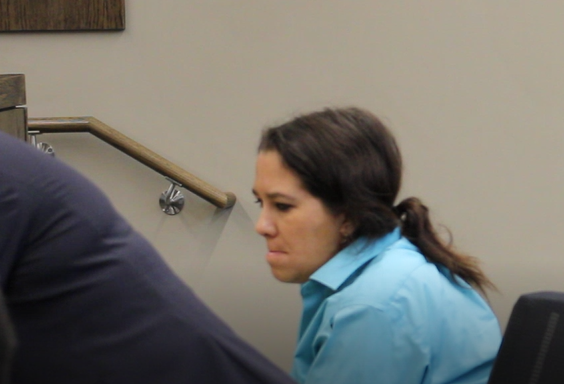 Madras, Ore. – An woman convicted last year of animal neglect in connection with horses in Jefferson County, Oregon has warrant issued for her arrest for violation of her probation. Tania Lynne Herring, 43, is alleged by State prosecutors of violating her probation after discoveries made by NW Horse Report led to inquiries being made with the Yakima County Sheriff's Office, who later coordinated with prosecutors in Oregon.
The findings by NW Horse Report came following tips from multiple readers, including a man who alleged to have been in a brief relationship with Herring last year and assisted in the care at her direction of horses in still in Lane County.
In April of 2022, Herring was convicted of two counts of neglect following a 2-day trial last year as part of a 2019 criminal investigation. She was aquitted on other counts, including practicing veterinary medicine.
Herring was also the subject of a notorious neglect case from 2010 in Linn County, Oregon, where investigators found 116 horses on a 12-acre property. Herring was charged with 31-counts of second-degree animal neglect in connection to that case.
"There was the stench of manure and urine." said then Linn County Sheriff Tim Mueller to the Oregonian and other media. "It smelled like sickness. It was bad".
Charges in that case were later dropped against Herring for what appeared to be missteps by investigators during the seizure process of the horses.
On the heals of national media attention from the case, Herring then reportedly moved to Washington State for nearly a decade before returning to Oregon, shortly before investigators raided a property where Herring was living near Madras. Investigators were executing a warrant as part of a case looking into Cora Gooding-Murphy, a dog breeder who's some 57 Australian shepherds were seized due to alleged neglect. Gooding-Murphy is currently awaiting her own trial on neglect which is scheduled next month.
Shortly following Herring's conviction last year, NW Horse Report uncovered documents from the Oregon Department of Justice showing the non-profit horse rescue she was the Vice-President of, had not been properly registered with the DOJ and had received warnings of potential legal action by the DOJ.
The non-profit, MG Equine Rescue & Therapy located in Eugene, Oregon, falsely claimed to NW Horse Report– and in late financial fillings with the Oregon DOJ— that Herring was never an officer of the organization. However, the groups original application with the DOJ and articles of incorporation listed Herring as a one of the original incorporating directors and title of vice-president on application.
A spokesperson for the DOJ later stated an investigation into the organization had been opened following the discoveries made by NW Horse Report months later, which included further questions regarding the actual financials of the organization. Herring's associates and founders of the rescue, Tiffany Gravelle and her husband David, operated a similarly named for-profit business called MG Equine Farm and continue to have tens of thousands of dollars in civil judgements against them from various contractors and local large-animal veterinarians.
Recently both the non-profit and for-profit companies were also dissolved by the Oregon Secretary of State for failure to renew. However, the non-profit has not filed required statements dissolving the organization and handling any remaining assets as required for 501(c)(3) and Oregon non-profits.
Numerous sources came forward to NW Horse Report also alleging labor violations, unsafe working conditions, and illegal employment of minors at Herring's direction to care for all the horses located at MG Equine Rescue who's facility is comingled with the Gravelle's personal property and for-profit business.
NW Horse Report also discovered that Herring had ignored the judges release conditions between her arraignment in 2021 and the later trial held in 2022, but State prosecutors didn't become aware until shortly after the conviction.
Following her conviction last year, Herring relocated to Yakima, Washington, although Herring later claimed to sheriff's deputies her primary residence was actually at a property in Salem, Oregon, a residence listed for Herring's mother, Donell Chapman.
After NW Horse Report's original inquiry in September of 2022, a deputy with the Yakima County Sheriff's Office documented animals at a property outside Yakima where Herring was living, including nearly two dozen horses. On January 11th, 2023, multiple deputies went back to the property outside Yakima, and made contact with Jefferson County prosecutors in Oregon, including the State's Special Animal Cruelty Prosecutor Jacob Kamins to report their findings.
The Jefferson County District Attorney's Office had also been trying to serve a subpoena recently, suspected to be in connection with a trial scheduled for Herring's associate Gooding-Murphy, but said they were not aware Herring had moved out of State. It appeared Herring was also required to keep the judge and court updated as a condition of her probation.
ADA Kamins– who is also handling the case against Gooding-Murphy– declined to comment about the case and Herring's ties.
According to the report, Deputies also observed approximately, "25 horses and 5 goats.". Herring denied owning the animals on the property, claiming the animals were owned by her friend Jimmy Day and she was only at the property a couple days a week.
Herring is prohibited from being in possession or control of any domestic animals or equine for 5-years.
When Day was contacted by deputies and asked if he owned the horses, he was, "at first, non committal", according to the deputy's report. The report says Day then told a said he owned most of the horses at the property, alleging he had bought them last year from Herring who also transported them for him from southern California.
Even so, Herring transporting these animals would have been either another violation of her probation, or a violation of her release conditions if it was in early 2022 prior to the April trial.
It was unclear if any of these horses were tied to Herring's past connection to Gooding-Murphy's property in Jefferson County, or the many horses she had at the site of MG Equine Rescue in Eugene– and not actually from Southern California as Day alleged to deputies.
Day did however tell the deputies that Herring frequently cares for the animals at the property when he is unable to do so, which he told deputies happens weekly. Day then confirmed that Herring leases the property, and he was "subleasing" it from Herring.
Despite questionable claims surrounding "ownership" of the horses, Herring was still in violation of her probation which prompted quick action by the Jefferson County District Attorney's office.
Two days following the most recent visit by deputies to Herring's Yakima property, Chapman (Herring's mother) contacted NW Horse Report pleading for this publication to cease looking into new allegations against her daughter, in part saying, "So why are you still checking up on my daughter?" Chapman asked of NW Horse Report.
Chapman expressed her displeasure with NW Horse Report's follow-up investigation into her daughter following tips regarding Herring having possession of horses in violation of her probation.
"My daughter and her girls life has been completely up rooted and changed…she is doing her best to survive as a single mother…" Chapman also remarked.
It appeared Herring learned that authorities were tipped off to the secret property from inquires being made by NW Horse Report with the Yakima County Sheriff's Office regarding any history of complaints or allegations by others regarding Herring being in possession of horses.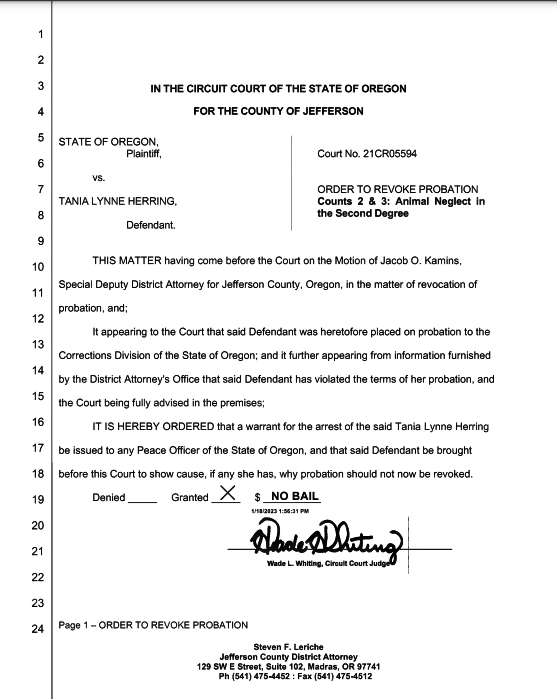 It was then discovered that Chapman had previously sent messages to NW Horse Report critical of the past coverage following her conviction, although NW Horse Report did not make the connection of Chapman as Herring's mother at the time.
"Hope you don't have a skinny horse you are trying to put weight on in a pasture, because anyone can drive by and call animal control…" said Chapman.
Last week, Kamins filed a motion revoking Herring's probation for "[Failure] to refrain from possession of same genus or domestic animals, and that a warrant issue."
Jefferson County Circuit Court Judge Wade Whiting then granted the order and issued a no bail warrant which is still outstanding as of press time. It is unclear if it will be necessary for the State to seek extradition if Herring does not return voluntarily to Oregon.
It also appears Herring had also been in the process of appealing her original conviction last year to the Oregon Court of Appeals, but that did not suspend any part of her sentence and terms of probation.
Anybody with information regarding Herring's whereabouts can also contact the respective law enforcement agency. This is a developing story.