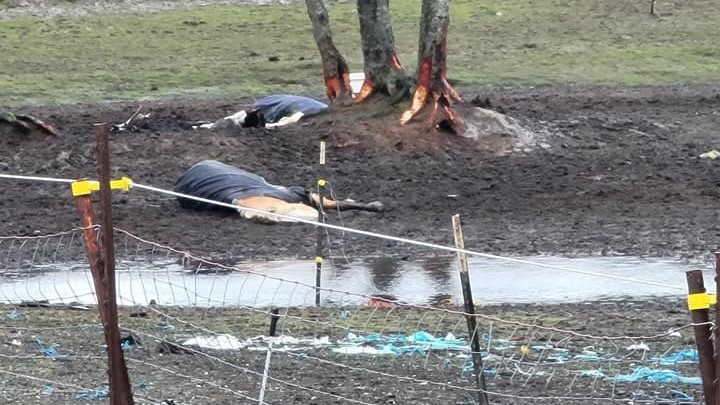 Oak Harbor, Wash. – According to a press release hours ago by the Island County Sheriff's Office in Washington State, deputies found two deceased horses and several others that were emaciated at a property in Oak Harbor. The discovery was made after a report on December 24th. After the discovery, "An animal cruelty investigation was initiated.", according to the statement.
"With the assistance of Safe Equine, Pasado Safe Haven and numerous caring citizens, twelve horses were surrendered, received veterinarian inspections and placed into foster homes pending the investigation. Pigs and rabbits were also rehomed." the statement read.
A search warrant was then issued two days later on Monday for the residence on the property. Over 50 dogs and cats were also found and seized following the execution of the warrant.
"A search warrant was issued and served on the residence. Twenty-two dogs, thirty-one cats and four chinchillas were seized with the assistance of WAIF. They are pending veterinarian inspection. The location was reported to be a used as a dog and cat breeder."
The ICSO did not identify the suspect or the specific location at the time. Officials at ICSO declined to comment further this afternoon until an authorized individual who could speak on the matter was back in tomorrow.
NW Horse Report was able to independently confirm through multiple sources that the location as being at 1798 West Hastie Lake Rd in Oak Harbor.
The identify of the suspect, 58-year-old Kristi Lynn Finch-Thomas (aka "Kris"), was first confirmed and published by NW Horse Report. Finch is no stranger to controversy, with many Whidbey Island and Skagit County locals who say she has a over decades long history of animal neglect.
Around 2009, Finch was charged with felony animal cruelty in Skagit County in connection with her "aussie" breading business, Ausland Aussie's. As has been common in similar neglect cases, the business did not appear to be registered or licensed. The 2009 case had repeated coverage from Skagit Valley Herald (goskagit.com).
County records confirm the property off Hastie is owned by Finch. According to county records, Finch also has $11,778.33 in unpaid property taxes from just the last 3 years.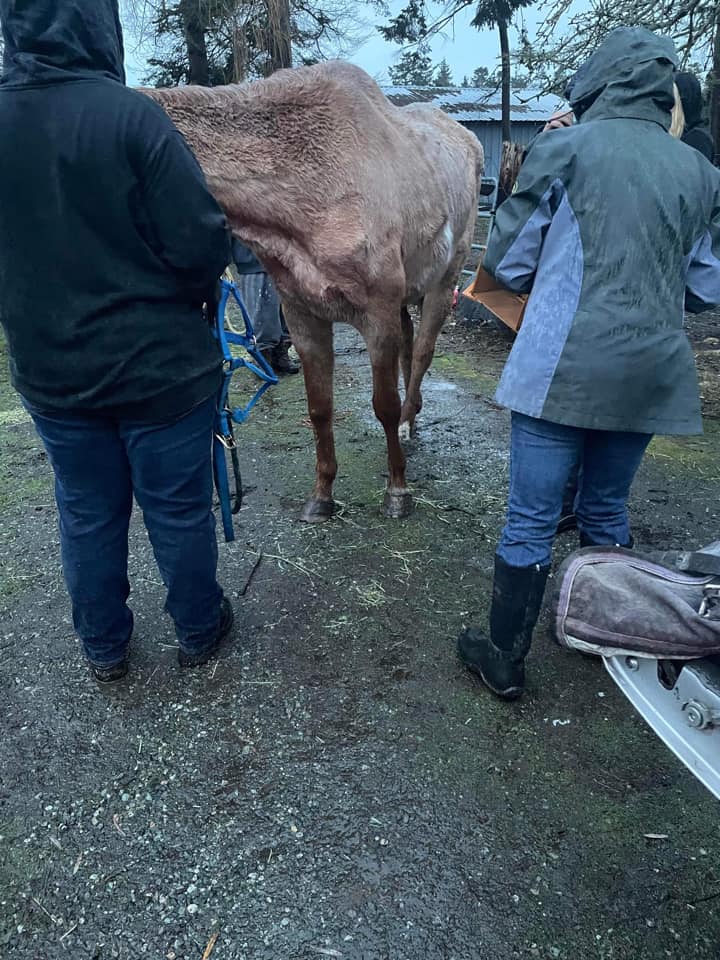 Redmond. Washington, based Save a Forgotten Equine (SAFE) confirmed to NW Horse Report that they were one of the organizations providing assistance with the rescued horses, primarily supplying hay to undisclosed foster locations for the horses. Terry Phelps, Operations Manager for SAFE, explained they expected the level of their support to increase as the case progressed.
"Our outreach on this case was three parts, one providing hay wherever they ended up, it be a foster location or with the sheriff's office." said Phelps.
She went on to explain that hay was the most immediate concern with the development of this case on Christmas Eve. "The second thing we also offer is assistance with medical care."
Attempts to reach Finch for comment were unsuccessful.
The story is gaining much attention on local social media circles, with numerous citizens also being mildly critical of the county government and sheriff's office regarding their past handling of complaints and reports on Finch's alleged lack of care.
Island County's Commissioner Chair Melanie Bacon released a statement on social media earlier Tuesday after the avalanche of attention brought by local citizens.
"Over Christmas weekend the County received complaints about an animal hoarding and abuse situation in the Oak Harbor area. Our deputies and the animal care community responded magnificently." said Bacon.
"The Sheriff's Office is currently assessing the applications they have received for the Animal Control Officer position. We will attempt to fill this position as quickly as possible. I will ask the Sheriff and my colleagues to again review the animal control needs we face in our County."
Bacon expressed her feelings on the overall response of constituents, saying, "I am very grateful that community members joined together with our Sheriff's Deputies to care for the animals impacted by this horrific situation."
---
This is a developing story which you can count on NW Horse Report to keep you updated on in the coming days. Be sure to follow us on Twitter or Facebook to get the latest breaking equine news that matters.