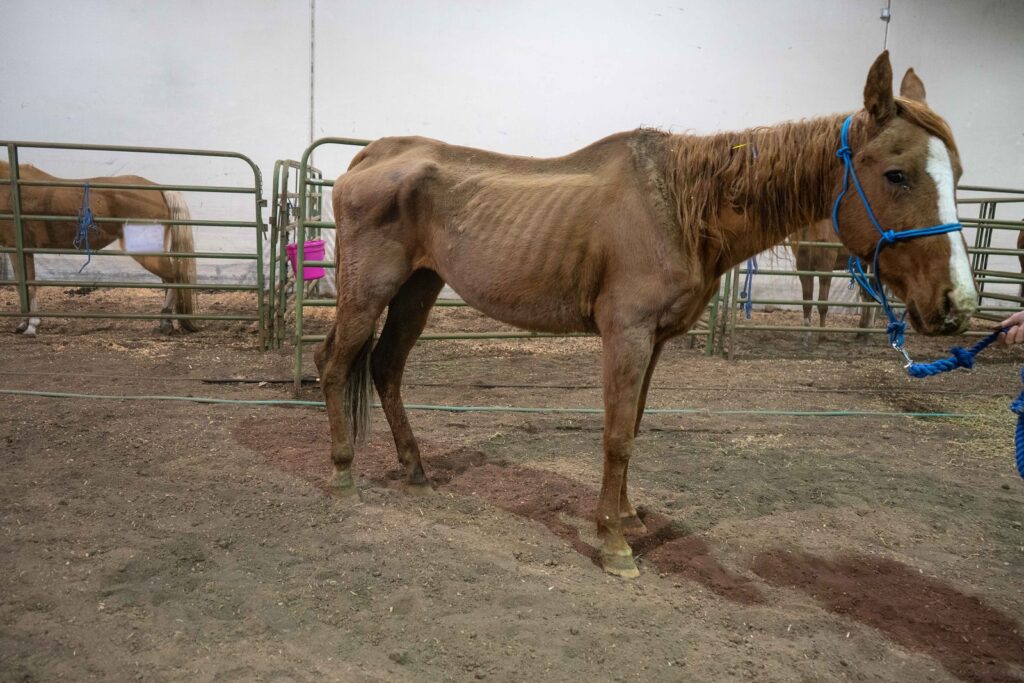 Eugene, Ore. – Oregon's Special Animal Cruelty Prosecutor Jacob Kamins, on behalf of the Lane County District Attorney's Office, has filed a "Notice of Deferred Sentencing Agreement Termination" due to alleged violations of the agreement by the defendant. Raina McKenzie Ott, 23, and her mother Erica Ott, were similarly charged in connection with the notorious horse neglect case involving Gwenyth Davies that received national media attention. The case involved the neglect of over 60 horses at a property outside Eugene, Oregon.
The case erupted after authorities with the Lane County Sheriff's Office, Lane County Animal Services (LCAS), and Special Agents with the Oregon Humane Society, raided a property outside Eugene in October of 2019. Sound Equine Options, a well-known 501(c)(3) horse rescue organization, assisted authorities with the seizure of the horses.
NW Horse Report had previously uncovered in 2021 that Davies was also found to be in violation of her probation but avoided further consequences in 2021. Davies was instead given a significant reduction in her monthly restitution payments, angering many following the case. Some of the individuals include proponents who have been alleging years of missteps and lack of transparency by officials at LCAS.
Lane County has recently blocked several public records requests from NW Horse Report directed at LCAS with exorbitant fees, including one for approximately $22,000 for records into several well-known individuals and recent cases. A single request, limited to copies of reports and complaints involving a PeaceHealth doctor convicted of animal neglect, received a demand for $513.58. Those records did not even include records from the City of Eugene's animal control which was directly tied to the doctor's conviction.
Raina Ott was charged with four separate counts of Animal Neglect in the Second Degree, each count involving a separate horse.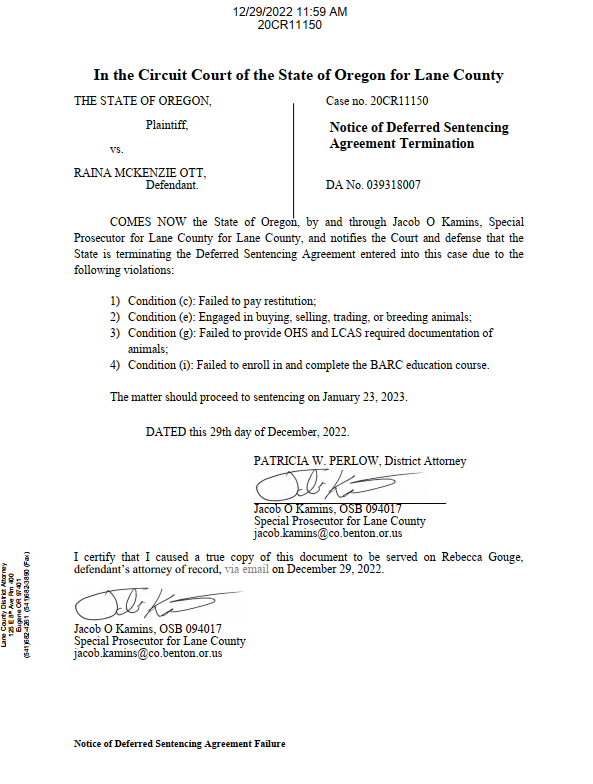 SEO's Executive Director Kim Mosiman told NW Horse Report that one of Ott's horses named Nook, is still under its care and now ownership.
"The mare had advanced, painful ringbone when she came in and was heavy in foal. She is in what we call a hospice foster home." said Mosiman.
"Nook has been on pain medication as soon as it was safe for her foal. Her foster mom keeps a watchful eye on her pain level because we know the medication will eventually stop working. For now, though, she is happy, comfortable, and enjoying not having hundreds of extra pounds from packing around a foal."
On November 20th, 2020, Ott entered a guilty plea as part of a deal with the district attorney's office. This included a delayed sentencing agreement that postponed sentencing for 24 months. Ott was already due back in court on November 22nd, 2022, for sentencing. Not only did Ott fail to appear, she also appears to have violated numerous conditions of the agreement.
The State said that Ott, "failed to pay restitution", "engaged in buying, selling, trading, or breeding animals", "failed to provide OHS and LCAS required documentation n of animals", and "failed to enroll in and complete the BARC education course".
The court issued a warrant for Ott's arrest the same day. Ott later surrendered herself to authorities nearly a week later on November 28th.
NW Horse Report also uncovered a since-deleted Facebook post made by Ott days in which she was offering to transport dogs or horses on a trip through Oregon, Idaho, and Utah. The post appears to have been deleted by Ott within an hour following it's inclusion in this publication.
Ott is also currently prohibited from leaving the State according to her conditional release agreement (linked here). It is unclear if Ott is prohibited from possessing animals, beyond the ones she was required to declare in 2020.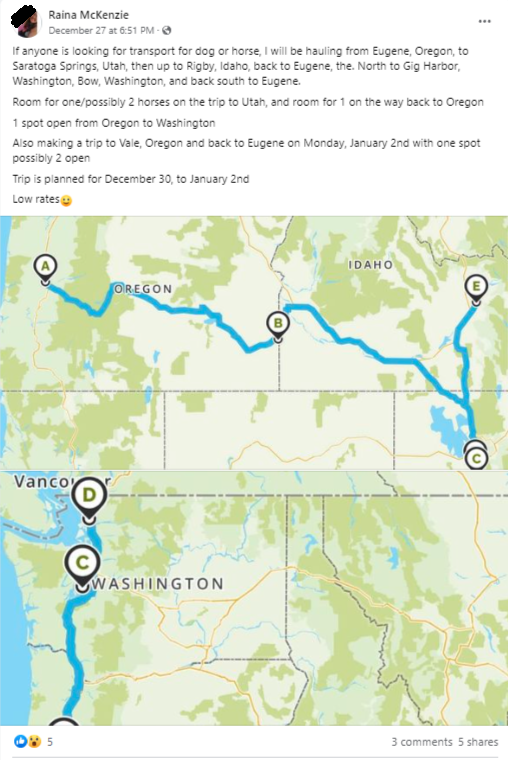 Ott was also convicted in 2018 for felony Theft in the First Degree in Lane County. Ott still owes $13,104.66 of $14,985.66 in court-ordered restitution in that case. The State also alleges that restitution is owed in this current case to the Oregon Humane Society.
Ott responds to the State's allegations of violating the Deferred Sentencing Agreement, travel out-of-state.
When reached for comment, a receptionist for Ott's attorney's office said that the attorney was not available, further stating they do not speak with reporters. Ott also did not answer when initially contacted seeking comment prior to press time, but did later speak with NW Horse Report following publication, in part denying some of the State's allegations.
Ott did admit that she had not taken the BARC education course and claimed her attorney said the failure to pay restitution would not be considered a violation of the agreement.
"I haven't breached anything other than not finishing one thing, and part of my agreement didn't include restitution– that wasn't on me." said Ott, going on to say "I have the email on that."
Ott also initially said she didn't know she was prohibited from leaving the State.
"I was told that I was fine, I was going to visit my dad and taking a load of things in our horse trailer to my brother. I offered to take things on the way back." Ott said.
Ott's posting was also offering to trailer dogs and horses for a fee, which also likely would require Ott to have either a USDOT number or at least be registered with the FMCSA due to commercial interstate transport. Ott is required to comply with all local, state, and federal laws as a condition of her release.
When asked about the specific condition and if she had permission from the court, Ott responded by saying, "Yes, and I called the court."
Asked again if she called the court, Ott responded with a simple "Yes". She was then asked if she had any documents from the court that confirmed she had permission, Ott appeared to start changing her story.
"No, because I haven't left the state. I'm not the one doing the transport," said Ott, who then began to claim she never said she was leaving the state.
"Yes, I was going to, but have not heard back [from the court], so I did not follow through with the transport". Ott continued to deny that she ever planned to leave the state, despite explaining that she was leaving the state to visit family only moments prior.
Ott further denied she had ever sold any animals, although Facebook posts from her directly claimed otherwise. Ott then claimed she was just helping her "co-breeder" sell the animals and getting people in touch with them. It's unclear, even if her claims were accurate if Ott would be considered selling since she was involved in facilitating the sale of an animal.
When questioned about the entire ordeal and charges originally filed against her in 2020, Ott further went on to put most of the blame for the entire situation on Davies, explaining that she had frequently been left to care and incurred expenses to care for many horses that did not belong to her, contributing to the situation for her own animals. She further claimed her sister had even made calls to LCAS as one of the complaints– although NW Horse Report cannot yet confirm the claims.
Ott had also claimed she provided required reports via email to the OHS and LCAS officials as required in her agreement, stating she would be willing to provide them to NW Horse Report to dispute the State's claim, although they have not yet been received.
Ott is now due back in court on January 23rd for sentencing.
She had also been critical of NW Horse Report, claiming our publication has a history of "defaming and slandering people".
NW Horse Report has a well-established precedence of seeking public records, court documents, and statements from officials– and making those available to our readers. Publishing this information, especially records or statements from other parties and government agencies, is far from defamatory. We often use professional discretion to redact information of suspects and other parties, including phone numbers and home addresses if not part of a business. NW Horse Report remains committed to the hard work required for such difficult investigative journalism that our readers care about.
This story was updated at 6:20pm on 12/30 to include comments from SEO and details of an alleged release violation by Ott that may be underway. The story was again updated at 9:24pm on 12/30 to include statements made by Ott after initial publication.
---
Please follow us on Facebook and Twitter so you get the latest equestrian news that matters to you! Thank you for supporting equestrian journalism that is available without paywalls.