Recently released records provided by Deschutes County in Oregon have confirmed that officials with the Deschutes County Fair & Expo Center had executed a contract for facility use with a non-existent equestrian business.
The revelations came after NW Horse Report began an investigation in early March into Phillip Metcalf of Redmond, Oregon, over reports of what multiple people have described as unethical business deals and financial transactions. Local equestrians expressed that Metcalf was using the Fair & Expo in an attempt to legitimize unfair and deceptive trade practices.
Metcalf had reportedly announced a consignment sale event that would be hosted on May 29th, 2021, by his business High Desert Select Horse Sales. Metcalf has also been known to use the alias of Royce Bisio in several of his dealings.
There was one key problem– the business doesn't actually exist according to the State of Oregon.
"I can confirm that there is no business with the name 'High Desert Select Horse Sales' registered with the Oregon Secretary of State's corporation division." said Aaron Fiedler, Press Secretary for the Oregon Secretary of State. This fact was further acknowledged in a email sent by the attorney for Deschutes County, David Doyle. The attorney for the county represents and advises the county government and is not part of the District Attorney's office for the County.
"I can confirm that High Desert Select Horse Sales is not a registered business in Oregon, nor is it a registered dba (doing business as)." said Doyle in a March 10th email to the Fair & Expo Center's director, Geoff Hinds.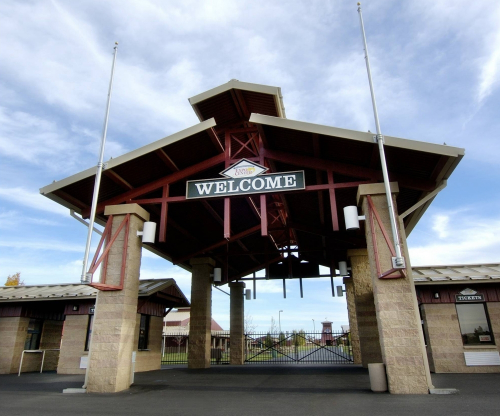 Days prior to our initial story, Hinds said that Metcalf had signed a contract with them for the event personally, not under the business name. However, records released tell a slightly different story and appear to confirm the county executed an agreement with the business with Metcalf signing for it, and not initially with Metcalf personally. In reviewing the records released to NW Horse Report, officials later made an attempt to correct the contracts after several initial inquiries and questions raised by Commissioner Patti Adair.
"That alone [when referring to the lack of a registered business] is not a basis to cancel the agreement, however it is a basis to require Mr. Metcalf to personally sign the agreement in his individual capacity." said Doyle in the same email.
In subsequent emails which were also on March 10th, Hinds confirmed with Doyle that the agreement should be changed so the "User" was changed to be Phill Metcalf rather than High Desert Select Horse Sales, and the event name changed to Phillip Metcalf; Horse Sale. Despite this confirmation, days later Fair & Expo officials prepared changes to the agreement to "Metcalf Horse Sale". Metcalf Horse Sale also appears not to be registered with the Oregon Secretary of State, raising further questions.
Records showed that the updated agreement indicated "revised March 13th", but it had not yet been executed by either party. There was no other revisions provided to us. It cannot be determined if the agreement had been revised to name Metcalf personally under the contract.
In an email response on April 6th to NW Horse Report, Hinds went on to explain the change to Metcalf Horse Sale in the contract: "In this instance, when it came to our attention that the entity which had been identified might not be registered as an Oregon business, we sought verification. Upon confirming with the Corporation Division that the entity was/is not registered, we notified the customer that the previously executed contract must be re-written to reflect individual status. At some point in the process Mr. Metcalf mentioned another business entity (Metcalf Horse Sales). A new contract was prepared- but never executed since we confirmed with the Corporation Division that Metcalf Horse Sales was/is not registered in Oregon." said Hinds.
There was no other revisions of the agreement provided to us upon the release of records provided on March 13th. The County's legal team told NW Horse Report they would provide the personally executed agreement with Metcalf at a later date. Hinds did not confirm in his latest email if a proper updated agreement had been executed by Metcalf and the county.
The Fair & Expo Center's website continues to show the event as "Metcalf Horse Sale", which was changed around the time of our initial reporting in March on the matter.
In an earlier conversation Hinds said they did not have any procedure or practice in place of verifying the registration of the businesses they sign agreements with. When asked if his department may make any changes in this area, Hinds indicated they were always reviewing "best practices".
Emails between officials with the Fair & Expo also showed that Metcalf had provided a copy of his "business license". Pressure from NW Horse Report to the county's legal team resulted in ignored follow-up requests for the information for the copy of the purported license. It was provided to us promptly by Mr. Hinds after we reached out to him in early April. The "business license" appeared only to be a screenshot taken on a mobile device that showed various bits of business information. On the same day that Hinds provided the material NW Horse Report had started seeking a request with the Deschutes County District Attorney to order the release of the records, though this became unnecessary after the rest of the material was provided by Hinds.
"To date, the only "license" that Mr. Metcalf has shown to staff was contained on his cell phone. Neither the status of that license, nor the issuing authority was/is identified, and therefore we did not accept the license." said Hinds.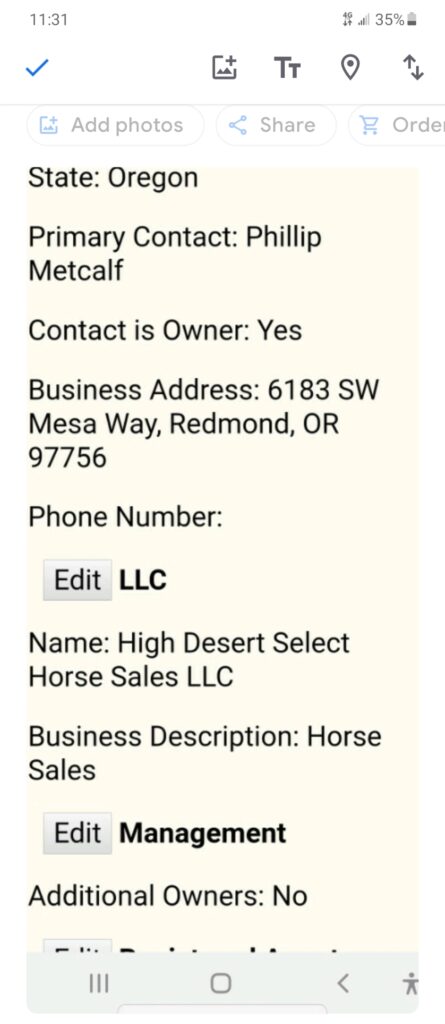 The screenshot appears to possibly be a page to apply for some sort of business license or registration, but it could not be determined what entity or government agency system it could be from.
Continued promotion under unregistered business
Despite the developments over the last month, Metcalf continues to promote the sale and event under the fake business "High Desert Select Horse Sales" as seen via multiple social media posts on both personal and "business" pages on Facebook.
"As for promotion of the event, staff typically does not get involved (at least proactively) in monitoring how the customer markets the event. And to this point in time, staff has not been privy to any marketing material specific to the event." said Hinds when asked about Metcalf's continued event promotions.
Metcalf has further created a Paypal page soliciting registrations under the bogus business name for the event. PayPal has not responded to a request for comment which was submitted weeks ago.
On March 18th, Metcalf posted on Facebook that he expects over "200 head", apparently referring to the number of horses. There continues to be confusion on the method of the sale, with Metcalf calling it a simple consignment sale as well as an auction. Despite his claims of an auction, Oregon law further appears to require that the auctioneer be named in all marketing and promotional materials. Metcalf previously told NW Horse Report he would not release the name of the auctioneer.
Metcalf went on to claim that there were 53 horses registered for the sale. "I HAVE AS of now 53 head" said Metcalf in a March 19th post on the Oregon Horse and Tack Trader Facebook group.
"Your consigner fee sheet is cut off and you can't see all the fees being charged. It looks like you have 3 different charges (or more) to consign a horse to you, which seems sketchy." said one poster in the same Facebook thread.
Metcalf's latest post on one of his Facebook pages advertising the event also advertised another unregistered business called "Untamed Transportation". A US DOT registration was found for the company and shows it based out of a residence in Halsey, Oregon.
When contacting the business the person who answered by phone said they are an "single driver company" and denied having any affiliation or knowledge of Metcalf, including his alias Royce Bisio or his purported businesses.
Additional Questions over Active Warrants
Many equestrians were up-in-arms over the fact that Metcalf has multiple outstanding warrants for his arrest, questioning how someone with active arrest warrants could facilitate a lease with a county government. Deschutes County District Attorney John Hummel appeared to confirm to county officials that one of Metcalf's active warrants was for "failing to complete an alcohol treatment program".
"There is a warrant for the arrest of Mr. Metcalf. The warrant was issued based on my office's motion seeking to revoke Mr. Metcalf's probation for failing to complete an alcohol treatment program as ordered by the count (the program was ordered as a condition of his probation for a DUII conviction)." said Hummel in a email sent to Commissioner Patti Adair in early March.
Sgt. Jayson Janes, Public Information Officer for the Deschutes County Sheriff's Office, confirmed that Metcalf also had a probation violation warrant out of Crook County, which appears related to a different case. Both warrants were showing to have been issued in July and August of 2020.
---
This is part of an ongoing story. To read our previous report on this story click here.