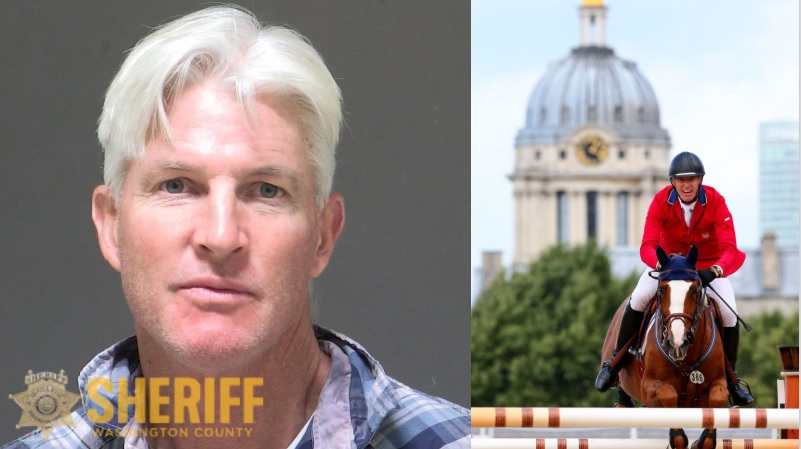 A very prominent equestrian and former US Olympian from Oregon has been arrested on charges of sex abuse over allegations of having sex with his former equestrian student. Richard Fellers, 61, was arrested on Monday morning by Tualatin Police detectives. Fellers is charged with four counts of second-degree sexual abuse.
"Mr. Fellers is an American equestrian who competed in the 2012 U.S. Summer Olympics and is a prominently known competitor/trainer in the equestrian industry," Tualatin Police said. Fellers is from Oregon City, Oregon. Agents from the FBI appear to have also assisted with the investigation.
NW Horse Report previously ran a previous story in February about the suspension of Fellers and his wife by the US Center for Safe Sport. That investigation appears to have triggered a several months-long investigation involving witnesses from multiple states.
Police had interviewed witnesses from multiple states and determined sufficient evidence existed in order to arrest Fellers for allegedly having a sexual relationship with the the female equestrian student. The minor student of Fellers relocated to Florida in late 2020 after the alleged abuse took place.
The minor student, Maggie Kehring, now 18, provided a statement to NW Horse Report through her attorney Russ Prince in February.
Upon learning of the Grand Jury's decision this morning, Kehring said, "Though there are things that happened to me that I can never get back, I am relieved and grateful to see that my truth, The Truth, was heard, understood and believed. The power in me has been restored by protecting others and ensuring that no one else will be scarred by this same experience. I am so thankful for the work the Tualatin Police Department and FBI have done on my behalf and the behalf of others in similar situations."
Russell Prince and Michael Palma of the law firm Palma & Prince stated, "It is our mission to fight for the safety, protections and ethical outcomes for all athletic endeavors. We work as advocates for athletes, coaches and their families; it is all intertwined. If one piece of the wheel is not working, everyone suffers. We are grateful that Maggie Kehring's unimaginable experience has been brought to light with these charges being filed, but the investigation will continue. Hopefully, Maggie can get back get back to the one thing she loves most – riding horses. In the meantime, Maggie will have no further comment and we would ask that her and her family's privacy during this difficult time be respected."
Fellers was booked on the charges into the Washington County Jail by detectives shortly following his arrest. NW Horse Report will continue to follow this story and have additional information as it develops.