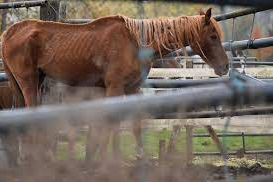 An Oregon women who was convicted in early 2020 over one of the largest cases of horse neglect in recently memory narrowly avoided having her probation revoked. Gwenyth Davies, 50, appeared back in Lane County Circuit Court on Monday to explain why her probation shouldn't be revoked. The plea deal that resulted in the original probation terms, which were set for the maximum duration of 5-years, was the result of her guilty plea for 11 counts of second-degree animal neglect.
The original probation terms required Davies to make monthly payments for restitution to Lane County, Sound Equine Options, and the Oregon Humane Society. She was also required to send photos of the several horses that she was allowed to keep under the agreement.
Jacob Kamins, the State's special Animal Cruelty prosecutor handling the case, said had only made a single $200 payment early on and was inconsistently sending photos to investigators with Lane County Animal Services. Kamins also confirmed to NW Horse Report that Davies was no longer represented by a private attorney and instead a public defender. It was reported by this publication recently that Davies' attorney was granted a motion to be released as her defense counsel.
Davies admitted in court to the probation violations and agreed to make a lump sum payment of $500 by next month. She additionally indicated she will be leasing one of her three horses to someone else for a period of at least 18-months, saving her about $140. The new probation terms also now only require Davies to make a payment of $140 towards her nearly $48,000 owed in restitution.
While prosecutors have previously indicated the reason for the plea deal was due to a current possible loop-hole in animal neglect laws regarding "livestock". Kamins had previously explained that the probation terms would ensure Davies was kept in check with her care of horses and that Davies could face further action for violation of those terms.
Davies is also required to have the horses seen by a veterinarian by August. She also appeared to be facing a residential eviction process based on court records for which a hearing is scheduled for May.