Tualatin, Ore. – Prosecutors in Oregon's Washington County have filed criminal animal neglect and abandonment charges against a Mustang horse trainer known throughout Oregon equestrian circles and also embroiled in previous allegations of neglect.
The trainer, Michael Jean Wells, 47, of Aurora, is alleged to have neglected and abandoned three different horses at a property off Hazelbrook Rd in Tualatin, which NW Horse Report was able to identify as the location for a horse boarding facility operated by Cindy's House of Horses, LLC.
As first reported by NW Horse Report, as well as Pamplin Media Group, Wells was already facing separate charges filed back in March in Clackamas County for allegedly neglecting and abandoning four horses at a commercial boarding facility near Colton, Oregon.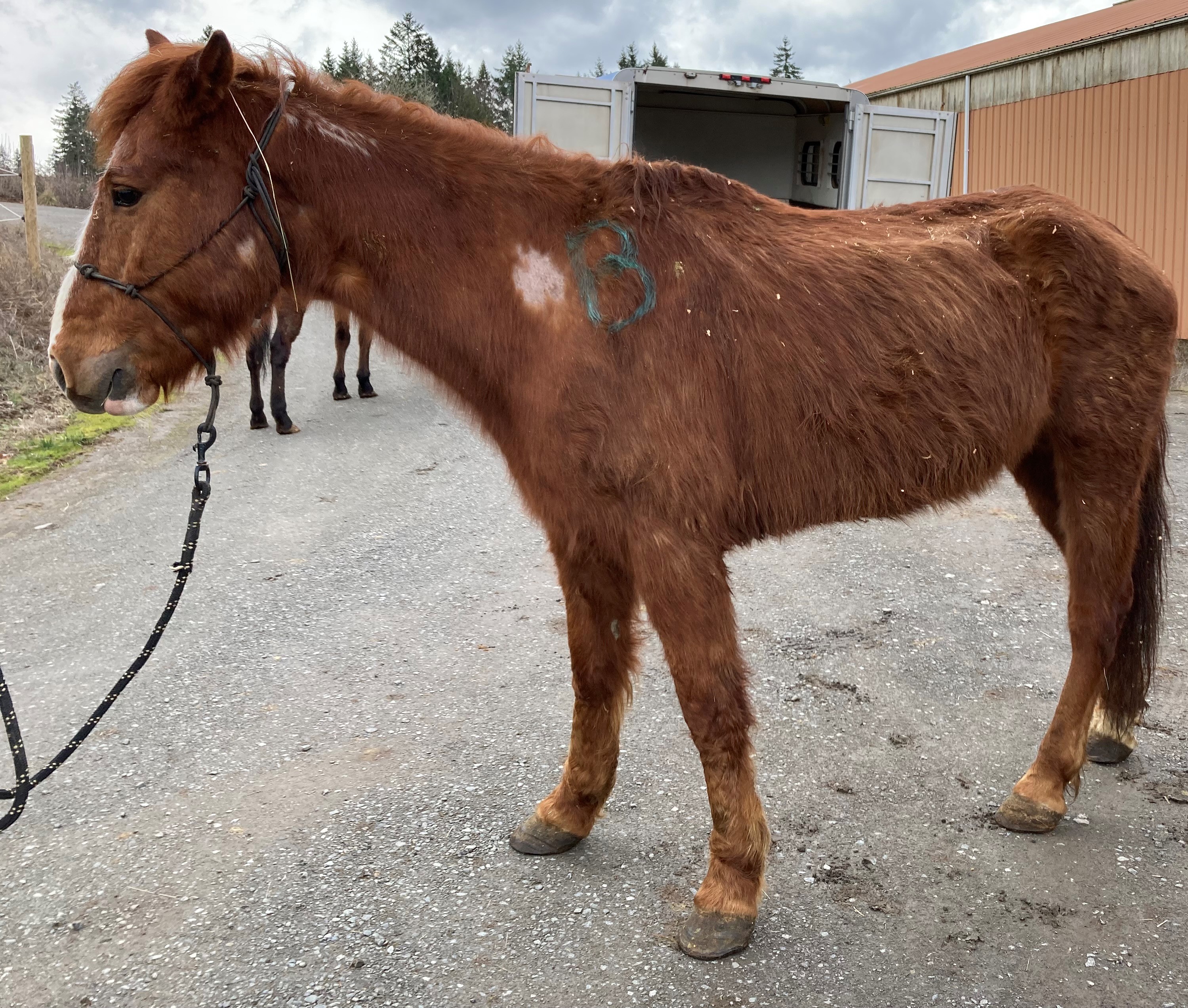 According to court documents filed late last month in Washington County, Wells was charged with 3 counts of animal neglect and 3 counts of animal abandonment, bringing the total count between both cases of 7 counts of animal neglect and 7 counts of animal abandonment, all of which are Class B misdemeanors.
It appears the cases are being handled separately in their respective counties, but NW Horse Report did confirm that special agents with the Oregon Humane Society were the lead investigators in both cases.
According to the Oregon Secretary of State, Cindy's House of Horses was dissolved in 2009 after not filing its annual report. A man reached for comment by a telephone number listed by the company identified himself as the owner. The owner went on to state that the horses allegedly neglected and abandoned at their property were from Wells.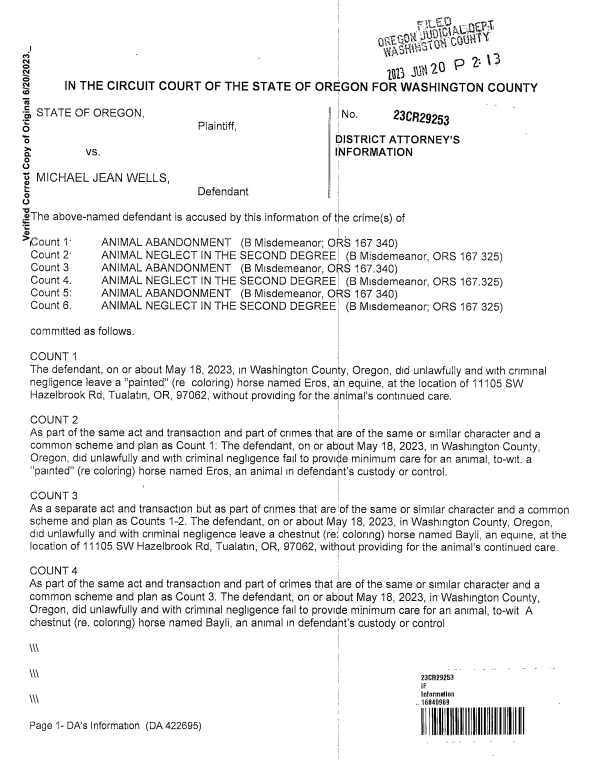 The owner stated that the issue came to light after one of their boarders notified authorities of the condition of one of the horses, but that their facility was providing the minimum care for the animals despite not having any arrangements with Wells for full care of her horses. The owner was not willing to identify himself and he did not appear to be listed in the company's records from before 2009.
Another source alleged that Wells owed the company well over $10,000 in costs to the company. The owner was not willing to disclose the exact dollar amount but did confirm that our source accurately put the total over $10,000. He also said they would likely not see any of that money from Wells.
According to Oregon Humane Society's spokesperson Laura Klink, Sound Equine Options assisted agents in taking custody of the horses after they obtained an executed warrant back in May.
Kim Mosiman, CEO of Sound Equine Options, responded to a request for comment confirming they were asked for a second time to assist OHS with the seizure of horses owned by Wells, having been involved in the previous seizure in Clackamas County.
"We now have 7 of Ms. Well's horses in protective custody as their legal cases work their way through the system," said Mosiman.
"All the horses are gaining weight as well as getting their veterinary and farrier needs addressed. We have seen a drastic improvement in each of the horses while under our care."
SEO is a 501(c)(3) equine rescue that frequently works with law enforcement agencies across Oregon and southwest Washington.
Attempts to reach Wells again for comment were unsuccessful. Wells recently appeared in Clackamas County Court on her earlier charges after having proceedings delayed multiple times while she claimed she was still working to retain her own private legal counsel.
In the latest hearing on June 28th in her Clackamas County case, Wells applied for and was granted court-appointed counsel after ultimately not retaining her own attorney. When arraigned days earlier in the Washington County case, Wells again indicated she intended to retain private defense counsel. It appears unlikely Wells will be able to retain private legal counsel, but no motion has yet been made by Wells requesting court-appointed counsel in the new Washington County case.
Wells is due back in Clackamas County court on July 19th at 8:30am, and again in the Washington County case on July 24th at 3pm.