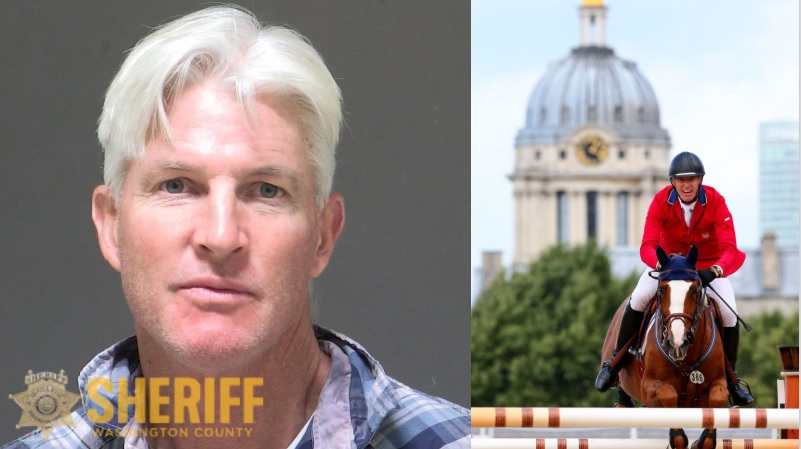 Updated at 10:53am on 5/26 to include a statement from Maggie Kehring's attorney Russ Prince.
Portland, Ore. – The former Olympian equestrian previously charged by Oregon state prosecutors for sex abuse as part of an alleged sexual relationship with his then-minor student has been formally charged by the US Attorney in federal court.
Richard Fellers was the 2012 FEI World Champion during the summer London Olympic Games and was a once highly respected equestrian based in Clackamas County.
According to federal court documents, Fellers' was charged with "Interstate travel to engage in illicit sexual conduct with a minor."
The charges are reportedly part of a plea deal first uncovered and reported by NW Horse Report back in March. NW Horse Report obtained audio of a previous hearing in Feller's state criminal case where a Washington County deputy district attorney and Feller's attorney, Mike De Muniz of Sherlag DeMuniz LLP, disclosed a plan where Fellers' would be formally charged by the US Attorney's Office.
The plan facilitated a plea deal as part of a "global settlement" to resolve both the state and the then possible federal charges. Deputy District Attorney Rayney Meisel would not comment on the specifics of the ongoing plea deal at the time with NW Horse Report.
The deal would also mean that Fellers' would serve time in the federal prison system instead of an Oregon state prison.
Maggie Kehring, Fellers' former student who he was accused of sexually abusing, was 17 at the time.
Kehring's attorney Russ Prince responded to the latest development in the case telling NW Horse Report Friday morning, "Regrettably, it has been a protracted process that has continued to harm Maggie, the Kehring family, and other participants in sport."
"Maggie has endured much-underserved scrutiny from the beginning, and now we are closer to some semblance of justice for her. More importantly, the truth in this matter underscores the work that is still left to do in making our sports safe for all athletes." Prince said.

Prince then went on to further express his view on the positive impacts he believes Kehring's ordeal will bring to the industry: "Luckily, equestrian has a role model like Maggie. She will unabashedly continue to use her voice as a force for change – a force for good that wants nothing more than a safe environment for everyone to participate in whatever arena they find joy."
KOIN 6 News broke the news about Feller's federal charges yesterday— although it appeared they were not aware that the new federal charges were part of the plea deal negotiations, going on to report an anticipated trial still on the schedule for Feller's that was set for August.
Fellers was arrested in June of 2021 by the Tualatin Police Department following an investigation on the heels of a US Center for SafeSport investigation– having also been assisted by special agents from the Federal Bureau of Investigation.
"We will not be engaging in any interviews," wrote De Muniz in an email to KOIN 6 News.
NW Horse Report also reported in March the discovery that Fellers' wife Shelly had also filed for divorce. The proceedings in the dissolution of marriage case for the Fellers' appear ongoing after court documents filed last week revealed the outcome of a recent mediation stating: "No Agreement – Parties unable to reach agreement".
"I did care about him, you know, immensely. He was a person in my life who I had so much trust and respect for," Kehring previously told CBS News in 2021. "I had never been in a relationship. And I made that clear … I was still a virgin."
This is a developing story you can count on NW Horse Report to keep you informed of.