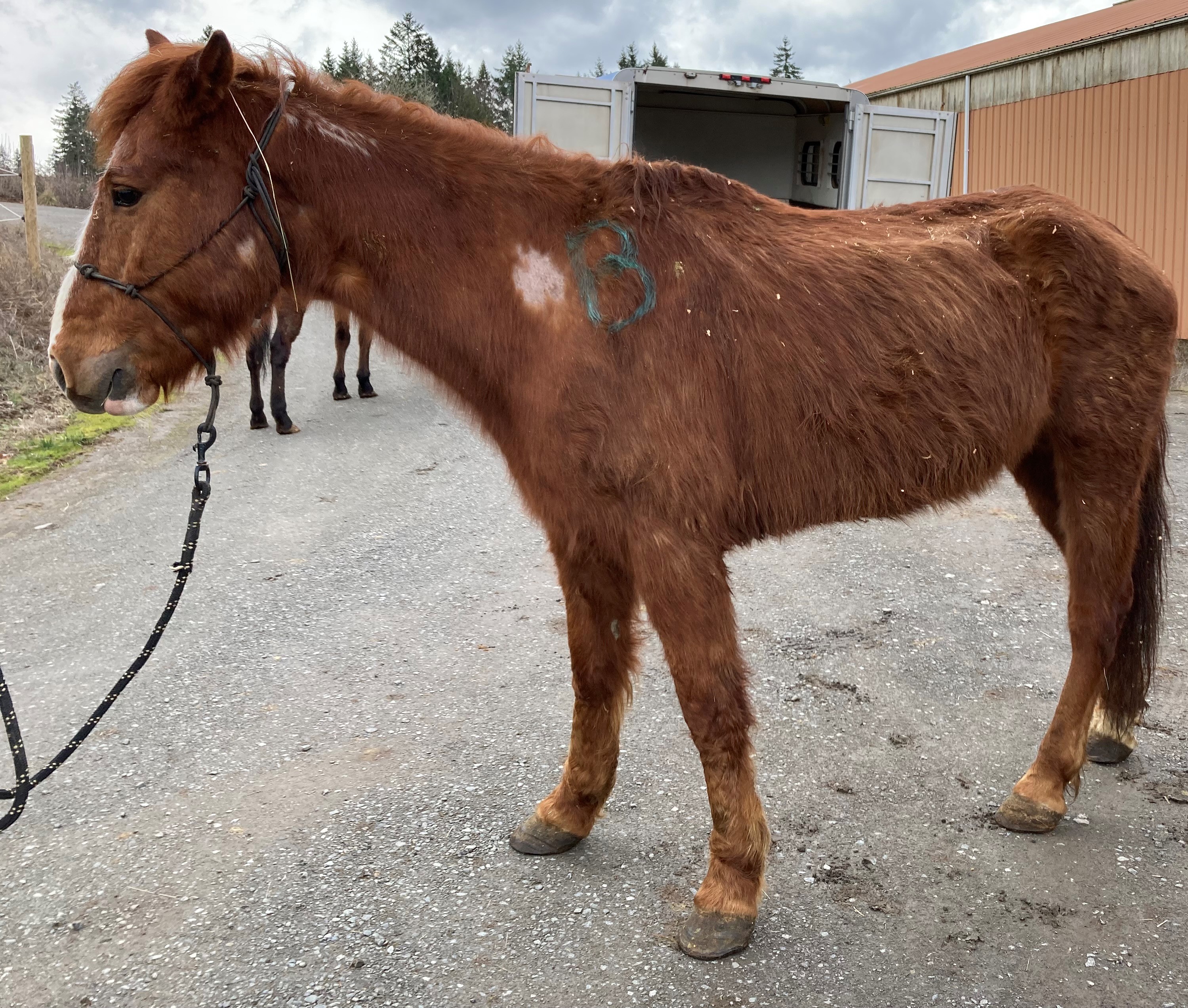 A woman charged in Clackamas County with four counts each of animal neglect and animal abandonment appeared in court on May 24 to request a reset of her hearing.
Michael Jean Wells, 47, had failed to get herself an attorney despite nearly two months passing since the initial March 30 charges from the Clackamas County District Attorney's Office, Wells told Circuit Judge Thomas J. Rastetter.
Wells, known throughout Oregon equestrian circles as a Bureau of Land Management mustang trainer, faces charges stemming from boarding horses at several Oregon facilities and allegedly failing to provide for their care before abandoning the animals entirely.
Wells, who goes by "Mickie," entered a courtroom alive with furtive whispers between lawyers and their clients. Clackamas County sheriff's deputies led chained men into the room, sitting them in an unused jury box. Wells was cited on eight misdemeanors and has so far not been arrested.
While Wells quietly sat in the back of the courtroom, waiting, a lawyer absent-mindedly left a paperclip near the prisoners and suffered the playful admonition of a deputy who confiscated the paperclip and dropped it into "the abyss," a zip pouch attached to the front of his bulletproof vest.
Judge Rastetter's court ran smoothly, with several defendants hearing their sentence within the first half hour.
A couple of defendants appeared without counsel, but only one chose to waive the right to counsel. Two young adults were convicted of shoplifting. One of the prisoners had his lack of self-control and poor relationship with his mother displayed to the court through a recorded phone call he had made while incarcerated. Through it all Wells sat, her back to the wall, waiting for her case to be called.
After nearly a dozen other cases had been heard, Wells was called to take her place at the defendant's table.
Wells wore a long-sleeved blue shirt and blue jeans, her hair pulled back in a braid that hung below her shoulders, as she approached the bench briskly and with confidence.
Judge Rastetter inquired as to whether Wells had an attorney. She said she did not. She then requested a three-week reset of her appearance to obtain counsel and prepare to answer the charges against her.
The district attorney had no objection to the request, and Judge Rastetter granted the defendant's request.
According to NW Horse Report, there are allegations that Wells had several other horses which she has failed to care for and/or abandoned, but there was no word at the hearing if a district attorney will be pursuing criminal charges on those as well.
Wells is next scheduled to appear in court on June 28.
---
This article was contributed by Pamplin Media Group for publication by NW Horse Report.