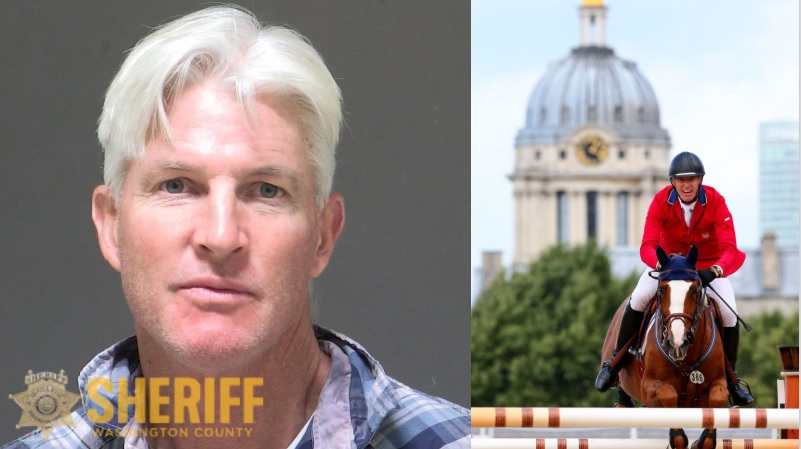 Updated on 7/14/2023 at 10:75pm to reflect comments made by Kehring's attorney Russel Prince.
Portland, Ore. – Two years following his arrest in 2021 and earlier suspension by the US Center for SafeSport, the internationally known Ex-Olympic FEI Champion Equestrian Richard Fellers has pleaded guilty to sexually abusing his former and then minor student.
Fellers plead guilty on Tuesday in Oregon's Federal District Court to federal charges which were just recently brought months ago in preparation for the anticipated plea deal that was first uncovered through investigative work by NW Horse Report. He then appeared on Wednesday in Washington County Circuit Court to plead guilty to the State charges.
According to court records, Fellers agreed to serve his sentence in a medium-security federal penitentiary instead of an Oregon State prison. The federal charges– interstate travel to engage in illicit sexual conduct with a minor– resulted in a 50-month sentence for Fellers. The State's charges resulted in a lesser 30-month sentence, although the sentences will be served concurrently according to the plea deal.
It appeared the deal brokered with federal prosecutors, who had only recently charged Fellers, may have been in order for Fellers to serve his sentence in the federal system in lieu of State prison.
NW Horse Report had also discovered court records months ago that Fellers' wife filed for divorce.
Fellers' former student, Maggie Kehring, told Bloomberg in 2022 that Fellers expressed his love for her when she was 16 years old, and said she was "not a little girl anymore."
"I put the phone down and was filled with fear," she recalled in the 2022 interview. "I knew I couldn't leave that barn. He was supposed to be the one to help me get to the Olympics."
Kehring's attorney Russell Prince publically stated, "This isn't a day to celebrate. It's a somber day that should remind us how much work there still is to do to protect our athletes, our children, and our communities."
Prince also went on to rebuff those who had previously attacked Kehring following the US Center for SafeSport's initial suspension of Fellers.
"And to all of you out there in the equestrian community who relentlessly attacked [Kehring], you should be ashamed. I'd recommend a heartfelt apology to her and some serious soul-searching." said Prince.
"I can only hope my own daughter turns out to be as tough, determined, and resilient as [Kehring] has been in the face of what she's endured. She's a hero in every sense of the word."
Kehring did not have any comment on Fellers' guilty plea, but did state, "I have no comment on the Rich Fellers case. The public record speaks for itself; Right now, I send my thoughts to those victims of sexual abuse navigating the very emotional and difficult legal process."
Kehring's mother Carrie Kehring did however express that her daughter was doing better and also thanked NW Horse Report for the continued coverage of this and other similar cases:
"Thank you for your very thoughtful and accurate reporting on these issues. Great and thoughtful reporting with these issues is so important for the minors in this industry and makes such a difference."
Fellers is now scheduled to be formally sentenced in October where he will be immediately remanded into custody. Fellers could not be reached for comment.