In the first major ruling regarding the case involving the severe neglect of 48 saddlebred horses by Susan Swango, 82, Judge Cynthia Easterday granted the petitioners motion for forfeiture of the 48 seized horses and 7 cats. The petitioners included Yamhill County, Oregon Humane Society, and Sound Equine Options. SEO is an Oregon 501(c)(3) horse rescue based in Gresham, Oregon. Today's (April 9th) court session had been scheduled during Swango's arraignment hearing last month.
Swango must now post a $140k bond payment within 72-hours, otherwise the seized animals will be forfeited to the petitioners. The bond amount typically reflects the current and anticipated costs involving for the organizations taking care of the the seized animals.
While the horses were seized in late February from Swango's facility, Silver Oaks Saddlebreds near Carlton, Sound Equine Options and the Oregon Humane Society are limited in their handling of the horses until the animals are forfeited to them for legal ownership. The forfeiture process being used is outlined in Oregon Revised Statute 167.347 (Forfeiture of animal to animal care agency prior to disposition of criminal action). The petitioners were represented by the State's Animal Cruelty prosecutor, Jacob Kamins.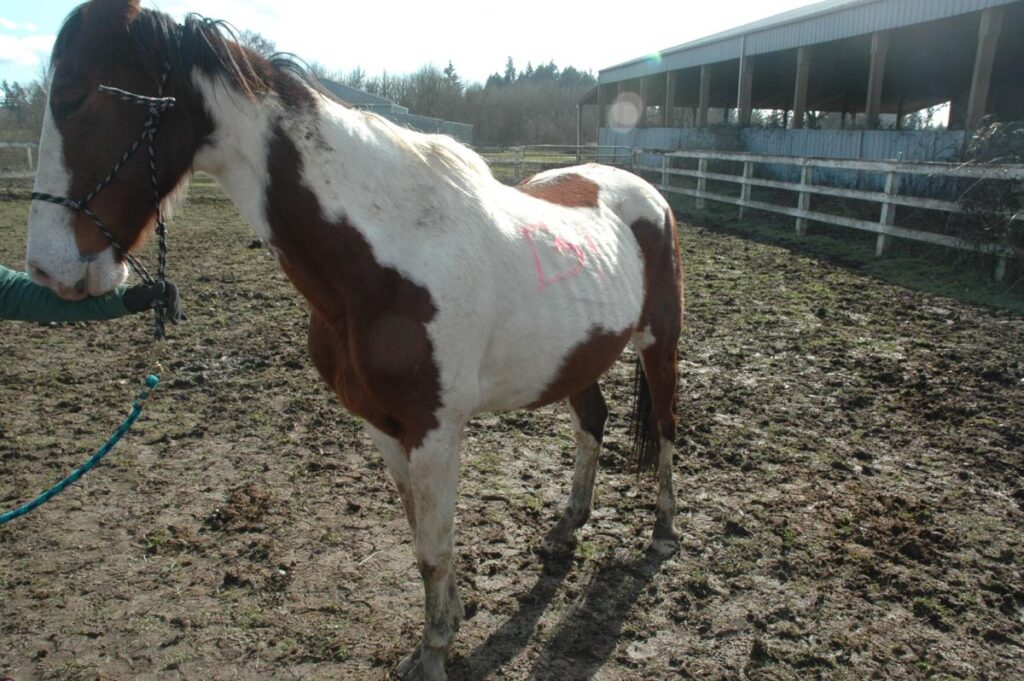 Swango is currently charged with 55 felony counts of Animal Neglect in the 2nd Degree, 48 related to horses in her care and 7 more counts in connection with cats rescued from her property. This allows the horse rescue organization, Sound Equine Options, along with the Oregon Humane Society (OHS), to secure legal ownership without waiting for the final disposition of the criminal case against Swango.
"It would create a balance due for cost of care of the animals from the day of the seizure through today's date. Ms. Swango would have 72 hours to pay that balance in full. If she did not pay the balance, the ownership of the horses would go to SEO and the cats to OHS." said Kim Mosiman, executive director for Sound Equine Options.
"If SEO gains ownership, it would free up the animals to move forward with their lives and allow SEO to start looking for good home placements. Without this ruling the animals would remain in legal limbo for a significant amount of time (costly to SEO) until the criminal case is over."
It also appears that the court provided Swango a "waiver of attorney form", signaling that she may intend to represent herself (pro se) moving forward. As reported in our previous follow-up story, Swango had her previous court appointed attorney relieved almost immediately upon being appointed to her last month. Her next court hearing was scheduled for May 6th.