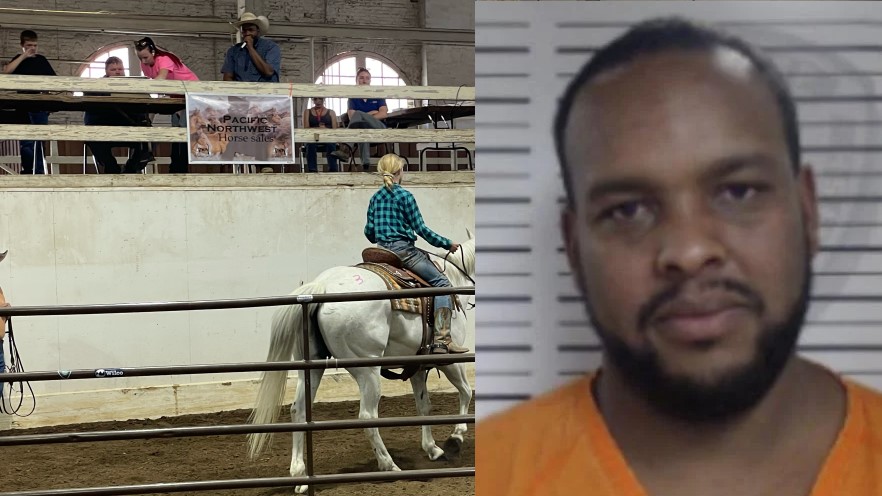 Salem, Ore. – The Oregon horse sale company that had past ties to a woman recently arrested for felony aggravated animal abuse, and facing growing allegations of various unfair trade practices for deceiving buyers, has announced its abrupt closure.
PNW Horse Sales' announcement on Facebook that it would be ceasing operations made on September 14th also came a day after NW Horse Report started new inquiries into the company's contracted auctioneer having been previously arrested for a highly reported horse theft scheme in Louisiana.
Allegations from numerous buyers and other people familiar with the auction included the company failing to comply with its own rules and legal requirements on disclosing sellers and sale records, allowing "shill bidding", and both concealing and then publically lying about the core sellers of horses being involved in the auction company's operations.
NW Horse Report also obtained public records from a State agency that corroborated the claims that a notorious horse trader and self-described "kill buyer", Don Nowlin, was involved, despite claims by the company's listed owner Tommie Reevs that he was "not involved".
PNW Horse Sales also had reportedly been running afoul of state and federal labor practices, including not having workers' compensation coverage despite clear evidence of numerous workers in pictures and video from buyers. Some of the apparent workers allegedly included minors, but officials with Oregon's Bureau of Labor & Industry (BOLI) confirmed last week the company did not have a certificate to employ any minors.
The company appeared to deflect the labor allegations involving workers' compensation insurance and hiring minors by claiming it was registered with the Oregon Secretary of State, but this was only the company's basic incorporation.
Further attention to the company came after officials became aggressive with Equestrian Media Group's managing editor on Saturday outside its leased sale barn at the Oregon State Fairgrounds– an altercation caught on audio and video.
Shortly after the incident over the weekend, the company and several of its regular sellers and "officials" began removing past horse sale ads from social media. PNW Horse Sales also removed the past auction history from its page on the popular bidding site HiBid.
Multiple sources told NW Horse Report that they were having trouble getting the company to provide information on the sellers, despite an Oregon law that requires the company to keep and provide such records to the Oregon Department of Agriculture and buyers.
It was revealed that the auctioneer, who goes by the alias John Henry, had been charged with stealing over a dozen horses in multiple Louisiana parishes in 2018. Henry's real name is reportedly Jonramon Hatfield Vaughns, 35, previously from Port Allen, Louisiana. Vaughns (Henry) contacted our newsroom by phone late Wednesday after being tipped off to NW Horse Report's inquiries seeking to confirm that Vaughns and Henry were indeed the same person.
Vaughn (Henry) confirmed to NW Horse Report that the information was accurate, but said he's always gone by John Henry the majority of his life when asked if he adopted the alias following his past criminal troubles.
The Louisiana Department of Agriculture and Forestry (LDAF) Livestock Brand Commission charged Vaughns (Henry) in September 2018 for stealing 15 horses.
According to the LDAF, the warrants stemmed from two separate complaints filed with the Livestock Brand Commission in two separate parishes (a state term used in lieu of county).
The past story was widely covered by numerous other media outlets and publications, including WAFB-CBS9, the Associated Press, The Washington Times, and TheHorse.
Vaughns (Henry) claimed that instead of receiving a conviction, a "civil compromise" was reached that involved him paying restitution to his victims, but NW Horse Report is still investigating that claim. Vaughns also said that he was working as a contractor of PNW Horse Sales, as he could not obtain his own "dealers license".
He also stated he could only do livestock auctions. NW Horse Report was not immediately able to confirm if Vaughns' involvement as the auctioneer, as well as an alleged seller, would have been prohibited due to his past criminal history.
Vaughns (Henry) also had a felony check fraud charge from 2018 in the State of Missouri, but it was unknown if the charge was related to equine activity or sales.
A source, who spoke on the condition of anonymity out of fear for their safety, also said that Vaughns (Henry) has already had similar issues in recent years involving acting as an agent on behalf of sellers in Washington and Oregon while reporting himself as the owner of horses to the actual auction companies.
Vaughns (Henry) was also alleged by numerous sources, as well as by countless posters on social media, to be in a relationship with the owner of 4K Ranch, Kristina Jones, the same self-admitted clerk for PNW Horse Sales.
Jones was identified as the woman whom NW Horse Report previously reported attempted to take our camera during the previous altercation with us.
However, Vaughns (Henry) said that Jones was a past girlfriend and that he was now engaged to another woman, claiming he only continues to work with Jones professionally by riding her horses.
4K Ranch was a company used by Jones to sell horses through multiple auctions, including PNW Horse Sales while she worked as the auctions clerk. NW Horse Report previously obtained records provided in a previous story showing horses being sent to the auction sale by 4K Ranch.
"I have been working my ass off to repay my past debts," Vaughns said while going on at length about how he had been working hard to not run afoul of the law in recent years.
Vaughns also admitted that he was asked by Nowlin, not Reevs, to be the auctioneer for PNW Horse Sales.
He went on during his conversation to offer to "help [us]" in exchange for not reporting on the link between his alias, John Henry, and his identity as Vaughns.
"Before you make your post, I want you to think about something for a couple of days, okay?… Do this for me, like I said, there are ways I can help you with the other stuff you have going on." Vaughns said.
"If you leave me out of it, I will gather information and help you– but that stays between you and me."
NW Horse Report declined the offer citing journalistic ethics standards to Vaughns.
The Facebook page for PNW Horse Sales was deleted hours after Reevs posted its closure announcement where it placed significant blame on NW Horse Report for the closure.
"Thanks to NW Horse Report sinking its claws into myself and everyone around this sale [sic] we are sad to say that the Sept sale was our last sale," the announcement read in part.
"All checks from the Sept 9th sale were mailed out Wed, Sept 13th, 2023. If you have any issues with checks please contact me."
Anyone who believes they have been the victim of a crime or may have first-hand information regarding unfair trade practices involving the horse sale auction can file complaints with the Oregon Department of Agriculture or the Oregon State Police.
Reevs and the company had also questioned in a since-deleted posting if Equestrian Media Group had a reporters' "license", a chilling implication considering the work of journalists across the United States has always been one of the most central rights protected by the 1st Amendment to the United States Constitution.
The idea that the government could control the media through any sort of licensure would be a drastic departure from American values and the role of a free press in preserving our democracy. Fortunately, well-established case law prohibits such a practice. Such a requirement is the sort of thing seen in authoritarian governments.
Equestrian Media Group's reporters are part of the Society of Professional Journalists and adhere to SPJ Ethics standards. SPJ is the nation's most broad-based journalism organization, dedicated to encouraging the free practice of journalism and stimulating high standards of ethical behavior.